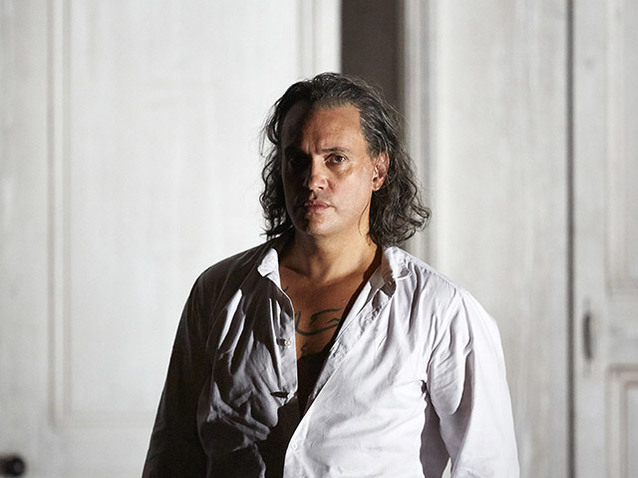 © Mark Douet
Don Giovanni of 1787 is one of three operas that Mozart wrote with the librettist Lorenzo Da Ponte (the others being Le nozze di Figaro and Così fan tutte). It tells of the eponymous hero, or rather antihero, who effortlessly conquers thousands of women. Although in the process he makes many enemies, the ladies he has cheated have a habit of coming back for more or trying to save him, and in the end he is responsible for his own downfall. When the ghost of the Commendatore who he murdered comes to dinner and invites him to repent, the Don instead chooses to live by the life he has led and consequently descends to hell.
Kasper Holten's production was first seen at the Royal Opera House in 2014 when he was its Director of Opera, and now enjoys its third revival, on this occasion by Jack Furness. It very much feels as if it comes with its own infrastructure as Es Devlin's revolving set fills the entire stage. It consists of a cube-shaped house whose two levels are connected by several staircases. Upon this Luke Halls' video projections appear continuously throughout, and play a large part in telling the story. When the Commendatore is murdered blood appears to drip over the entire set, all of Don Giovanni's former women are scrawled across the walls during the Overture and so-called 'catalogue aria', while the names of individual characters such as Donna Elvira appear on doors as if suggesting that each is destined to behave as they do.
Such an approach enables the psychology of the drama to be penetrated, but it does not always aid the basic interaction between characters. For example, when Leporello sings the 'catalogue aria' Don Giovanni is standing on the level above so he can hear what his servant is saying about him. Then across the aria, he descends the staircase while Donna Elvira ascends it to highlight the psychological dynamic between them. In the process, however, the basic sense in which Leporello is relating the tales of the Don to Donna Elvira seems entirely lost. True, the aria should be delivered very much to the audience but in the absence of Donna Elvira being a true listener the recollections come across as too formalised and abstract.
Another example of the set taking over by virtue of its sheer size comes when 'Don Giovanni' (actually Leporello in disguise) is captured by five of his mounting enemies. This should be a highly charged moment because Leporello is potentially in mortal danger, but it hardly feels like one when three of them can do no more than look down on him from the level above.
The set, however, works well at the party at the end of Act I. Mozart wrote this finale for three orchestras and by placing the small ensembles on different levels of the set, one gains a keen sense of an occasion in which various sounds can be heard coming from the different rooms. The side rooms in the construction also enable us to see what is happening 'behind closed doors' and hence highlight many subtexts. In this way, many telling things happen and it is significant that while normally at the end of Act I Don Giovanni escapes from the party as everyone closes in on him, here it is he who disperses the others with a gesture of his arms. He cannot, however, get rid of the Commendatore who ends up standing menacingly above him.
Anja Vang Kragh's costumes are also clever as they reveal the same writing and ink blots that appear on the set. The amount of 'ink' on Donna Anna's pink dress varies throughout the opera, but after her opening encounter with Don Giovanni there is a blot on it that suggests he has stained her, and she moves to cover this with a large back overdress when Don Ottavio appears. In fact, what makes this revival feel distinct is the manner in which several of the cast really embrace their roles as they also display exceptional voices.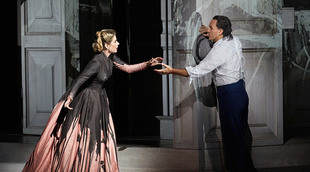 Malin Bystrom as Donna Anna and Erwin Schrott as Don Giovanni
(C) ROH 2019 Photographed by Mark Douet
As Donna Anna, Malin Byström's soprano is something special, but just as impressive is the way in which her gestures and even very thoughts suggest the subtexts. Thus as she describes how Don Giovanni forced himself upon her, she gives away that all is not exactly as she has described it. Erwin Schrott in the title role reveals a tremendous bass-baritone (the final scene when he is at the front of the stage is particularly impressive), and projects the Don as a large and jovial character on the one hand, and quite a desperate and needful person on the other. As Donna Elvira sings 'Mi tradì quell'alma ingrata' and Donna Anna 'Non mi dir' he can be seen reaching out to invite them into the bedroom. It is as if he is trying to return to a happier time when he did as he pleased and suffered no consequences. However, when Zerlina sings 'Vedrai carino' his face is more ambiguous. It is as if he is actually feeling jealous of the real love that she shows Masetto, and thinking that even he could not try to take this one any further.
Louise Alder also displays a beautiful soprano and similarly provides a multi-layered performance as Zerlina, while Roberto Tagliavini reveals a very strong bass as Leporello on his Royal Opera debut. Myrtò Papatanasiu, replacing a previously advertised Christine Rice, provides a highly convincing portrayal of a desperate Donna Elvira whose warnings to other women about the evil Don really derive from the sorrow she feels at notbeing special to him herself. There is strong support from Daniel Behle as Don Ottavio, Leon Košavic as Masetto and Brindley Sherratt as the Commendatore, while Hartmut Haenchen's conducting also contributes to the overall success of the evening. This production will be broadcast live to selected cinemas around the world on 8 October, with some venues also showing encore screenings on subsequent days.
By Sam Smith
Don Giovanni | 16 September – 10 October 2019 | Royal Opera House, Covent Garden
Photos credit: ROH/Mark Douet
the 20 of September, 2019
|
Print