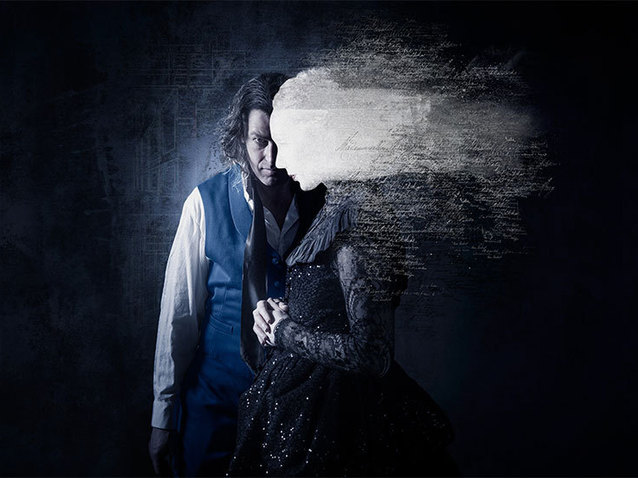 Don Giovanni of 1787 is one of three operas that Mozart wrote with the librettist Lorenzo Da Ponte (the others being Le nozze di Figaro and Così fan tutte). It tells of the eponymous hero, or rather antihero, who effortlessly conquers thousands of women. Although in the process he makes many enemies, the ladies he has cheated have a habit of coming back for more or trying to save him, and in the end he is responsible for his own downfall. When the ghost of the Commendatore who he murdered comes to dinner and invites him to repent, the Don instead chooses to live by the life he has led and consequently descends to hell.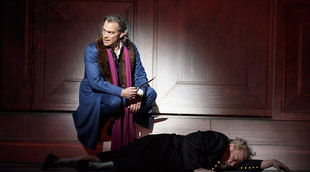 Don Giovanni can withstand being set in a variety of places and eras, so long as the social hierarchies that are prevalent in the original are maintained. Director of the Royal Opera Kasper Holten's production, which was first seen last year and is now revived by Amy Lane, conveys them rather subtly, however. Anja Vang Kragh's costumes reveal the relative statuses of the characters, the Don frequently occupies a higher stage level and hence sings down to his servant Leporello, while the simple chairs at the wedding of the lowly Zerlina and Masetto contrast with the grander house behind.
The understated approach to this key issue would seem to be symptomatic of a production that, although undoubtedly intelligent as it deeply penetrates the psychology of the drama, fails to bring out the basic comedy in this tale of the alluring Don. Es Devlin's revolving set consists of a cube-shaped house whose two levels are connected by several staircases. Upon this Luke Halls' video projections appear continuously throughout, and play a large part in telling the story. When the Commendatore is murdered blood appears to drip over the entire set, all of Don Giovanni's former women are scrawled across the walls during the Overture and so-called 'catalogue aria', while the names of individual characters such as Donna Elvira appear on doors as if suggesting that each is destined to behave as they do.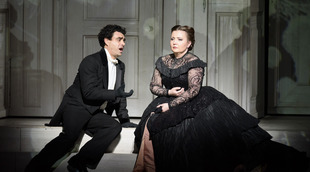 None of this is necessarily ineffective, but the sheer size of the set swamps the performers. As they are forced into working with its infrastructure, their ability to establish and assert their own characters is diminished. This impacts on the dynamism, and when 'Don Giovanni' (actually Leporello in disguise) is captured by five of his mounting enemies it is hardly a charged moment because three of them can do no more than look down from the level above. It would be wrong to play Don Giovanni simply as a comedy, disregarding its deeper and more sinister undertones, but since there is nothing in the Don's soul that is endearing he needs to take us with him by making us feel his charm for ourselves, and by, quite simply, entertaining us.
Even if the set-up mars their effectiveness, the cast is generally strong. Christopher Maltman is required to be a quieter, more intriguing, presence than in many interpretations of the title role as here he silently appears before the female principals in their dreams (or rather solo arias). Since he needs to maintain a consistent character, this affects the amount to which he can at other times become the overwhelmingly alluring tempter, but Maltman remains engaging overall and his excellent baritone voice is particularly suited to the part.
Alex Esposito and Nahuel di Pierro are excellent as Leporello and Masetto, while Erik Halfvarson's deep bass voice leaves an impression that far exceeds the size of the Commendatore's role. Rolando Villazón as Don Ottavio proves a superb actor as he tries to be the decent, forceful, protective man but is for the most part ineffectual. His voice can be on the quiet side, but his performance of his Act II aria 'Il mio tesoro' remains persuasive.
Albina Shagimuratova and Dorothea Röschmann are class acts as Donna Anna and Donna Elvira respectively. Russian soprano Julia Lezhneva also makes a creditable Royal Opera debut as Zerlina with a voice possessed of sensitivity and clarity as she desperately tries not to fall for the Don quite as easily as she does. This is an evening when the musical standards overshadow all else, and they are certainly strong down to the sympathetic conducting of Alain Altinoglu. This is his house debut, and although his greenness with the orchestra shows on occasions, it is by any measure a commendable one.
By Sam Smith
Don Giovanni | 12 June – 3 July 2015 | Royal Opera House, Covent Garden
the 14 of June, 2015
|
Print