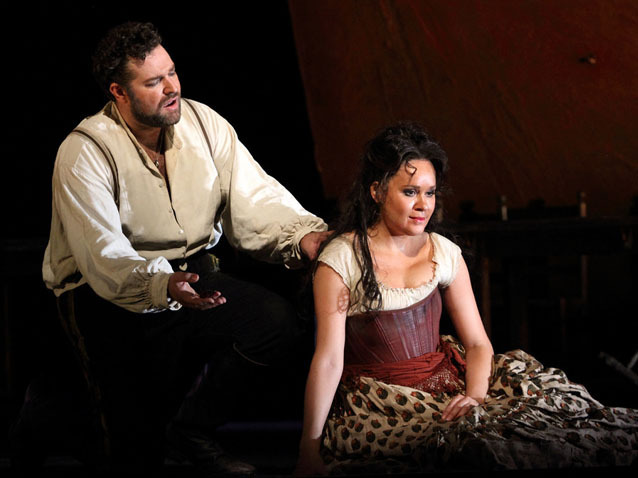 © DR
Based on Prosper Mérimée's eponymous novella, Georges Bizet's Carmen of 1875 is the story of the ultimate temptress. A gypsy girl and cigarette factory worker in Seville, Carmen has the power to entice any man she chooses. Once, however, they are besotted with her she quickly moves on, leaving them heart broken and unable to accept what has happened.
In the opera Don José, an army corporal, has almost everything he could ever desire. He has decided to marry the sweet, loving Micaëla, and he has the blessing of his mother, a job he is proud of and the opportunity to see his home village. However, when Carmen decides that she likes him, despite intially resisting her advances, he ends up sacrificing everything he has for her, and cannot accept it when she loses interest in him and turns to the torero, Escamillo. 
If Carmen hardly sounds a sympathetic character, she can certainly engage an audience with her allure and steadfast determination to live by her own rules. Freedom is the most important thing to her so that when Don José threatens to kill her unless she says that she loves him, she accepts her fate, preferring death to proclaiming a lie and feeling a sense of imprisonment.
With its angular sets and exuberant staging, Francesca Zambello's 2006 production for the Royal Opera, revived here by Duncan Macfarland, adopts a highly innovative approach to capturing the Spanish essence of the opera. It employs a cast of hundreds, and Tanya McCallin's rusted orange sets, which work to a series of diagonals and curves, exude metaphorical heat. It is, however, a production that worked best on its first outing, when everything felt entirely fresh and original. Despite there being much to enjoy in the choruses of the rowdy factory girls and boisterous children, and in the spellbinding ensemble performance of 'Les tringles des sistres tintaient', it can be a struggle to recapture the magic of a first viewing.
Employing 150 performers as well as real horses, donkeys and chickens heightens the realism, which is at odds with the sets that were never designed to capture the precise colours or architecture of Seville. As a result, the performers can struggle to feel an affinity with their surroundings, and although there is some scope for each to put their own mark on their character, the fact that they have to fit in with such an intricate staging somewhat limits their ability to do so.
Nevertheless, none of the above will be a problem for anyone who has not seen the production before, and the thoughtful touches throughout remain staggering. At one end of the spectrum, we see an entire crowd drift slowly, and almost undetectably, from left to right across the stage, while at the other extreme Don José's stabbing of Carmen could all too easily be mistaken for a loving embrace.
As Carmen, Elena Maximova's presence feels just a little more constrained than many performers in the role but her vibrato is so strong, her voice so secure and her low notes so powerfully rendered that seduction is written into every breath she exudes. As Don José, Bryan Hymel initially feels a little hesitant, but his voice soon opens out so that the soaring phrases in arias such as 'La fleur que tu m'avais jetée' are beautifully and powerfully rendered. As Escamillo, Alexander Vinogradov brings a pleasing degree of lightness to his assertive and well shaped sound, especially in 'Votre toast, je peux vous le rendre' (the Toreador Song).  
Nicole Car, making her Royal Opera House debut, is a stunning Micaëla whose voice is equally full and radiant in all ranges. She really captures the bravery of a young innocent who loves someone so much that she will risk entering a smugglers' hideout to rescue them, while Vlada Borovko and Michèle Losier are excellent as Carmen's gypsy friends, Frasquita and Mercédès. In the pit, Bertrand de Billy brings a notable sense of balance to the passion and exuberance inherent in the score, while also enabling the quieter passages where single instruments come to the fore to feel immensely tender and moving. A second cast and conductor, including Anita Rachvelishvili as Carmen and Jonas Kaufmann and Yonghoon Lee as Don José, come on board for several of the later performances in the run.
By Sam Smith
Carmen | 19 October – 30 November 2015 | Royal Opera House, Covent Garden
the 21 of October, 2015
|
Print