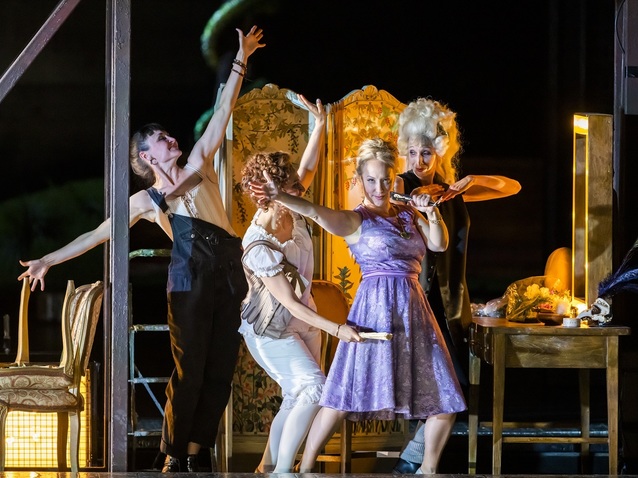 © Tristram Kenton
Così fan tutte of 1790 is the third and final opera (after Le nozze di Figaro and Don Giovanni) on which Mozart collaborated with the librettist Lorenzo Da Ponte. Originally set in Naples, it sees the philosopher Don Alfonso challenge two soldiers, Ferrando and Guglielmo, to prove that their respective fiancées, the sisters Dorabella and Fiordiligi, are faithful. He is certain that no woman ever is, but the younger men are so convinced of their own lovers' fidelity that they agree to a wager with him. They will pretend to be called away to war before returning disguised as Albanians to try to win over the women, and they consent to doing exactly as Don Alfonso instructs for the period of the bet.
Part of the tension lies in the fact that, on the surface, Ferrando and Guglielmo do not wish to succeed in chatting up the sisters because this would prove what they wish to be the case, and win them the bet. However, especially since as strangers they are attempting to woo each others' lovers, their desire to think they have the ability to win over any woman takes hold, which means that they start to try increasingly hard. Both women do capitulate, but just when the men are despairing and thinking there is no way they could marry them now, Don Alfonso proclaims that that is how all women are and that this should be accepted and celebrated. As a result, the opera usually has a happy ending, although it is a directorial choice whether to restore the lovers to their original couples or keep them with their newly formed ones. In addition, many productions today do opt for less cheerful conclusions so that, for example, all of the characters exit in different directions, suggesting that there was never real love between any of them in the first place.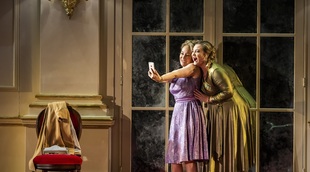 Julie Boulianne (Dorabella), Jennifer Davis (Fiodiligi), Cosi fan Tutte
© 2022 ROH Ph by Tristram Kenton
Styles of production for Così fan tutte tend to come in waves. For a long time, many were set in the modern day and this approach was epitomised by Jonathan Miller's erstwhile version for the Royal Opera, which included mobile phones and laptops. However, while such items felt highly novel in 1995 when it premiered, and said something about the class of people who possessed them, by the time of the final revival in 2012 everyone both had them and had seen them a thousand times before in operas. 
With even such updates consequently beginning to feel tired, many new productions have taken another road. This is to set the drama in a fantasy realm, with the premise being that that is what the opera thrusts the quartet of lovers into as they go on an extraordinary adventure. Phelim McDermott takes this approach in his version for English National Opera and the Metropolitan Opera by setting the action on Coney Island in the 1950s. Meanwhile, Jan Philipp Gloger's production, originally seen at the Royal Opera House in 2016 and first revived there in 2019, uses the setting of a theatre, which offers even more opportunities for Don Alfonso to 'conjure up' effects and hence engineer events.
The Overture is accompanied by the six principals appearing in eighteenth century costume and introducing themselves in turn by bowing in a style that befits the respective character. Don Alfonso directs everyone to move and turn appropriately, and it makes us think that we are about to witness a traditional staging in which the associated etiquette will play a key role. As soon as it is ended, however, we realise that the quartet of lovers are actually the people who were sitting in a real box (those in costume were simply doubles), and who now clamber onto the stage to put themselves at the centre of this theatrical set-up.
Continuing in this vein, after Don Alfonso breaks the news to the women that the men are to go off to war, a station, complete with train ready to depart and hoards of other people saying farewell to loved ones, is revealed. The point that this is a theatrical set is emphasised by the fact that as the women turn their backs Don Alfonso (who remains in the same eighteenth century costume for most of the evening) reveals the crowds of parting lovers to be extras by signalling that they can break their poses. Throughout we see him chatting with stage hands as he plans the next effects with them, and as we go deeper into the drama we are presented with a series of different areas designed by Ben Baur. These include dressing rooms, costume departments, bars and two theatre sets that depict gardens (Eden in one instance and Arcadia in the other).
The difficulty the production has faced in the past is that of being 'infrastructure-heavy'. With each set being designed to make a new point concerning either relationships or artifice, the associated commentaries have felt more important than the characters themselves, with it consequently becoming difficult to feel for them as real people with genuine emotions. This revival from Katharina Kastening, however, largely overcomes the problem by taking a more restrained approach to the staging. This, combined with an excellent cast, leads to a very effective and enjoyable evening.
The differences in the two soldiers and two sisters' characters come across clearly enough, even though they are rendered quite subtly. As Fiordiligi sings 'Come scoglio' Guglielmo moves to comfort her, but after she immediately brushes him off, he and Dorabella find themselves gazing at each other for a slightly longer period. Similarly, at the end of Act I when the men have recovered from the 'poison', they are sent on their way by the women, but it is noticeable that Dorabella does not give Guglielmo anywhere near as short shrift as Fiordiligi does Ferrando. In the Garden of Eden scene that leads up to this moment, there may be a little moving around, but overall it is noticeable that even at this stage the women are doting on their 'opposites' rather than their original partners. This proves to be more effective than previous revivals that have tended to present the scene as a more general 'love-in', in which Don Alfonso and Despina have also become involved.
The production is aided immensely by the strength of the cast, with each member proving strong at marking out their character without indulging in histrionics. Gordon Bintner, with his secure and effective bass-baritone, gives an excellent portrayal of a Guglielmo who thinks rather too highly of himself, while, as Ferrando, Bogdan Volkov delivers 'Un'aura amorosa' and 'Ah, lo veggio' with a sensitivity and smoothness that make them deeply moving. Julie Boulianne, with her full and nuanced mezzo-soprano, provides a convincing portrayal of the feisty Dorabella without pushing things too far. Soprano Jennifer Davis similarly delivers many magical moments, not least in Fiordiligi's Act II aria 'Per pietà, ben mio, perdona', which she is allowed to deliver free from excessive distractions. Lucio Gallo is a class act as Don Alfonso, while Julia Jones, who also conducted Jonathan Miller's production here in 2010, offers another highly accomplished interpretation of the score in which there is as much precision as passion, and balance as bravado. 
Serena Gamberoni is outstanding as Despina, whether she is playing barmaid, stage crew member, doctor, notary or simply the woman who ultimately seems to be in control. In this way, as the evening draws to a close and she hands the lovers back their real opera programmes as they prepare to depart, one can see the couples having to face the boredom of real life once more, having tasted the excitement that comes from losing oneself in a night at the theatre. She is also responsible for extinguishing some of the lights on an illuminated sign that proclaims 'COSI FAN TUTTE' so that it expresses the phrase in the masculine by reading 'COSI FAN TUTTI'. This sums up Mozart and Da Ponte's intentions perfectly because surely they were deliberately presenting the male perspective that 'women are all the same', and leaving us to infer from what we saw that men are too! If that was indeed the point they really wished to make, there can be no doubt that this production does full justice to it.
By Sam Smith
Così fan tutte | 28 June - 9 July 2022 | Royal Opera House, Covent Garden
Photos credit: Tristram Kenton
the 30 of June, 2022
|
Print