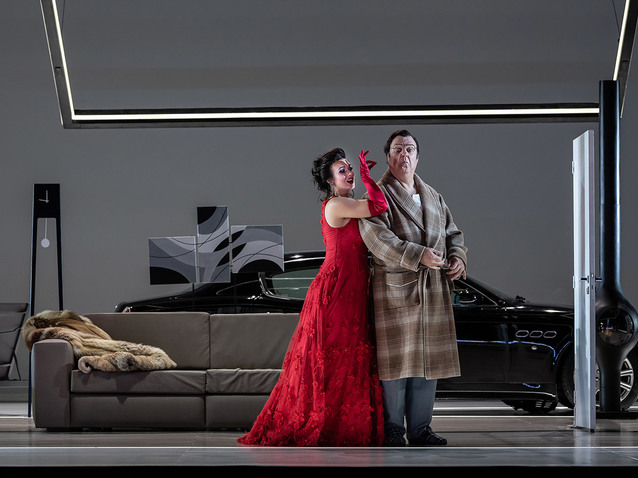 Gaetano Donizetti's 64th opera Don Pasquale of 1843 represents both the zenith and the end of opera buffa because it stands as one of the finest examples of the genre, and yet there are practically none written after that date that are still in the standard repertoire. Set in Rome, it sees the ageing Don Pasquale disinherit his nephew Ernesto, who loves the young but poor widow Norina, for refusing the woman he had found for him. Even Don Pasquale's own doctor Malatesta thinks this is bad form on the older man's part, and hatches a plan with Norina whereby Malatesta will offer his own cousin Sofronia for marriage to Don Pasquale. It is actually Norina in disguise, and Don Pasquale agrees almost immediately to marry her as she has apparently just come from a convent and seems very sweet and innocent.
As soon as they are married, however, she instantly becomes bossy and difficult, demanding that the number of servants be doubled, that they all receive twice their previous pay, and that Don Pasquale buys new furniture and jewelry for her. She also insists on going out without Don Pasquale, so that he ends up being willing to do anything to get rid of her. Malatesta says that if Ernesto were to marry Norina, Sofronia would leave because she hates her so much, and so Don Pasquale agrees to this. At this point, 'Sofronia' reveals that she really is Norina, and Malatesta that the wedding contract was a fake. Don Pasquale realises he has been duped, but the opera has a happy ending when he accepts the situation and gives the young couple his blessing.
Like Il barbiere di Siviglia and Der Rosenkavalier, the work is the story of an ageing gentleman attempting to put himself between two young lovers. It does not, however, possess anywhere near as many twists and turns as, say, Il barbiere or Le nozze di Figaro because the plot to thwart the antagonist is executed with relatively few obstacles being thrown in the way. As a result, it places more demands on a director to make the evening colourful, and Damiano Michieletto's new production for the Royal Opera, which represents a co-production with the Opéra National de Paris and Teatro Massimo di Palermo, does what is necessary through its combination of strong overarching concept and thoughtful touches.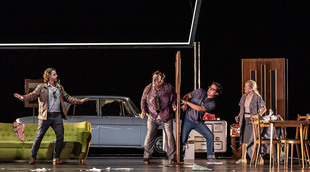 Markus Werba as Malatesta, Bryn Terfel as Don Pasquale,
Ioan Hotea as Ernesto (c) ROH 2019 by Clive Barda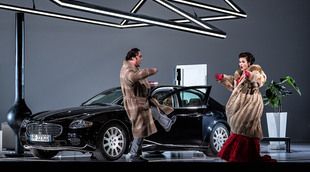 Bryn Terfel as Don Pasquale and Olga Peretyatko as Norina
(c) ROH 2019 by Clive Barda
The setting is actually modern day Italy, as revealed by Norina brandishing a Euro note, but one would be forgiven for not realising this at the start because Don Pasquale's house looks firmly grounded in the 1960s. This, however, is merely making the point that he is stuck in the past, and it also provides great scope for Norina to get rid of his outdated upholstery and replace it with modern furniture when she is in her bossy phase as Sofronia.
In Paolo Fantin's set, the house is not shown literally but is manifested clearly enough as overhanging neon lights outline its footprint, roof, chimney (complete with smoke at the beginning) and garage, below which actually stands a car. There are no walls, so that we can see everything clearly, but doors that are opened stand in the right places, and the whole house can rotate so that the bathroom becomes more prominent when Don Pasquale is scrubbed up in anticipation of meeting Sofronia.
Not all of the action takes place in Don Pasquale's house, however, and we are first introduced to Norina working in a photographer's studio, which gives her ample opportunities to don the beautiful dresses that are used for shoots. A video camera that is first seen here also becomes integral to the staging as it is sometimes used to film the characters and project the resulting images live onto a huge screen, courtesy of rocafilm. This device works because it is used sparingly, and always serves the purpose of highlighting something. For example, when Norina sings 'So anch'io la virtù magica' the aria invites such expressiveness that it is good to be able to see her face and gestures in close up. When the servants are both alarmed and amused at all of the comings and goings in 'Che interminabile andirivieni!'three puppets play out the relationship between Norina, Don Pasquale and Ernesto. These inanimate objects are quite small in real life, but by the time they have been projected and skilfully operated, it really feels as if they have been imbued with life and character. Other modern twists include Norina receiving a text when Ernesto sends her a message, and references to cars in the English surtitles, even though the performance is in the original Italian.
Not every idea quite hits the mark. Ernesto vandalising Don Pasquale's car (along with a servant) and stealing money from his wallet are not the actions of someone who is subsequently to return to his uncle's house. True, he may not have been anticipating that he would do so at the time, but more importantly it robs the aria he is singing, 'Cercherò lontana terra', of much of its tenderness. Similarly, Sir Bryn Terfel as Don Pasquale feels a little too domineering at the start. This is good in the sense of him commanding the stage, but it does not help to arouse sympathy for a man who we should feel for to an extent because we see him as being so out of touch with the times and hence reality.
Nevertheless, Terfel is very funny as he gets excited about meeting Sofronia and dresses up accordingly, and he looks as duped as any Don Pasquale ever does when she turns on him, meaning that, with his brilliantly strong and assertive bass-baritone, his performance is masterly. With both being new, or relatively new, to the Royal Opera, Ioan Hotea as Ernesto and Olga Peretyatko as Norina put in highly notable performances as Hotea's pleasing tenor and 'lovelorn' persona complement Peretyatko's beautiful soprano and astutely observed gestures. Markus Werba displays strong timing and an excellent baritone as Doctor Malatesta, while Bryan Secombe delivers an effective 'cameo' as the Notary, with even his silent sleeping at the side of the stage proving amusing.
Servants always feature in the opera, but this production includes one who is on stage for the majority of the evening. Jane Evers, despite never singing a note, gives an absolutely priceless turn as a downtrodden Maid who has to scuttle around after Don Pasquale, yet still shows her own sense of spirit, and she deserves to take her bow with the other principals at the curtain call. In the pit, it is obvious that Evelino Pidò has the total measure of the score from the very first few notes of the Overture, and the overall result is a highly enjoyable new Don Pasquale at the Royal Opera House. This production will be broadcast live to selected cinemas around the world on 24 October, with some venues also showing encore screenings on subsequent days.
By Sam Smith
Don Pasquale | 14 October – 2 November 2019 | Royal Opera House, Covent Garden
the 16 of October, 2019
|
Print