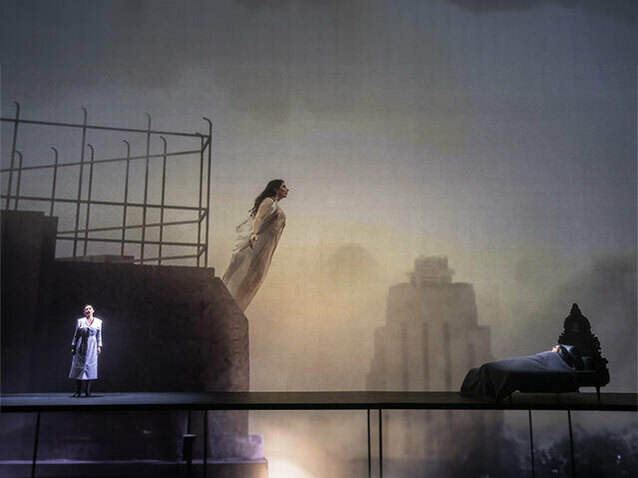 © Tristram Kenton
7 Deaths of Maria Callas is a multi-disciplinary affair as it combines opera, live and performance art and video projections. It is the brainchild of Marina Abramović, who is known as the mother of performance art, and is currently enjoying a retrospective at the Royal Academy of Arts. Abramović has always felt an affinity with Maria Callas, and the suffering caused by disillusionment and dramatic love affairs that lies at the heart of many of her own works finds its 'equal' in Callas, who embodied mortal passions both on stage and in her private life. The piece represents a co-production of the Bayerische Staatsoper with the Greek National Opera, the Deutsche Oper Berlin, the Opéra national de Paris and the Teatro San Carlo di Napoli, and its current outing for English National Opera, where the revival director is Georgine Maria-Magdalena Balk, marks the centenary of Callas's birth.
The work sees seven different singers each perform an aria with which Callas was closely associated. In each case the character who delivers it subsequently goes to her death, although each aria chosen anticipates that death from a different distance. In 'Addio, del passato' from La traviata, Violetta is practically staring it in the face, while in 'Vissi d'arte', Tosca is asking what she has done to deserve being put in such a dreadful situation, which means she is not far from the worst being realised. In 'L'amour est un oiseau rebelle', on the other hand, death is not obviously on the horizon. However, Carmen is setting hers up in the sense of proclaiming those things, namely her freedom and spirit, that will ultimately lead to it, because she is unwilling to give them up. This is what makes the piece so fascinating because within a framework that appears so simple there is an enormous amount of variation. 
The respective composers could be seen as 'sacrificing' these women, and, in the sense in which Callas embodied all of them, we are witnessing a different facet to her own tragic demise on each occasion, or, in other words, seven deaths. The work, however, feels as if it is as much about Abramović as it is Callas, as the performance artist plays the singer by lying still in a bed for the majority of the ninety minute performance. This is nothing for her, since her work before now has entailed her sitting still for seven hours at a time, but projecting a strong presence while portraying being asleep is a great skill, and it is one that Abramović certainly possesses.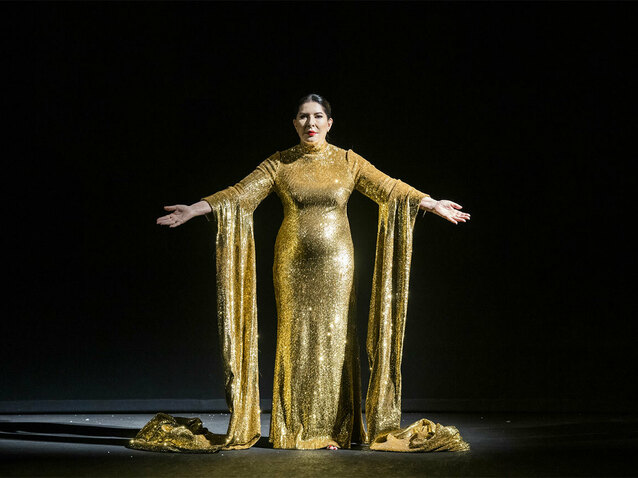 Marina Abramović, 7 Deaths of Maria Callas, English National Opera © Tristram Kenton
Each aria is preceded by some text, written by Abramović and Petter Skavlan, and delivered by Abramović via a recording. While each is linked to the aria that follows, they very much reveal Abramović's own concerns. For example, the idea that 'It's not dangerous to fall. Only when you land does it become dangerous', though relating to Tosca's demise, feels reflective of Abramović's own philosophy as she pushes her body to its absolute limits in her work. Multi-faceted ideas also precede 'Un bel dì' from Madama Butterfly as the butterfly is considered from the angles of science ('the butterfly effect'), superstition and mythology. 
During the spoken texts, generally abstract images appear on a screen behind Abramović and the respective singer, and on a transparent 'gauze' in front of them. Then during each aria a film scenario plays out behind the singer featuring Abramović and Willem Dafoe (the film director is Nabil Elderkin and the designer of video intermezzos is Marco Brambilla). These are stunning and, once again, vary in just how literally they illustrate the aria. 'Addio, del passato' actually sees Abramović as Violetta on her deathbed, with the only 'twist' being that in the opera she sings it before Alfredo returns while here we see him (played by Dafoe) appear. In stark contrast, 'Un bel dì' sees the pair wandering through Nagasaki in the wake of the atomic bomb, which had not yet been dropped when Puccini wrote Madama Butterfly. Abramović dies after ripping off her protective suit to get air, showing how, as in the original, it is what she really desires that kills her. 
In 'Vissi d'arte' from Tosca, Abramović falls from a skyscraper in slow motion, and in 'Ave Maria' from Otello, Desdemona is strangled with a snake, which references Abramović's work 'Dragon Heads'. One of the most intriguing films, however, is 'L'amour est un oiseau rebelle', in which Abramović is accidentally stabbed by Dafoe, whose face reveals utter anguish at what he has done. This feels like Abramović's work 'Rest Energy' where she and the artist Ulay held an arrow on the weight of their bodies for nearly five minutes in such a way that the slightest slip would have seen it pierce Abramović's heart. When someone suggested it was a work in which Abramović was taking all of the risk, Ulay responded that if her heart were pierced it would pierce his too.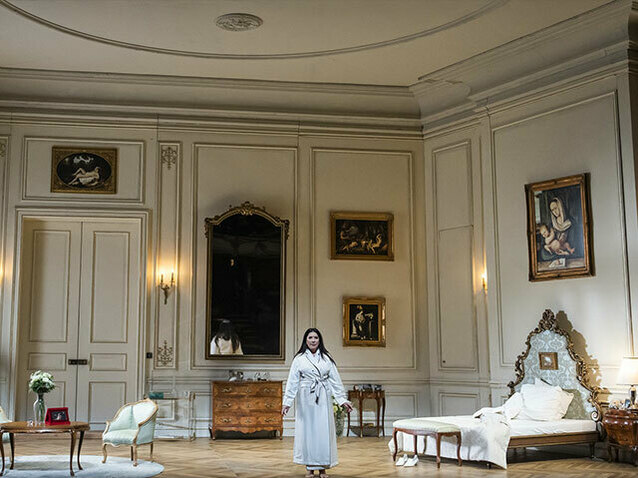 7 Deaths of Maria Callas, English National Opera © Tristram Kenton
The final scene sees Callas in the hotel bedroom in Paris in which she sadly died in 1977. As she recalls various people in her life, the gulf between her fame and dramatic deaths on stage and the realties of her demise, in which she feels lonely and forgotten, becomes all too clear. This is, however, the one scene that feels a little weaker because until this point the regularity of the seven episodes, coupled with the details and nuances to be found in each, provide a neat structure for doing what the piece clearly wants to do. The act of adding on a further scene in a different style undermines the tightness of the  work, without being enough to make it feel like a more fully fledged and conventional piece of drama. Nevertheless, the final scene is still moving, and it is an excellent touch to see the cleaners who clear her room after she dies played by the seven singers. This enables us to move quickly from fearing Callas will be swept away and forgotten to realising that she lives on in these people and, by extension, all of us. 
Yoel Gamzou's conducting is superb, while the performances of all seven singers - Eri Nakamura, Elbenita Kajtazi, Nadine Benjamin, Karah Son, Aigul Akhmetshina, Sarah Tynan and Sophie Bevan - are excellent, with it being likely that each audience member will decide on their own favourites. Finally, one should not forget the composer, who is normally the first person to be associated with any such work. In this instance, although Marko Nikodijević did not write the seven arias, he composed everything else that is performed, and his music is highly effective at generating atmosphere and linking all of the iconic pieces to create a coherent whole. Particularly impressive is the Prelude that, in anticipation of the first aria, includes 'meditations' on 'Addio, del passato' and 'Di quell'amor ch'è palpito dell'universo intero' from La traviata.
By Sam Smith
7 Deaths of Maria Callas | 3 - 11 November 2023 | London Coliseum
the 06 of November, 2023
|
Print