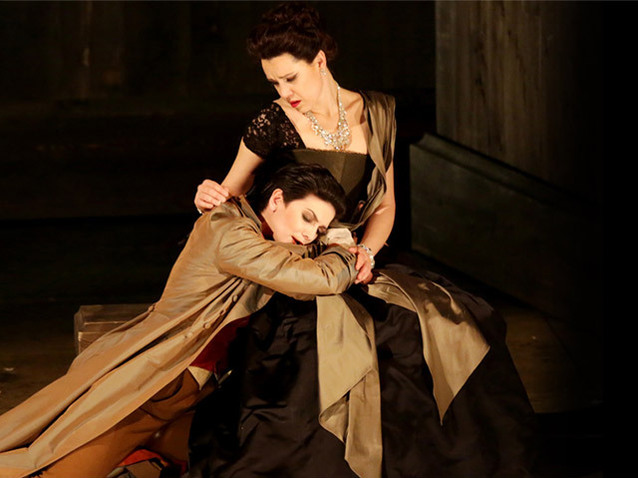 © DR
Lucio Silla comes back to Milan over than 30 years after its only staging at La Scala. The opera was actually composed in Milan, the Italian city with which the teen-aged Mozart (not yet 17) had established the strongest ties, and where he got very close to being employed at Court. Even if the original opera house no longer exists, as it was replaced by La Scala barely five years after Lucio Silla's première in December 1772, the present production perfectly renders the flavor of the operatic world in which this young Mozart's masterpiece – the last opera of his wandering years – came to life. A coproduction between La Scala,  Mozartwoche / Stiftung Mozarteum und Salzburger Festspiele (first presented in Salzburg in 2013), directed by Marshall Pynkoski and conducted by Marc Minkowski, it simply sets the standard of how 18th-century opera, and not just well-known masterpieces, might be successfully staged.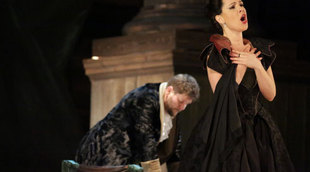 Pynkoski sets the scene in a neoclassical space made of columns, arches and ancient mausoleums, clearly influenced by late 18th-century painting (as are the Napoleon-style furniture and costumes: sets and costumes are by Antoine Fontaine), which perfectly blends with La Scala architecture, as if the scene continued beyond the stage itself. The background casts a Mediterranean grove of cypresses and maritime pines against cloudy ash-grey skies, resulting in a gloomy atmosphere which turns into a much warmer light when the action takes place indoors (the color scheme recalls Strehler's legendary La Scala staging of Don Giovanni, clearly foreshadowed in the final part of Lucio Silla's Act 1). Quite remarkable is in fact the pictorial rhythm, the sense of harmony which such a space suggests. Though minor moves this structure changes from time to time into an open space – Giunia's apartments, a cemetery, a dungeon – and it can be successfully geared towards surprise effects such as Cecilio coming out of Mario's tomb, or tragic still tableaux, such as the conclusion of Giunia's last aria.
However, what makes Pinkoski's direction especially noteworthy is the way he succeeds in making the action on the stage lively and constantly engaging, while resorting to the contribution of dance (choreography by Jeannette Zingg) and lighting (by Hervé Gary). Although not required in the original 1772 production, Pinkoski employs dancers from La Scala ballet in several occasions, resulting in an often choreographically oriented performance which recalls Gluck's reform operas, such as in the choral Capitol scene of Act 2, which runs as light and merry as Mozart's music. A major issue of this staging is the explicit reference to 18th-century operatic conventions, such as the custom of making singers perform at the forestage – where Pinkoski places a row of footlights and a central, semicircular headland where singers usually perform the reprise of their arias  ̶  enabling  them to be clearly heard in such a large hall as La Scala's. This kind of interpretation also stresses the core role of belcanto: a major feature of Italian 18th-century, which directors often forget nowadays, busy as they are coming up with whatever their fancy in order to hold the audience attention during long arias (and in Lucio Silla's definitely are long). Lighting is used in the most virtuoso style to enhance the changes in mood (and structure) of the arias, as in Silla's aria from Act 2, where the B section is sung in darkness, with the spotlight on the singer, while full light comes back for the reprise; or as in Giunia's aria «Ah se il crudel periglio», where the singer is left in a still, funereal light, as a warning conclusion of part one of the evening. A masterpiece in the use both of dancing and lighting is the trio which ends Act 2, with Cecilio fighting against five swordsmen, and the lights enhancing the different constellations of characters throughout the piece.
In this production, the drama which Giovanni De Gamerra wrote for Mozart has undergone some minor, yet significant revisions, in keeping with the learned and lively approach to the opera, as mentioned above. A character (the second tenor, Aufidio) has been cut, with no damage to the plot, as has one of Giunia's arias (while quite incongruously leaving the preceding accompagnato which prepared it, as sounds incongruous the hint of a flirt between Silla and his sister Celia appearing out of the blue). The most relevant intervention concerns Silla's last aria from the original libretto, which Mozart never set to music because the protagonist had to be replaced with a much weaker substitute who showed up at very short notice, just a week before the dress rehearsal. The original balance between the three main characters has been restored through the introduction of Johann Christian Bach's setting of the same aria (stylistically perfectly congruous) for his own Silla (Anton Raaf), three years later: its outsider character is enhanced by positioning the three solo wind instruments (originally from the splendid Mannheim orchestra) at stage level, while the singer performs part of the aria in front of the orchestra pit.Finally, yet another merit of this direction consists in taking seriously the opera's anachronistic outcome (Silla's surprising clemency), of the kind directors so often underhandedly dismiss by directors.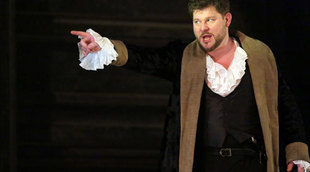 With all this, it is a pity the opera has been staged in two halves, regardless of its three-act structure, as has already been the case at La Scala with a recent Incoronazione di Poppea or a less recent Traviata. Even if the partitioning has been made at an appropriate spot (after Giunia's main aria), the effect of the two ensembles with which De Gamerra and Mozart had ended acts 1 and 2 is lost (the trio would have been a marvelous finale, especially in this staging), an incongruous anticlimax takes place after those ensembles, the minor character of Celia sings two arias just a few minutes apart and an audience not accustomed to 18th-century opera is subjected to a rather unrelenting 90 + 75 minutes of performance.
Energy, quite appropriate to this specific young Mozart score, is the most prominent feature of Marc Minkowsky' empathic conduction, which flows with lightness and bouncing tempos all the way from the overture until the end (even if a slower tempo might have been preferable for a couple of arias), successfully conveying his gesture to La Scala orchestra. Singers are welcomed by the appropriate sound environment in the long introductions to each aria: violas and cellos are made clearly audible in «Quando sugli arsi campi», the accompagnato before Giunia's last ariais made highly dramatic by clear-cut dynamic and expressive contrasts, Cecilio's last aria "Pupille amate" turns to pure poetry thanks to a most delicate one-to-a-part performance.
The opera has been entrusted to an excellent cast: diction, vocal nimbleness, acting, everything is solid and convincing (apart from the choice of the cadenzas, which turns out disappointing), from the main roles to the smallest, Cinna (Inga Kalna) and Celia (Giulia Semenzato). Silla (Kresiminir Spicer, replacing Rolando Villazón) shows an aggressive attitude, depicting the tyrant mainly through nervous acting and a large, effective voice, perhaps not always as convincing on the lyrical side. Lenneke Ruiten's Giunia possesses perfect technical means, with which she brilliantly dominates a role written for the legendary Anna De Amicis, including the aria «Ah se il crudel periglio», which Mozart himself considered of terrifying difficulty. However, since warmth of expression did not always shine through her (this was also apparently the audience's impression), the most accomplished among these very good performances was Marianne Crebassa's as Cecilio (meant, as the motet Exsultate, jubilate, written in Milan during the performances of Lucio Silla, for castrato Venanzio Rauzzini) with a round, full, steady voice coupled with admirable agility and attentive acting, a remarkable asset especially in the abundance of accompagnatos, again more on the slant of determination and energy than on the lyrical side, which probably sums up the main features of this memorable Lucio Silla.
By Raffaele Mellace
the 17 of March, 2015
|
Print