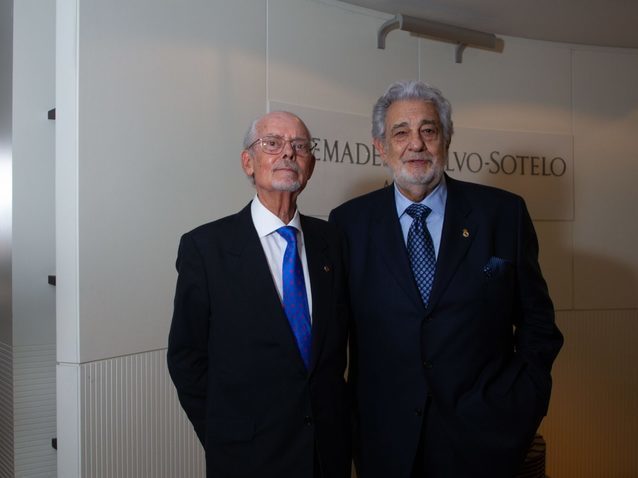 © DR
Plácido Domingo, the singer with 150 roles as a tenor and baritone, the conductor and even the theatre director, needs no introduction. It is perhaps less well known that Plácido Domingo has also had a long-standing passion for zarzuela, a lyrical genre halfway between operetta and comic opera, typical of the Spanish repertoire, combining spoken theatre, orchestra and popular songs. To help spread awareness of this lyrical genre, Plácido Domingo has turned it into a discipline for his Operalia competition (each year a zarzuela prize is awarded) and now, the singer wants to create a school and a theatre totally dedicated to zarzuela.
This is what the singer said at the beginning of the week during the launch of the ADIPROPE Foundation, which helps spread and promote Spanish heritage throughout the world - ADIPROPE existed until now as an association and is now a foundation chaired by Ignacio Buqueras and of which Plácido Domingo is a founder and patron. Among other missions, the Foundation works tirelessly to get "Spanish cultural, tangible and intangible heritage" entered on the Unesco World Heritage List, and more broadly focuses on conservation and promotion, especially through school and university training programmes.
Zarzuela is obviously part of this Spanish heritage which needs preserving and Plácido Domingo's projects are in line with the Foundation's mission: a school to train people in zarzuela and a theatre to bring the repertoire to life on stage.
According to Plácido Domingo, "promoting zarzuela around the world is like visiting an exhibition of paintings full of light and colour, reflecting everyday life in Spain. It is not yet known when his school and theatre will open, but Plácido Domingo has already decided to name them after his parents: Plácido Domingo Ferrer and Pepita Embil Etxaniz, both renowned zarzuela performers - his mother was known in Spain as the "Queen of Zarzuela".
the 21 of July, 2022
|
Print