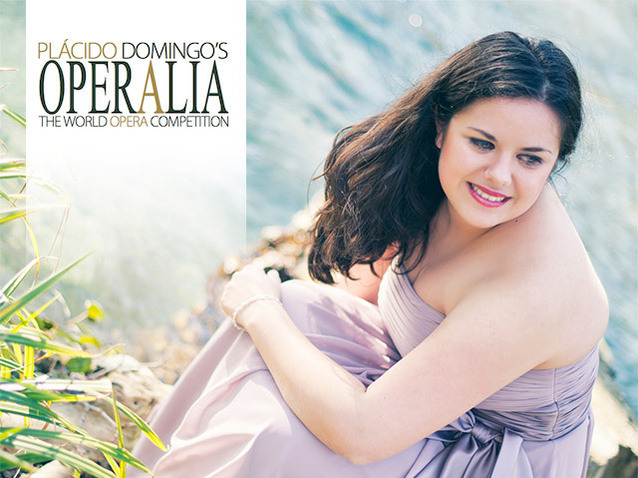 Each year since 1993, the Operalia contest has been aiming to split and highlight the greatest voices of tomorrow among the young talents of today. And if currently the opera singing contests increase so much that we can sometime question their relevance, Operalia and its judging panel contributes to start up concretely their laureates' careers. Placido Domingo, Operalia project manager, sees in it the opportunity to "offer to others the same good fortune whose he benefited himself".
The 2014 edition of the contest has been held last weekend in Los Angeles and the young French Soprano Anais Constans, already noticed for her great vocal qualities last May in Toulouse, has been ranked among the laureates side to side with the American Soprano Rachelle Willis-Sorensen and the Guatemalan tenor Mario Chang. We met her; she shares her impressions about this impressive experience and unveils Operalia's backstage. Interview.
***
OOL:Why did you appear at Operalia?
Anaïs Constans:First, because it's the most prestigious singing competition in the world, if only for the personality of its founder and director, Placido Domingo.But after already having won several competitions, I was hesitant; I wasn't sure I felt ready, I was going around in circles – and then my boyfriend gave me a push:that was the deciding factor. And I signed up on 14 March, the day before registration ended!
OOL:What arias did you send along with your registration?
Anaïs Constans:I sent Pamina's aria from Mozart's The Magic Flute, and Nanetta's from Verdi's Falstaff, two arias I thought would show off the qualities of my voice.
OOL:And then?
Anaïs Constans:Then, I waited!I was all anxious for the first few days, then less so, resigning myself to not being chosen. And two months later, around mid-May, I received an e-mail at 8:00 in the morning congratulating me and telling me I'd been chosen for Operalia 2014, which was to be held August 22-31 in Los Angeles!
OOL:It's expensive to fly to Los Angeles!
Anaïs Constans:Yes, and that's what makes this competition really exceptional:they sent me a round-trip plane ticket, accommodations were provided for me at a luxury hotel in Los Angeles, and I even received a per diem for my food, transport and so on!Such generosity is really rare!
OOL:Tell me about getting settled in in Los Angeles.
Anaïs Constans:I arrived somewhat tired from the trip, especially with the jet lag, and my stage fright was rising.But, fortunately, they got me there 48 hours before the first trials, and so I was able to recover, go out walking a bit. But not too much, because I wanted to concentrate on my work, on my arias.
OOL:What arias did you present for the quarterfinals?
Anaïs Constans:Pamina's aria from Mozart's The Magic Flute de Mozart, which got me chosen.And then Musetta's waltz from Puccini's La Bohème.And a zarzuela.
OOL:And how did the quarterfinals go?
Anaïs Constans:Very well for me.I had been able to work with the pianist, adjust my voice, find the colours I like to put into those arias.I had stage fright, of course, but inside I also was certain I was going to do my utmost to express the inner feelings of these characters – and not be content just with making a nice sound.
OOL:And it worked!
Anaïs Constans:Yes, but after two days of nail biting, trying to calm down while the jury listened to all the competitors.
OOL:Did you know the members of the jury?
Anaïs Constans:No, but I knew there were people who could be useful to me, who were important for me to be heard by: Peter Katona of the London Royal Opera, Pal Moe of the Munich Opera, Jean-Louis Grinda of the Monte-Carlo Opera (with whom I was able to speak at the end of the competition, who proved to be very kind) – and of course Placido Domingo.
OOL:And then, after 48 hours of waiting, the results….
Anaïs Constans:We were summoned to the Los Angeles Opera Foyer – where all the trials were held – at 10:00 p.m.:we were all there and of course all of us were excited. We waited and waited…and Placido Domingo finally arrived at 11:30 p.m., with a list of those who'd been selected for the semifinals.And he first announced a "French soprano"... I was the only French soprano:it was me!My first victory, and suddenly I was so relieved and tired.I went back to the hotel feeling I was floating. I slept – and the following morning, I repeated my two arias for the semi-finals like a madwoman, Micaela's aria from Carmen, "Je dis que rien ne m'épouvante" (and yet, right at that point, I was afraid!), and a new zarzuela.And then it all went so quickly:that same evening, in the semi-finals, I gave it my all. And once again, Placido Domingo announced my name for the Finals!I'd reached my goal:to an Operalia finalist is fantastic!I remembered all the winners from the previous years, Julie Fuchs last year, whom I admire so much; Sonya Yoncheva, also in 2010, and so many others over the past 20 years: Inva Mula, Nina Stemme, José Cura, Ludovic Tézier, Joyce DiDonato, Rolando Villazon, Joseph Calleja, Kate Aldrich, Olga Peretyatko, all of whom became stars:that impressed me, and I wondered if I wasn't dreaming!But I didn't have much time to think about it, as I had to throw myself into my work for the Finals:I had only two days, including a reading with the piano and a rehearsal with the orchestra (as the Finale, which is a grand gala, is accompanied by the Los Angeles Opera Orchestra under the baton of Placido Domingo!).So I worked with Placido Domingo, who is an adorable man, attentive to everyone, ready to protect us, help us, explain things to us during the rehearsals:such a pleasure!And on the evening of the Finale he came and said a few words to each of us!
OOL:What did you choose for the Finale with orchestra!
Anaïs Constans:Guilietta's aria from Bellini's I Capuletti e i Montecchi, an aria where I have a chance to display breath control, inflexions and inner expression:it's the aria that opened the doors for me to the CNIPAL. Once again it brought me luck!And then I chose a fiery zarzuela.The opera aria was at the start, the zarzuela at the end:that way I could easily express the two sides to my lyric expressiveness.So the competition rolled on for two and a half hours – and then we waited an hour as the jury deliberated, each of us in our dressing room, anxiously, of course.Finally the bell rang:it was the long-awaited and feared moment!
OOL:Where were you when the results were announced?
Anaïs Constans:We were sitting on the stage, stage left.And Placido Domingo spoke about the competition.Then he handed out the zarzuela prize.And finally the names of the winners.And when he announced my name for third prize, I caught my breath and headed towards him, walking in front of the jury lined up on stage.Placido Domingo congratulated me, handed me a bronze lyre in a resin cube, the trophy, and an envelope containing a cheque for $10,000.I couldn't speak!
OOL:And now?
Anaïs Constans:Now that I'm back in France, and I've received all the expressions of friendship from my family and loved ones, from my agent François Rousseau, too, and from my dear professor, Claudine Ducret, who helped me blossom, I'm going to continue working:I love the stage; I want to sing and act.It's all continuing, or rather just beginning!
OOL:Speaking of beginnings, what were yours like?
Anaïs Constans:Rather random!My parents had no connection to music:my mother is a postwoman and my father a farmer!He was actually part of a rock group when he was young, but that's a long way from opera!But my older sister was part of a chorus, and I wanted to do like her:that's how I discovered the joy of singing.Later, I was able to enrol at the Montauban Conservatory:that was where I had that fateful encounter with Claudine Ducret, with whom I've worked for the last nine years.She taught me to be everything I am – and her husband, the pianist and choirmaster Jean-Marc Bouget – also helped me.I owe them a great deal, and they know I love them very much.I was then admitted to the Toulouse Conservatory. I also wanted to get a degree in musicology, to understand what I am singing, so I would not be a stupid singer. I also benefited from studying at the CNIPAL – and all that took me to Los Angeles.Right now, I may participate in the Montserrat-Caballé Competition in Zaragoza, and most of all I hope I'm going to be able to express all the passion I have inside me when I interpret those characters.
Interview conducted by Alain Duault
Photo credit: James Desauvage

the 06 of September, 2014
|
Print