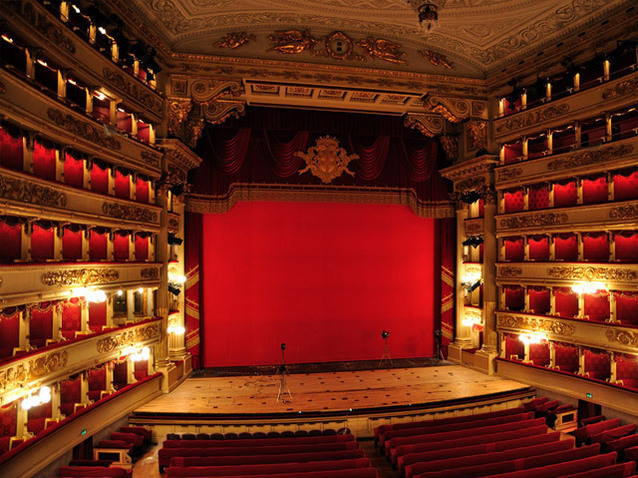 © DR
The new production of Verdi's La Traviata (which Stéphane Lissner had announced as a premiere) will be the main event for the end of this Verdi Year. There are several reasons for that.
First, it is certainly one of Verdi's most popular works, and perhaps in all of opera. Because of its libretto, of course, as melodramatic as one could wish. Also for its music, at once simple and effective, admirably constructed in its effects, theatrical in the finest sense of the word. Because of its theme, which was so much in vogue in the 19th century but has not lost any of its charm in the 21st, that of redemption through love as much as that of fate, linked here to the image of the courtesan, the lost woman, the dévoyée – a theme that introduced an eminently modern note, the Romanesque, into theatricality.  Violetta is the heroine in a novel. What is affecting in La Traviata is this focus on a single character who bears all the world's pain; it's the nakedness of her singing, her haunting presence, the death of love, the agony that can be felt in the music. For Violetta is a girl hounded by Fate, trembling with hope, then resigned to the tragic destiny that overcomes her: this is how we need to listen, in the second act, to this poignant moment, the "Dite alla giovine", which has to be whispered like the suggestion of a suicide (which it is, in fact ! ), or, just after that, her goodbye to Alfredo, this tearing asunder… Marcel Proust summed it up well "Verdi gave La Dame aux camélias the style it needed."
But this style has to be carried by a spectacle capable of developing it, spotlighting it, and by an exceptional performer, for Violetta is a unique role, a role in which the performer is willing to give everything, to be consumed by the role.
What light can Dmitri Tcherniakov shed on this at La Scala? It should be noted that this 43-year-old Russian director is today considered one of the most inventive image creators in opera. Although he flouts conventions with this determination to rouse the spectator from his slumber, he is in no way a gratuitous provocateur like those who have flourished in recent years in the form of stage managers more interested in the scandal they could create to make a name for themselves than in elucidating the works they were supposed to shed light on. On the contrary, Tcherniakov looks behind appearances for what constitutes the nerve of an action, its hidden engine. What will he do with this Traviata? La Scala is maintaining tight secrecy over his creation. But we can be sure that this Traviata will be different from the traditional images and will no doubt shed new light on this woman who continues to fascinate us.
On the other hand, we know that, under the very Italian baton of Daniele Gatti, the cast assembled by Stéphane Lissner will have every opportunity to shine. Zelijko Lucic, a 45-year-old Serbian baritone, will be Father Germont: he is one of Europe's finest Verdi interpreters (with some 23 roles in his repertoire!) and people still remember having heard him in this same role ten years ago, in 2003, in Aix-en-Provence. Piotr Beczala will be Alfredo : at 46, he is an up-and-coming Polish tenor with a physique à la Clark Gable, stage presence, a vibrant passion in his voice – this is what we expect from this tormented role.
Finally, the special performer necessary for this Traviata will be Diana Damrau, and this Violetta will be the other event in this production, with Tcherniakov's staging. The lovely German soprano (married to the young French baritone Nicolas Testé), is, at age 42, at the peak of her resources; she debuted in this role of Violetta at the Met in New York last March and triumphed in it. She has the ideal voice for the first act, with those indispensable high notes to express the passion of the "Sempre libera" ; she has the richness and dramatic feeling that are essential for inhabiting the tormented passion of the second act; she has the pallet of colours needed to go all the way in the last act and convey both the palpitating heart and the exhausted body of this broken woman.
With all these factors brought together, this Traviata opening the 2013-2014 La Scala season, is the must-see event. Opera Online will be there.
Alain Duault
the 27 of November, 2013
|
Print