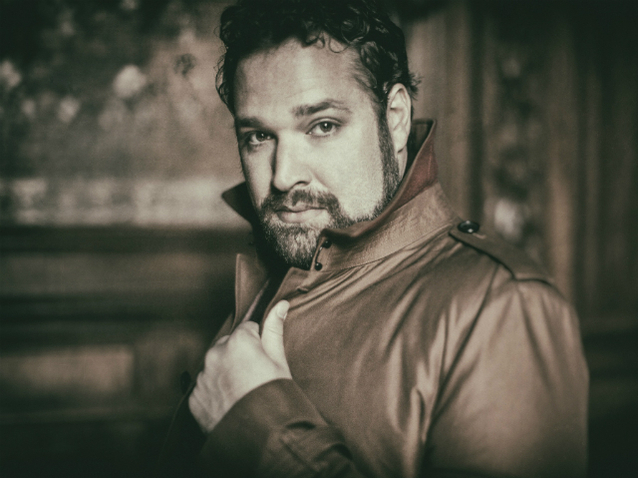 © Dario Acosta
In a few years, the american tenor Bryan Hymel became one of the most sought singer by the greatest opera houses in the world such as the Metropolitan Opera or Covent Garden. His repertoire is large but his affinities with french language and his clear and heroic voice make him an ideal performer for Berlioz's works as Les Troyens or Damnation de Faust. On the occasion of a concert at the Festival Castell Peralada in Spain, we have met him.
                                                ***
Opera-Online : What is your relationship to the French language in general and especially to Berlioz...  that you defend so well ?
Bryan Hymel : There is something about the French vowels that fits my throat very well ! I'm not sure why, but it does ! Also, the tessatura of the french repertoire sits quite nicely in my voice. I remember when I first studied Arnold's aria from Guillaume Tell about ten years ago.The way that the aria is written fits me like a glove. In my studies I wasn't very aware of Berlioz's music, but I learned the aria when I was offered Énée by the Netherland's National Opera. I found out that it also fits very well. After studying the rest of the part, I felt that it was a role I was born to sing ! I went on to sing Damnation de Faust and the Requiem of Berlioz, both of which I love.
Berlioz is more - and often better - defended by French speaking singers. How do you explain that?
I'm not really sure. I know that its very hard to sing, if your voice is not suited to the high tessatura. I'm so honored to be able to sing Berlioz so often in France !
You come to embody Pinkerton at the Chorégies d'Orange ? The Italian directory seems increasingly prominent in your schedule ?
I have always loved the Italian repertoire. In fact, that's how I came to love opera - by listening to Tosca and Madama Butterfly. The first arias I learned were « Recondita armonia » from Tosca and « La donna é mobile » from Rigoletto. I love singing these parts and I think that it's very healthy for my voice to switch between Italian and French. The closed nature of the french vowels can get one's voice « stuck » and so it's nice to go back to the openness of the Italian language.
But French opera continues to be the cornerstone of your repertoire, the one you have the most fun to sing ?...
I do love singing the French roles and will continue to do so throughout my career. Énée is probably my favorite role to sing, but I look forward to learning Raoul in Les Huguenots in a few seasons. I also love Rodolfo from La Boheme.
What are your projects ?
Of course, I'm working hard on Arnold (Guillaume Tell) for the Metropolitan Opera this fall. Then, I go to La Scala to opera the season in Madama Butterfly. Then I return to Paris for many performances of Carmen and my new role this season will be the title-role of Don Carlo at the Royal Opera House in London. Also, I am preparing for a new recording of Italian Bel Canto arias to be recorded next summer.
Interview made by Emmanuel Andrieu in august 2016
Crédit photographique © Dario Acosta
the 18 of August, 2016
|
Print