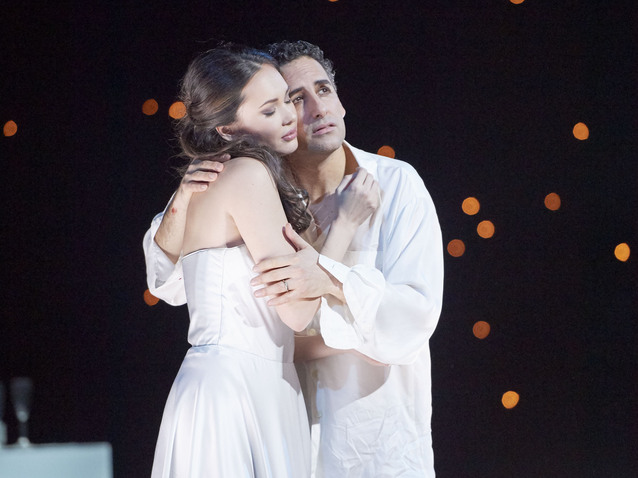 © Michael Pöhn
French composer Charles Gounod was deeply religious and even he did not decide for a clerical career his strong belief dominated his life. His surviving opus consists of many sacred works but also 12 operas of which only two gained world-wide popularity, Faust and Roméo et Juliette. They are good examples of the French Opéra Lyrique, of which Charles Gounod is a leading representative.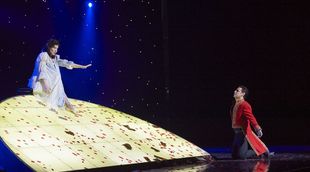 © Wiener Staatsoper GmbH / Michael Pöhn
© Wiener Staatsoper GmbH / Michael Pöhn
Romeo et Juliette is a true romantic opera and known for the series of arias and duets of the loving couple. So the performance history of the opera is driven by notable singers using their dominance as a platform to present their vocal capabilities. The Wiener Staatsoper has chosen Juan Diego Florez and Aida Garifullina, both reputable top stars on the opera scene and Placido Domingo joined them as conductor of this renewal of the production directed by Jürgen Flimm.
Without any special effects it remains a partly colourful presentation by the costumes designed by Birgit Hutter. So there is full concentration of the sold out auditorium on their beloved stars and they do not disappoint their followers.
Juan Diego Florez has moved to Vienna and the Opera house can present him as a regular visitor. He just celebrated his birthday on stage and his Romeo is once more a demonstration of his master ship as a lyric tenor with a silver clear height and ease. His voice is embedded in a slightly dark and warm timbre with a high recognition value whereas he has limits in colouring his expression in other than romantic emotions. His Romeo is young, caring and full of feelings, immaculate his singing. His arias create warm and compassionate atmosphere in the house. Similar good looking and perfect is Aida Garifullina in her appearance as the tragic young heroine within the fight between the two families. The two singers constitute a convincing revival of the historic loving couple. Her soprano is transparent, softly gliding in the coloraturas and shining. The colour is young and bright. The last act with the desperate suicide out of sheer tragic circumstances is an emotional eruption.
Placido Domingo brings in his lifelong personal experience as a singer when he conducts next to his colleagues. He keeps the Vienna Philharmonic Orchestra tamed, lyric and melodious. He emphasizes on a warm edgeless sound melting together with the voices. He avoids drama and overheated confrontation as does the composition of Charles Gounod. So only Carlos Osuna as Tybalt and Gabriel Bermudez as Mercutio are allowed to bring in young wild aggressiveness. Long and hearty applause at the end as a reverence next the smiling shining stars. 
Helmut Pitsch
the 24 of January, 2017
|
Print