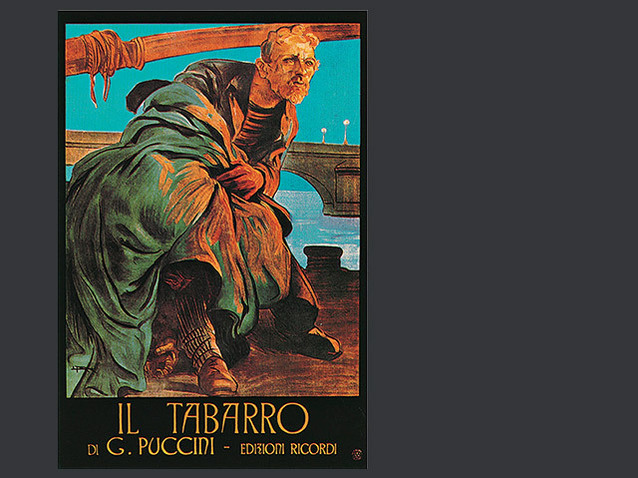 © DR
General informations
Composer:Giacomo Puccini
Librettist:

Giuseppe Adami

Creation date:

1918

Creation place:

United states

Acts number:

1

Original language:

Italian

Opera House of original production:The Metropolitan Opera.
Work description
"In the theatre, there are rules that cannot be ignored: arouse their interest, surprise them, make them cry or make them laugh." Giacomo Puccini used these terms to lay out the artistic principles guiding him in the conception of the Triptych of which Il Tabarro is the first part. The plan for a work consisting of three operas in one act dates back to the Tosca period (1900). Puccini returned to it out of a desire to illustrate three complementary registers: the tragic, the lyric and the comic, in three different eras and in three separate places. He added a social dimension to this tripartite conception with the depiction of three contrasting milieus: the Parisian proletariat in 1900, the aristocracy of the 17th century, and the world of small landowners in Florence in 1299.  Puccini began with a dark drama, Il Tabarro, continued with a sentimental tale, Suor Angelica, and ended with Gianni Schicchi, in the "commedia dell'arte" style. Fully aware of the uniqueness of such a conception, Puccini objected from the very start to the prospect of seeing his Tryptych presented in three separate performances.  But executing this very special work requires a considerable orchestra, sixteen male voices, twenty-two female voices, and large choruses. Does it require three separate casts, or performers capable of performing the three operas in succession? Rendering the uniqueness of each opera plus the unity of the whole as desired by the composer proved to be a delicate undertaking: this explains why the three parts are often staged separately.
Far from meriting the severe criticism of Toscanini who rejected its "contemptible tone of Grand-Guignol," Il Tabarro (The Greatcoat) features an intense dramatic progression. In a very sombre atmosphere, the main characters – slaves to their frustrations and their impossible desire for a better life – come face to face with one another.  The figures typical of 1900 Paris feature a classic trio: husband, wife and lover. Picturesque and realistic elements serve as backdrop to a confrontation dominated by searing passion and the foreshadowing of an inevitable murder. The score's power and daring reveal all of Puccini's orchestral genius, transporting the audience to a Paris that seems to presage the films of Marcel Carné. The instrumental writing creates the setting for the drama, with a search for realism blending musical themes and "real sounds" like the siren of a tugboat or the plaintive sound of a hurdy-gurdy.
Summary
Giorgetta is unhappy with her husband Michele, a bargeman, whom she finds too taciturn. He suspects her of having taken the young and handsome Luigi, a barge hand, as her lover.  Michele finally strangles his rival after having made him admit his love for Giorgetta.
Act 1
Michele's barge is moored near Notre Dame. His wife Giorgetta is serving wine to the three stevedores who are just finishing their day ("Eccola la passata!"). She displays her irritation towards her husband, and her eagerness to have fun with his employees, especially with the handsome Luigi, who has her dancing to the sound of a hurdy-gurdy. Michele tells his wife that the three men will stay in Paris when the barge leaves. Giorgetta is upset at having to leave Luigi behind, whereas he laments the mediocrity of his life as a worker ("Hai ben ragione; meglio non pensare"). She would like to stay on land and go back to Belleville, the neighbourhood where she was born, as was Luigi ("E ben altro il moi sogno!"). Now alone, Giorgetta and Luigi evoke their last night as lovers ("E la gioia rapita"). When Michele interrupts them, they make a date for later. Michele suspects that his wife is betraying him. He begs her once again to love him, citing their past happiness with their child, who has since died. But Giorgetta stands firm, abandoning Michele to doubt and despair ("Scorri, fiume eterno!"). Seeing him strike a match at night, Luigi believes it is the signal he agreed to with his mistress. Michele seizes him, gets him to admit he loves Giorgetta, and ends up strangling him. He then hides the body in his enormous greatcoat. When his wife returns to the deck of the barge and asks him to warm her up, he opens his greatcoat, allowing Luigi's body to fall out. Giorgetta is horrified, but her husband forces her to bring her face close to that of her murdered lover.