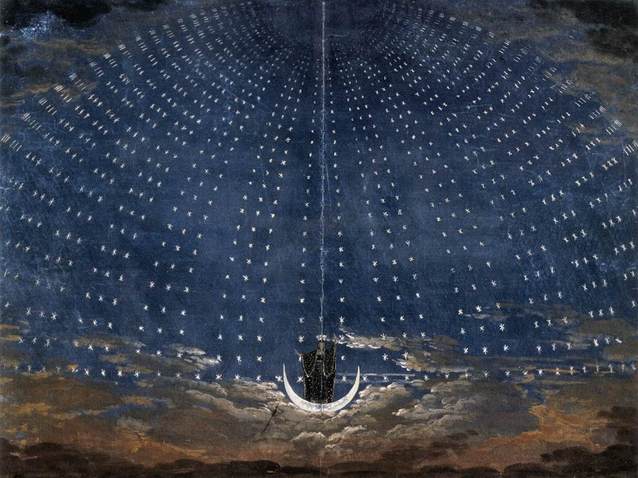 © DR
General informations
Composer:Wolfgang Amadeus Mozart
Librettist:

Emanuel Schikaneder

Creation date:

1791

Creation place:

Austria

Acts number:

2

Original language:

German

Opera House of original production:

Freihaustheater « Theater auf der Wieden »

Original orchestration:

2fl,2ob,2cl,2fg,2cors,2tp,3tbn,timp,glock,cordes
Work description
The mysterious, bewitching and inexhaustible Magic Flute ! Composed feverishly a few weeks before his death, this lyrical testament by Wolfgang Amadeus Mozart is the universal opera par excellence, a source of joy and perpetual wonder, a tender and profound companion that will be with us for life.The Magic Flute is intended for people of all ages, with its marvellous music, one of the most poetic and luminous works ever written by Mozart.The book by Emanuel Schikaneder lends itself to all sorts of interpretations:Is it a children's story?An esoteric and initiatory tale, loaded with Freemasonry symbols?Or, more simply, a popular allegorical fable, a shining marriage of noble ideas and childish wanderings, enlightened, ordered and balanced by Mozart's divine hand?Every listener can hear it reveal its keys…
Summary
Prince Tamino is sent by the Queen of the Night to free his daughter Pamina from the prisons of the magician Sarastro, described as a tyrant.Guided by the Queen's three ladies, Tamino is accompanied by Papageno, a colourful bird catcher, whose cowardice contrasts with Tamino's nobility and courage. Papageno is given a set of bells and Tamino a magic flute – two instruments that will help them in their journey.But during their trip Tamino discovers that the forces of evil are not on Sarastro's side but on the side of the Queen of the Night:she has deceived him and will stop at nothing to take revenge on Sarastro, whom she despises.Filled with trials, Tamino's path to free and win over Pamina is loaded with symbols which, from one scene to the next, lead them towards love and light, under Sarastro's benevolent wisdom.The Queen of the Night and her retinue end up destroyed.
Act 1
Prince Tamino nearly dies after being bitten by a snake:The bird catcher Papageno, a timorous smooth talker, presents himself as his saviour, but it is in fact the three ladies of the Queen of the Night who have saved Tamino.They give the young prince a portrait of Pamina, daughter of the King of the Night, held prisoner by the magician Sarastro, whom they describe as a tyrant.Tamino burns with desire for the portrait and swears that he will go and free Pamina.
Accompanied by a magic flute and most of all by the talkative Papageno, Tamino leaves in search of Pamina.Their adventure is coupled with a true spiritual initiation:but is Sarastro really the monster described by the Queen of the Night.Who knows?
Act 2
Before the three gates of Wisdom, Reason and Nature, Tamino learns that the magician has taken Pamina away for her own good, in order to snatch her away from the harmful influence of her mother the Queen.The Queen, filled with hatred, is willing to do anything to get revenge, and when she appears before her daughter, it is to encourage her to kill Sarastro – in an aria with vocalisations as sharp as daggers.
Pamina is unaware of what awaits her.Sarastro cites the principles of peace that reign over the place, and Tamino, who is made to undergo a trial of silence, remains desperately quiet.She thinks of killing herself.
Excerpt : "Ach, ich fühl's"
The cowardly Papageno, a big-hearted boaster, has no grand dreams: just a little woman to be his companion – a Papagena. Trials await him as well, but less demanding ones than those imposed on Tamino and Pamina.
Despite the traps laid by the Queen of the Night, her three servants and the slave Monostatos, Pamina and Tamino manage to pass the trials of water and fire, guided in their initiation by the "omnipotence of music."Papageno has finally found his Papagena.The evil forces having been swallowed up by the dark, Sarastro celebrates the young couple's happiness:"the rays of the sun push back the night. »