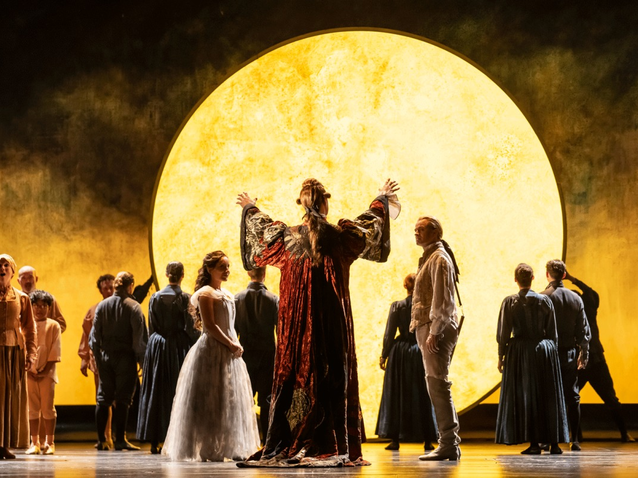 David McVicar's production of Die Zauberflöte commissioned by London's Covent Garden was premiered almost 20 years ago and it has now reached Liceu after touring the world and becoming a reference amongst the many stagings of Mozart's Singspiel in the last decades.
This wasn't Liceu's first choice, however, as when the season – now almost over – was first announced it featured a production form the Dutch National Opera signed by Simon McBurney which hasn't happened.
The old production from Covent Garden continues to work very well nowadays on stage due to McVicar's wise move in maintaining the naïve register of the almost childlike fairy tale (the similarities between the Queen of the Night and Snow White's Evil Queen stepmother by Disney aren't coincidental) which he combines skilfully with the transcendent layer of the Masonic initiation ritual, presenting a striking and agile ensemble.
On the musical side, there were many debuts that had generated great expectation. Gustavo Dudamel, who appears to be increasingly interested in conducting opera, conducted this foundational title for the first time in his career. Also, Javier Camarena, who had stated years ago he would never sing Tamino was debuting in this role. Finally, Thomas Oliemans and Lucy Crowe debuted at Liceu in two crucial roles of the piece, such as Papageno and Pamina.
Gustavo Dudamel generally drove the piece well. He did an overly quick overture which didn´t allow the music to breathe naturally and the first intervention of the three Ladies was also too fast and uncoordinated. With the arrival of "Bei Männern", one of the many Mozart examples of 'saintly music' that heals the soul's sorrows, Dudamel took adequate tempi which he only lost, by briefly coming back to an excess of speed, in the instrumental introduction of the second act. Masonic ceremonies have a kind of transcendent solemnity that is easily lost if rushed. Other than his tendency to go too fast, then again so trendy amongst many directors nowadays, Dudamel did a great job in balancing and bringing together the voices and the orchestral sections and obtained an optimal response from the orchestra.
Javier Camarena went through "Dies Bildnis" with a certain hardness, his singing wasn't legato enough. It was premiere night and the Mexican tenor wanted to step on familiar territory, but him too softened, entered the right path and offered an overall good interpretation. One might think that he could be regretting not having sung Tamino before as it is a role that is very fitting for his voice.
Thomas Oliemans, who had previously sung the role of the bird-catcher in Amsterdam and Aix-en-Provence, was highly liked by the audience. His Papageno is vocally very well rounded and as an actor he made good use of the slapstick gags that McVicar's production gifted him. Lucy Crowe won the audience's hearts as Pamina with her beautiful and sweet yet powerful voice. Her "Ach ich fühls" was fairly applauded.
The Queen of the Night was well defended by Kathryn Lewek, who shone through the renowned fearsome coloratura passages in her two arias. This is what is asked of the Queen of the Night, to dazzle with her vocal acrobatics, which she did and so she triumphed.
Stephen Milling offered a very decent Sarastro, objectively sufficient. The problem with this role is that there's always more that's expected, we always expect the singer to descend to the depths of the lower E with the power and strength of a thunder sounding God and the poor humans who face such abyss do what they can.
Having Matthias Goerne in the role of the Speaker was a luxury. The celebrated German baritone seems to have set camp at Liceu as he incorporated with great success the main character in the last opera at Liceu, Wozzeck, and now he comes back with Die Zauberflöte.
Roger Padullés was repugnant as Monostatos, therefore he was great. Mercedes Gancedo intelligently made the most of all of the possibilities offered by the role of Papagena.
Despite the initial imbalance, the three Ladies did well and so did the three child-spirits and other secondary characters, as well as the choir in all their interventions.
Xavier Pujol
Barcelona, 20th June 2022
Die Zauberflöte by Mozart. Stephen Milling, bass. Javier Camarena, tenor. Matthias Goerne, baritone . Kathryn Lewek, soprano. Lucy Crowe, soprano. Thomas Oliemans, baritone. Roger Padullés, tenor. Mercedes Gancedo, soprano. Berna Perles, soprano. Gemma Coma-Alabert, mezzosoprano. Marta Infante, mezzosoprano. Orchestra and Choir of Gran Teatre del Liceu. VEUS-Children's Choir Amics de la Unió. Conductor, Gustavo Dudamel. Stage director, David McVicar. Restaging director, Angelo Smimmo. Scenography and costumes, John Macfarlane. Lighting, Paule Constable. Production by Royal Opera House. Gran Teatre del Liceu. Barcelona, 20th June.
the 21 of June, 2022
|
Print