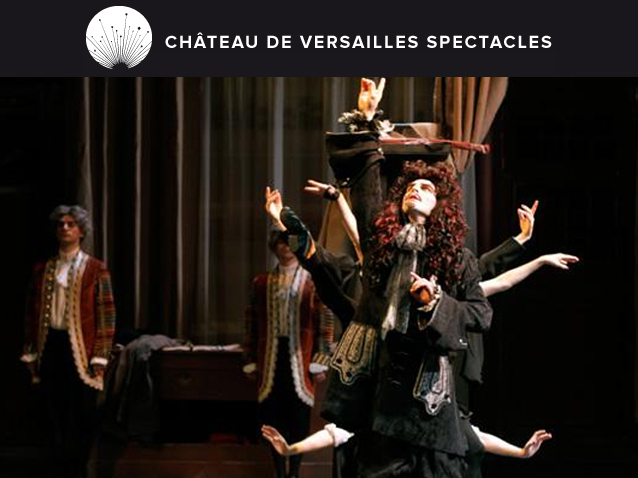 Description
After the success of its performances at the Opéra Royal, where it was filmed, this colourful Bourgeois gentilhomme returns to Versailles! In the Bourgeois gentilhomme, Molière traces the portrait of an adventurer of the mind, whose only wish is to escape his "ignoble" origin to set foot on territories from which he is excluded… to discover a terra incognita, which is inaccessible to him because of his birth. Why laugh at Monsieur Jourdain? 
The bourgeois only wants to discover what we call today "culture" and painstakingly undertakes to bring his dreams to life… What matters if these dreams are those of a ridiculous man?
When choosing to perform the play its original form, a comedy-ballet on music by Lully, Denys Podalydès called on all art forms. This celebration of the theatre in costumes designed by Christian Lacroix, aims to reach the apotheosis of all senses so devoutly wished for by his hero, interpreted by Pascal Rénéric. We must laugh at the comedy. But how not to feel some sympathy for this man without qualities trying to initiate the first cultural revolution all by himself? After a thousand comical twists and turns, he is elevated to the high rank of "Mamamouchi", and experiences his hour of glory in music and dance, sickened by his low birth, an imaginary gentleman, his desires are granted but he is beaten, duped and triumphant, in this rare theatrical moment where ridicule gives way to pure wonderment.
Cast :
Pascal Rénéric, Monsieur Jourdain
Emeline Bayart, Isabelle Candelier, Madame Jourdain
Jean-Noël Brouté, Alexandre Steiger, The master tailor and Covielle
Julien Campani, The music tutor and Dorante
Manon Combes, Nicole
Bénédicte Guilbert, Dorimène
Francis Leplay, The philosophy tutor
Leslie Menu, Elodie Huber, Lucile
Nicolas Orlando, Manuel Le Lièvre, The fencing master
Laurent Podalydès, Hermann Marchand, Léo Reynaud, A lackey
Thibault Vinçon, The dancing master Cléonte
Windy Antognelli, Flavie Hennion et Artemis Stavridi, Dancers
Romain Champion, Cécile Granger, Marc Labonnette, Geoffroy Buffière, Anicet Castel, Thilo Hirch, Singers
Francisco Mañalich, Singer and viola da gamba
Denis Podalydès, Direction
Eric Ruf (Sociétaire de la Comédie Française), Scenography
Christian Lacroix, Costumes
Stéphanie Daniel, Lights
Véronique Soulier-Nguyen, Makeup and hair
Emmanuel Bourdieu, Artistic collaboration
Kaori Ito, Choreography
Ensemble La Révérence
Christophe Coin, conductor
More information is available on the operahouse's official website.
Schedule
April 08, 2015 20:00:00
April 09, 2015 20:00:00
April 10, 2015 20:00:00
April 11, 2015 20:00:00
April 12, 2015 15:00:00