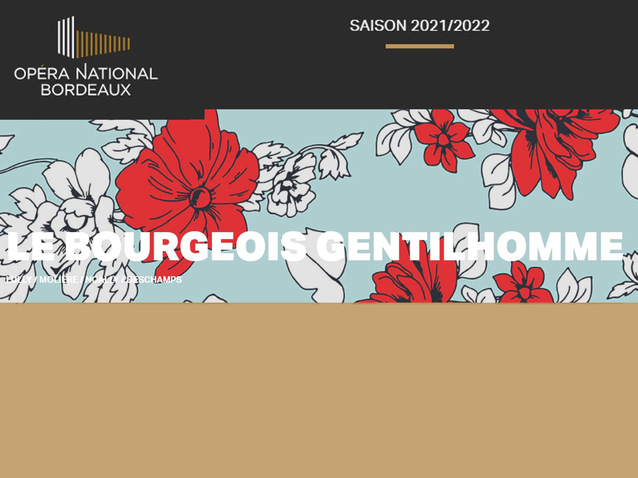 © DR
Description
Production Compagnie Jérôme Deschamps, co-production Opéra National de Bordeaux, Printemps des Comédiens - Montpellier, Opéra Comique, Opéra Royal - Château de Versailles Spectacles, Les Musiciens du Louvre, Célestins - Théâtre de Lyon, Théâtre de Caen, Comédie de Clermont-Ferrand - stage national.
Singers: Natalie Pérez or Constance Malta-Bey, Vincent Lièvre-Picard, Lisandro Nesis, Jérôme Varnier or NN.
More information is available on the official website of the opera house.
Schedule
January 11, 2022 20:00:00
January 12, 2022 20:00:00
January 13, 2022 20:00:00
January 14, 2022 20:00:00
January 15, 2022 20:00:00
January 17, 2022 20:00:00
January 18, 2022 20:00:00
January 19, 2022 20:00:00
January 20, 2022 20:00:00
January 21, 2022 20:00:00
Casting
Flore Babled
Jean-Claude Bolle Reddat
Sébastien Boudrot
Sébastien Boudrot
Vincent Debost
Pauline Deshons
Bénédicte Choisnet
Aurélien Gabrielli
Guillaume Laloux
Guillaume Laloux
Josiane Stoleru
Work's characters list
Director
Conductor
Lucile
Le Maître de Philosophie
Le Maître de musique
Le Tailleur
Covielle
Monsieur Jourdain
Dorimène
Dorimène
Cléonte
Dorante
Le Maître de danse
Madame Jourdain