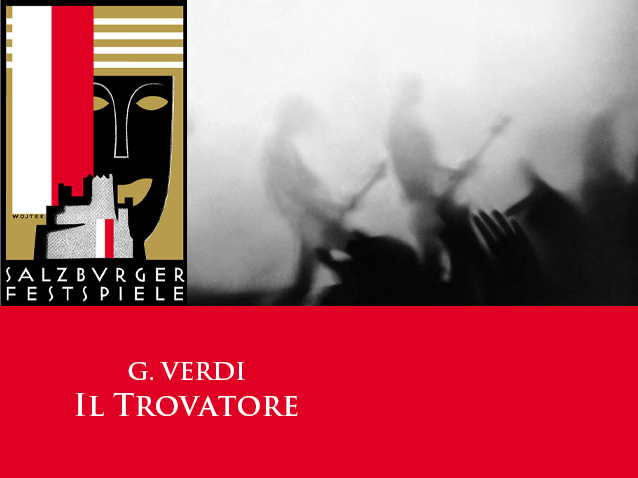 © Robert Longo
Description
Co-production with the Shanghai Grand Theatre
It was in 1850 that Verdi discovered a play by Antonio García Gutiérrez, El trovador, that appealed to him as a subject worth setting to music, prompting him to write to his librettist Salvatore Cammarano and invite him to be 'bold and modern' in his reworking of the play. El trovador was one of a small number of works including Angel de Saavedra's 1835 play Don Alvaro – the basis of Verdi's later opera La forza del destino – that illustrate a brief but independent variation on Spanish gothic Romanticism which, although indebted to the French Romanticism of Victor Hugo, nonetheless represents a particular emotional and spiritual variant of it. Superficially speaking, El trovador may be seen as a historical drama set at the time of the Aragonese wars in the early fifteenth century, whereas it deals in fact with a crisis of religious, social and political authority typical of the age in which García Gutiérrez was living.
There is no doubt that Verdi's interest was piqued by the boldness and originality of the Spanish play, with its bizarre characters and situations and its socially and morally provocative nature. Two men who do not know that they are brothers become embroiled in the bitterest of struggles not only on the battlefield but also as a result of the fact that they both love the same woman. One of them, the Count di Luna, regards his noble birth as sufficient reason for claiming the hand of the Countess Leonora, while the other, Manrico, has been brought up by the gypsy Azucena as her own son as the result of a series of adverse circumstances. He alone is truly in love with Leonora. Fate pursues its course.
Verdi described the subject as 'glorious, fantastic and full of powerful situations', urging on the unenthusiastic Cammarano in a letter dated 4 April 1851: 'If in opera there were neither cavatinas, duets, trios, choruses, finales, etcetera, and the whole work consisted, let's say, of a single number I should find that all the more right and proper. For this reason I would say that if you could avoid beginning with an opening chorus (all operas begin with a chorus!) and start straightaway with the troubadour's song and run the first two acts into one it would be a good thing.' In the event, Cammarano failed to oblige the composer and instead submitted a draft scenario whose conventional division into individual numbers is less progressive than Rigoletto, in which Verdi had struck out in a new direction and started to break down his traditional historical model. In spite of his initial disappointment, Verdi none the less recognized the potential of Cammarano's draft, a potential due to its unusual subject matter: 'Just continue the Troubadour in the way that you have done the introduction and I shall count myself extremely happy,' he wrote to his librettist less than three months later on 25 June 1851.
It is in fact the traditional design of the libretto that allowed Verdi to adopt such a modern approach to its musical setting, a modernity for which he was later to be reproached. Particularly striking is the much reduced role of the recitatives, for in recapturing the spirit of his Spanish source Verdi has preferred hard edits between the self-contained, autonomous scenes and dispensed with anything that might be regarded as a continuously unfolding action. The scenes are arranged according to a sense of strict geometry. Central to them all are large-scale narratives that evoke the distant past and provide a background for Verdi's examination of the elemental emotions of love, jealousy, hatred and revenge, emotions to which the protagonists all fall victim, so blindly are they in thrall to their passions: Leonora prefers to die for the sake of her love; the gypsy Azucena is consumed by a desire for vengeance that triggers the action of the drama and motivates each of her actions; Manrico is so overcome by jealousy that he accuses the dying Leonora of being unfaithful; and the Count, ignorant of the true circumstances, kills his own brother out of his feelings of hatred.
With its constantly shifting perspective, Verdi's music functions on the one hand as a neutral observer of the various situations depicted in the opera, while at the same time zooming in on the inner lives of the characters and exploring their emotions in every last detail. Hand in hand with this approach goes a permanent tendency to cross-fade the past and the present in ways that recall the cinema. In spite of a number of negative reactions, the opera proved a triumph at its first performance at the Teatro Apollo in Rome on 19 January 1853. The second of Verdi's trilogia popolare that comprises Rigoletto, Il trovatore and La traviata, it continues to occupy a prominent place in the composer's overall output.
More information is available on the festival's official website.
Attend this production with our partner La Fugue - Europera.
Schedule
August 09, 2014 19:00:00
August 12, 2014 15:30:00
August 15, 2014 16:00:00
August 18, 2014 15:00:00
August 21, 2014 15:00:00
August 24, 2014 18:00:00
Work's characters list
Director
Conductor
Un messo
Il conte di Luna
Ruiz
Leonora
Azucena
Ines
Manrico
Ferrando