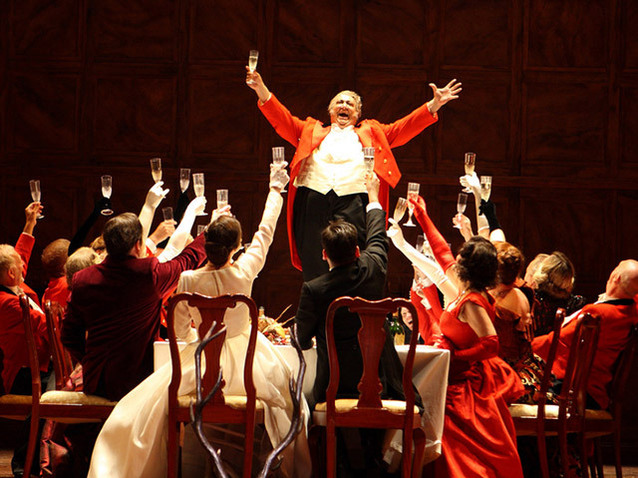 © DR
Verdi's final opera Falstaff premiered in 1893 as the composer was approaching his eightieth birthday. With the exception of the ill-fated Un giorno di regno, it is the only comedy that he ever wrote, but its obvious hilarity should not detract from its musical and emotional intelligence.
It almost requires more skill to write a piece that maintains a cracking pace throughout, and hence sees recitative and aria virtually merge into one, than it does to compose the most soulful, languid or popular operatic tunes. For example, when Verdi tricks us in Act III into thinking we are about to hear a full lovers' duet, only for this to be interrupted before taking flight, he reveals both his wit and his musical talents in making the joke work.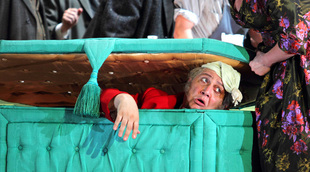 Based on Shakespeare's The Merry Wives of Windsor, the plot sees Sir John Falstaff attempt to seduce Alice Ford and Meg Page when he runs short of money. The women discover that he is chasing them both and decide to play along to teach him a lesson. At the same time, Meg's husband Ford lures Falstaff into his own trap while Ford's daughter Nannetta wishes to escape the planned marriage between her and the ageing Dr Caius because she loves the younger Fenton. The plotting comes to a head at midnight in Windsor Great Park when Falstaff is tormented by the Fairy Queen and spirits – or rather Nannetta and her supporters in disguise! The story, however, has a happy ending when Falstaff accepts he has been tricked, Ford agrees to Nannetta's marriage with Fenton, and the Knight declares that all the world is folly, and all are figures of fun.
The achievement of Verdi and his librettist, Arrigo Boito, was to take this intrinsically English story, and make it feel both appropriately English and Italian. This is something that Robert Carsen's production, now enjoying its first revival at the Royal Opera House where it premiered in 2012, also succeeds in doing by setting the action in the 1950s. Many opera directors warm to this era as the most modern period available that largely maintains the social hierarchies of the original setting, and for Carsen this period of change in Britain was a 'new Elizabethan age'. In Paul Steinberg's sets, consisting of luxurious walnut panelling rising to the height of the stage, we see British design in action, and yet something that might also pass for mid-century Italian. 
Ambrogio Maestri, a highly experienced Falstaff who also played the part here in 2012, is sensational in the title role. He is not initially the loveable rogue from top to toe as his grubby long johns and persona give him a slightly stern and gritty edge. He still, however, captures the essential likeability of the character, emphasising that Falstaff needs be to fed to be who he is, positively enjoying his reputation as a womaniser, and ultimately proclaiming his own wit as a gift to the world.
Maestri has an immensely powerful voice but his sound is always well shaped, enabling him to indulge in the occasional piece of falsetto or squeaking while overall keeping his vocal performance on an even keel. He also oozes presence as any Falstaff should. At the start his henchmen are forced to confront an angry Dr Caius from whom they stole, but Falstaff has the measure of them all so easily that he does not even bother to get out of bed. In the famous Finale Maestri seems to address every audience member individually, momentarily making the vast Royal Opera House feel like the most intimate of settings.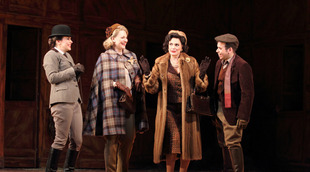 If no-one else quite matches Maestri for sheer strength that hardly matters because the opera is predominantly an ensemble piece. Falstaff may be a part of that ensemble but he is also a man against the world, which means that he can afford to be larger than everyone around him. Agnes Zwierko is a magnificent Mistress Quickly, whose vibrant mezzo-soprano complements her fine gestures as she 'seductively' curls her leg in a curtsey and hand feeds Falstaff his food, and Anna Devin and Luis Gomes demonstrate beautiful voices as Nannetta and Fenton. Ainhoa Arteta as Alice reveals a glistening soprano and excellent phrasing, while Roland Wood as Ford has a particular aptitude for bringing out the humour in the vocal line. Kai Rüütel and Peter Hoare are strong as Meg and Dr Caius respectively, while the comic timing of Falstaff's henchmen, played by Alasdair Elliott and Lukas Jakobski, is impeccable. In the pit Michael Schønwandt keeps a firm hand on the proceedings at all times.
The staging is highly dynamic, with effects ranging from the exceptionally subtle to the downright hilarious. When the quartet of women start taking over the Garter Inn's dining room with their singing, other diners move tables in annoyance. The hunt for Falstaff in Ford's house sees the chorus truly ransack the kitchen, and embark on a commando-style mission, before the scene reaches its perfectly judged climax. By Act III the audience is laughing before the curtain has risen more than a few feet as they spy the sodden Falstaff lying on the hay and the real horse Louis nibbling at his allotted portion. 
In some ways Act III could be classed as lame, but the humour is surely in seeing Falstaff being forced to run up and down a table by lots of people wearing huge antlers! Similarly, there is a touch of mirth in Devin's beautiful performance of 'Sul fil d'un soffio etesio' being accompanied by swaying antlered heads, even though these never detract from the aria itself. At the opposite end of the spectrum Gomes' excellent rendition of 'Dal labbro il canto estasiato volasung' takes place against the backdrop of two large walls and the infinite cosmos, and represents a rare occasion in the opera house when the dwarfing of a singer with the set increases, rather than diminishes, their presence.
By Sam Smith
Falstaff | 6 – 18 July 2015 | Royal Opera House, Covent Garden
the 08 of July, 2015
|
Print