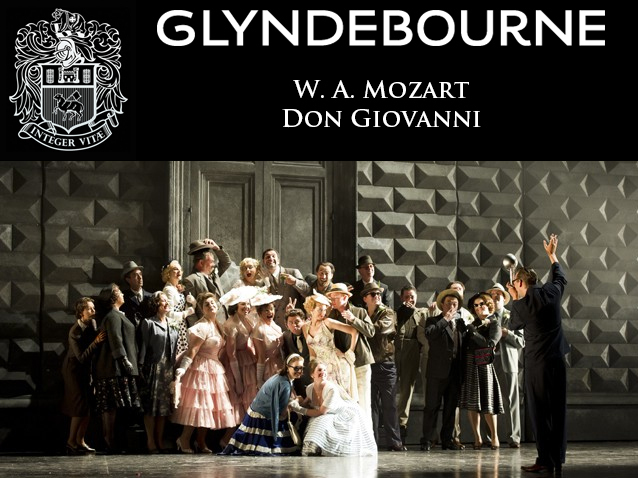 © Glyndebourne Festival
Description
Attend this production with our partner La Fugue - Europera.
A revival of the 2010 Festival production
How many comic operas begin with spinechilling chords and slithering chromatics in the eerie key of D minor, continue with a cold-blooded murder, and end with the hero's consignment to hell? Don Giovanni, even more than Le nozze di Figaro and Così fan tutte, the other two dark-shaded opere buffe by Mozart and Da Ponte, slinks restlessly between comedy and tragedy.
Jonathan Kent's sleek, suspenseful production, first seen in the 2010 Glyndebourne Festival, captures this duality. 'All the nuance and subtlety of this tension is present in Mr Kent's sublime staging, which should become a Glyndebourne classic,' wrote the Wall Street Journal.
The name 'Don Juan' has become a synonym for 'womaniser'. The legendary 14th-century Spanish nobleman has inspired a still-unabated flood of literary and stage works, films and visual art. But in Mozart's Don Giovanni, we meet the Don on a most unusual day: a day of foiled sexual conquests; a day in which he upsets the natural order by killing a man; his last day on earth.
In the title role, Canadian baritone Elliot Madore, returning after his 2012 Festival debut in L'heure espagnole, joins the distinguished line of Glyndebourne Dons beginning with John Brownlee in 1936. British tenor Ben Johnson sings Don Ottavio opposite Canadian soprano Layla Claire, returning as Donna Anna after her Glyndebourne Tour debut in 2012. Italian soprano Serena Farnocchia, who made her debut at Glyndebourne in La bohème in 2012, returns as Donna Elvira. Andrés Orozco-Estrada makes his Glyndebourne debut conducting the London Philharmonic Orchestra.
More information is available on the operahouse's official website.
Schedule
June 07, 2014 17:10:00
June 11, 2014 17:10:00
June 14, 2014 17:10:00
June 18, 2014 17:10:00
June 21, 2014 17:10:00
June 27, 2014 17:10:00
July 04, 2014 17:10:00
July 09, 2014 17:10:00
July 13, 2014 15:55:00
July 16, 2014 17:10:00
July 19, 2014 17:10:00
July 25, 2014 17:10:00
July 29, 2014 17:10:00
August 01, 2014 17:10:00
Work's characters list
Director
Conductor
Don Giovanni
Leporello
Il Commendatore
Donna Anna
Don Ottavio
Donna Elvira
Zerlina
Masetto