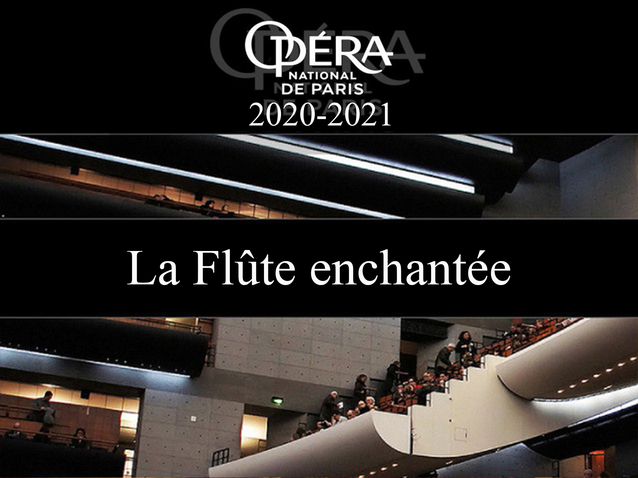 © DR
Description
Revival of the directing of Robert Carsen created in Baden-Baden, given for the first time here in March 2014, already resumed in 2017 (read our french column) and 2019.
Following the measures adopted by the government as part of the fight against the spread of the coronavirus, the opera had to cancel all performances of this production. However, a performance without an audience should be broadcast on January 22 on the platform « l'Opéra chez soi ».
More information is availabe on the official website of the opera house.
Schedule
January 12, 2021 19:30:00
January 14, 2021 19:30:00
January 17, 2021 14:30:00
January 19, 2021 19:30:00
January 22, 2021 19:30:00
January 25, 2021 19:30:00
January 29, 2021 19:30:00
January 31, 2021 14:30:00
February 03, 2021 19:30:00
February 06, 2021 19:30:00
February 11, 2021 19:30:00
February 13, 2021 19:30:00
February 16, 2021 19:30:00
February 19, 2021 19:30:00
February 22, 2021 19:30:00
Work's characters list
Conductor
Sarastro
Tamino
Tamino
Sprecher
Die Königin der Nacht
Die Königin der Nacht
Pamina
Pamina
Papageno
Papageno
Papagena
Monostatos
Erster Geharnischter
Zweiter Geharnischter
Erste Dame
Zweite Dame
Dritte Dame
Zweiter Priester