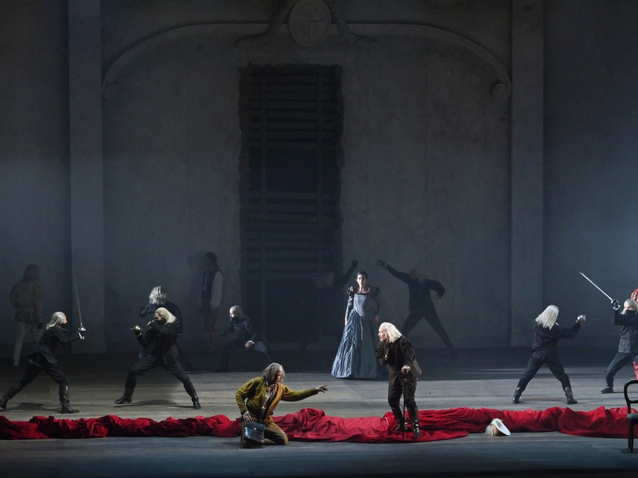 © A. Bofill
... With such assertiveness Don Giovanni addresses the final number of the first act. This certainly seems to be the spirit of the Don Giovanni currently being staged at Liceu. The world is crumbling around them, but Don Giovanni and Liceu are firmly staying put. To bring Don Giovanni to the stage "could almost be defined as an act of cultural resistance", stated publically a few days ago Víctor García de Gomar, the artistic director of the theatre in Barcelona. This goes along the lines of what Don Giovanny says, only with different words.
The price to pay in order to go ahead with the performance was extremely high, however. In order to comply with the Covid measures in place for all performances in Catalunya, the performance had to end at 11pm at the latest, and for that reason twenty-five minutes of music from the second act were cut. We missed Il mio tesoro by Don Ottavio, Mi tradì by Donna Elvira, Ah, pietà signiori miei by Leporello, the duet Per queste tue manine between Zerline and Leporello and the final sextet – "would have they dared cutting the opera had it been by Wagner?", a member of the audience wondered sceptically.
The choir had to sing with a face mask and respecting social distancing safety measures and the soloists barely interacted physically amongst themselves.  This turned an already complex production – which presented challenges in itself – into nonsense.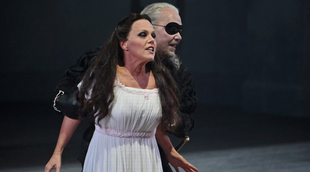 Miah Persson, Christopher Maltman © A. Bofill
The artistic balance was quite positive. The orchestra, also reduced in order to be able to respect distancing measures, sounded well. Situated in the pit but in a raised platform, it lost the usual homogeneous "Wagnerian" sound that comes from the usual depth of the pit, but it gained clarity in timbre, particularly for the woodwinds, with a good result. 
Josep Pons intensified the tempi contrasts with a very slow Deh vieni alla finestra and Dalla sua pace but a vertiginous Fin ch'an dal vino, which gave vitality to the performance. There were certainly some issues with synchronization between orchestra and singers, which probably will get sorted out in the coming days. The great ensemble numbers of the piece however, were well resolved and were well balanced.
In the soloists department, it is important to begin with Christopher Maltman, a renowned interpreter of the central character. His Don Giovanni is vocally confident, perhaps lacks the charisma and seduction that we imagine for the character, but the vocal projection is notable and he sings well within the Mozart style. 
Leporello was very well defended by Luca Pisaroni, himself also an expert in his role. As well as showing a good level of vocal talent, Pisaroni balanced the character well, including the buffoon-esque aspects without turning it into a caricature or stereotype.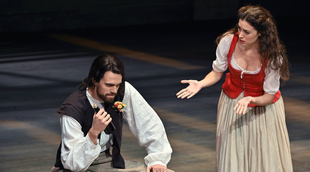 Josep-Ramon Olivé, Leonor Bonilla © A. Bofill
Véronique Gens remained irregular in the role of Donna Elvira, with a weak start where the voice didn't seem well placed and the projection was inelegant. Soon enough, however, she entered vocally into the character and everything went well from there. Miah Persson did well as Donna Anna, showing expressiveness and intensity, although she struggled with the higher register of the role, which sounded tight and forced. Ben Bliss was a good Don Ottavio, vocally prominent, and his Dalla sua pace was memorable for its sweetness. Adam Palka delivered a sufficient Commendatore whilst alive and not quite 'beyond the grave' when dead.
There were very pleasant surprises in the roles of Zerlina and Masetto, excellently incorporated by two young singers with great vocal talent, soprano Leonor Bonilla from Sevilla and baritone Josep-Ramon Olivé from Barcelona. 
The production, from the Frankfurt Opera was signed by Christof Loy and was restaged by Axel Weidauer. This is a visually sober and restrained production, although well-lit and very daring conceptually, but wasn't sufficiently well-resolved on stage. Loy attempts to focus the dramatic discourse on the personality and complex psychological profile of the central character, which is a good idea as is means to transcend the elemental level of the simple seducer. However, the scenic execution of such intentions often remained confusing or ambiguous and it was difficult to follow Loy's convoluted thinking.
In theatre it is not good enough for ideas to work at a conceptual and abstract level, they need to also physically work well, especially in the material appearance on stage. In this sense, the production was unproductively complex.
Xavier Pujol
Barcelona, 24th October  2020
Don Giovanni by Wolfgang Amadeus Mozart. Christopher Maltman, baritone. Adam Palka, bass. Miah Persson, soprano. Ben Bliss, tenor. Véronique Gens, soprano. Luca Pisaroni, bass-baritone. Josep-Ramon Olivé, baritone. Leonor Bonilla, soprano.  Orchestra of Gran Teatre del Liceu. Choir of Gran Teatre del Liceu. Josep Pons, conductor. Christof Loy, stage director. Axel Weidauer, restaging. Johannes Leiacker, scenography. Ursula Renzenbrink, costumes. Olaf Winter, lighting. Production by the Frankfurt Opera. Gran Teatre del Liceu.
the 28 of October, 2020
|
Print