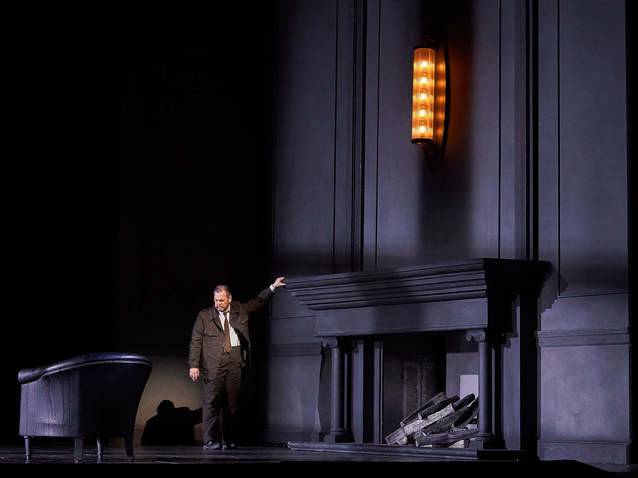 © DR
Otello's ship has to overcome the storm to get into port – in order to get to Liceu, the opera Otello had to overcome several storms. Firstly, the replacement of the announced conductor, Riccardo Frizza, by Gustavo Dudamel. With this piece, the Venezuelan conductor – who had already opened the season at Liceu with a concert version of Il Trovatore – directed his first staged opera in Spain. Secondly, the announced production from the Royal Opera House directed by Keith Warner, which could not travel to Barcelona due to pandemic restrictions, was replaced by a 2018 production by the Bayerische Staatsoper directed by Amélie Niermeyer.
Otello and, especially Jago, are two of Shakespeare's psychologically richest and most complex characters. The magnificent libretto that Arrigo Boito created for the Verdian opera from these two characters even magnified them further. It is the expression of such rich and complex characters that the production signed by Amélie Niermeyer focuses on, as well as rescuing Desdemona from the passive victim role that she is habitually given and bringing her into the centre of the action.
Niermeyer doesn't always manage to clearly convey what we suppose might be her intentions. Some scenes work very well but others not so much and generally, for example, it looks as if the choir bothers her and she doesn't know quite what to do with it scenically.
Visually, the staging isn't easy to decipher either. Desdemona is in her white room almost at all times, observing everything, omniscient but impotent. This room however, is contained within another similar, bigger but darker room, a kind of parallel universe. This dark space is where Otello, now no longer a victorious general but a man destroyed by war trauma, inexorably collapses into alienation, madness and self-destruction, pushed by Jago, a 'chemically pure'evil,a master of manipulation.
In the end, Otello will expire asking for "un baccio ancora" in an empty bed as Desdemona lies dead in the other room's bed. All in all, it's a highly complex and ambitious staging which doesn't attempt to simplify the piece but doesn't always resolve effectively the poignant psychological drama it aims to portray.
Musically, Otello started unsteady but ended very well. The piece possesses an important, dense and rich orchestration, where the dynamics need to be carefully controlled, as otherwise, if left to flow freely, it naturally tends to become jarring. Dudamel, a vigorous conductor, despite initially allowing the orchestra to play excessively to the extreme of covering the singers' voices, later accompanied them very well, introducing pauses and meaningful silences. He obtained a superb sound, sweet and full of nuances in the final duo of the first act, Desdemona's great solo scene and Otello's death.
Gregory Kunde is a great Otello. The North-American tenor, however, hadn't been on a stage for the past year and prudently decided to start with caution. This posed a problem though, as Otello has one of the riskier and most imposing entrances in the history of opera. The opening "Esultate!" is vocally powerful and cannot be negotiated or approached with caution. Following from this dubious start, Kunde began to improve and by mid first act he was fully in the character. Dudamel had brought the orchestra down and in the final scenes Kunde was sublime.
Carlos Álvarez is a model and exemplary Jago. He has studied the character in depth and nails it. He performs it sophisticatedly perverse, affected and devious until turning it into an authentic prince of evil. Initially, he too suffered from the orchestral inclemency and struggled to project his voice through the wall of sound emerging from the pit. When things calmed down he was able to shine through showing the nuances of the character. 
Krassimira Stoyanova was impeccable and excellent from the first note as Desdemona, a role that the Bulgarian soprano had already performed at Liceu many years ago and which she did again without the slightest trace of vocal decline. Her great solo scene delivered the best musical moment of the night.   
All secondary characters did very well, with Airam Hernández's Cassio deserving a special mention. The choir, unbalanced at first, became more focussed in subsequent interventions and offered a good performance in a production that didn't afford it many opportunities.
Xavier Pujol
Barcelona, 27th March 2021
Otello by Giuseppe Verdi. Gregory Kunde, tenor. Carlos Álvarez, baritone. Krassimira Stoyanova, soprano. Airam Hernández, tenor. Francisco Vas, tenor. Mireia Pintó, mezzosoprano. Felipe Bou, bass. Fernando Latorre, baritone. Orchestra and Choir of Gran Teatre del Liceu. Gustavo Dudamel, conductor. Amélie Niermeyer, stage director. Georgine Balk, re-staging. Christian Schmidt, scenography. Annelies Vanlaere, costumes. Olaf Winter, lighting. Production by Bayerische Staatsoper (Munchen). Gran Teatre del Liceu.
the 29 of March, 2021
|
Print