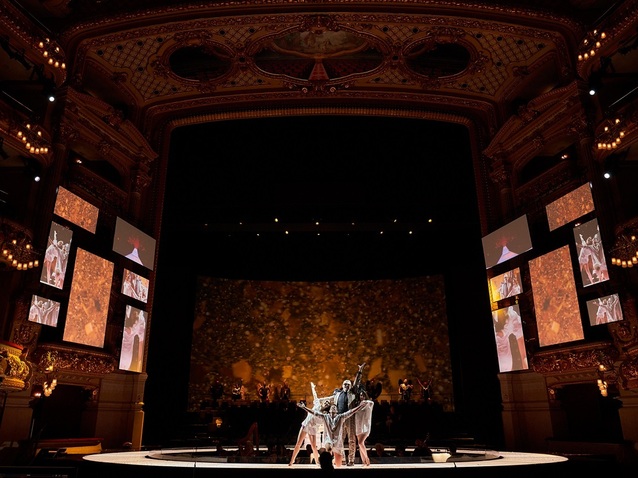 © Paco Amate
L'Incoronazione di Poppea, first performed in Venice in 1642, is unique in the history of opera, not because of its remarkable age or the high quality of its music, after all, there are other operas from the same years, and Monteverdi, the composer of the music, equalled and perhaps surpassed the level reached in this work in other immortal titles such as Orfeo or Il ritorno d'Ulisse in patria.
If L'Incoronazione di Poppea is a unique work, it is because of its astonishing libretto written by Gian Francesco Busenello, an active member of the cultured and mysterious and, according to the church, libertine and free-thinking, Accademia degli Incogniti.
L'Incoronazione di Poppea, the first major surviving opera to feature human beings rather than gods or mythical heroes as protagonists, which tells of Emperor Nero's repudiation of the Empress Octavia in order to marry his mistress Poppea, is a delirious orgy of amorality, cynicism, blood, sex and cruelty where evil and abusive and arbitrary totalitarian power triumph and where the only upright, prudent and sensible character, the philosopher Seneca, is forced to commit suicide.
Busenello's text, which attempted to confront the Venetians of the time with a mirror of their own moral decline, is overwhelmingly modern with phrases such as "O delle donne miserabil sesso: se la natura e 'l cielo libere ci produce, il matrimonio c'incatena serve" (Oh, of women miserable sex: if nature and heaven create us free, marriage enslaves us) in the mouth of Ottavia or "La legge è per chi serve, e se vogl'io, posso abolir l'antica e indur le nove" (The law is for the servants, if I want I can abolish the old one and make a new one), a very topical phrase pronounced by Nerone which, privately, many of our current leaders would subscribe to.
L'Incoronazione di Poppeawas presented at Liceu in a spectacular 2018 production from the Zurich Opera with stage direction by Calixto Bieito.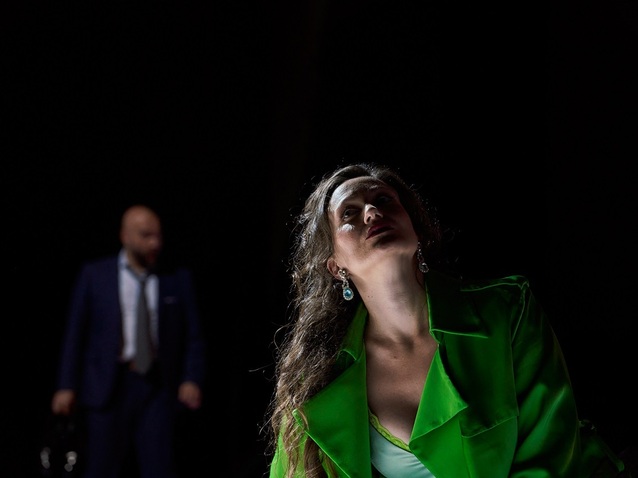 Julie Fuchs, L'Incoronazione di Poppea - Gran Teatre del Liceu (2023) (c) Paco Amate
Except for a fellatio, a couple of coitus and a murder, entirely invented by Bieito, and the nonsense of the goddess Fortuna throwing her knickers at the audience, the rest of the stage director's work is - with some further exaggeration - a scrupulous presentation of the brutal literalness of Busenello's terrible text. Bieito captures the situations well, presents them with energy, defines and moves the characters well, and builds a fluid, intense narrative. The scenography overflows the stage and places the orchestra in the centre of a circular crown where the characters move. On the stage, partly occupied by the audience, and on the proscenium walls, large screens show us the characters acting live, but also in other situations, so that through the video a very interesting parallel narration is constructed, complementary to the main action that takes place on stage. The stage set is spectacular and striking, but it is also true that it is part of the modern and boring practice of the single scene, so that after ten minutes one has seen everything there is to see and is certain that in the next three hours there will be nothing new scenically.
The great success of L'Incoronazione di Poppea at Liceu was the result of great teamwork. Julie Fuchs and David Hansen, who had previously been involved in this production, were an extraordinary Poppea and Nerone both vocally and scenically, totally committed to a staging that made enormous demands on them. Magdalena Kožená as Ottavia and countertenor Xavier Sabata as Ottone were also impressive in every respect. Soprano Deanna Breiwick and bass Nahuel Di Pierro completed the main cast at a high level in the roles of Drusilla and Seneca. The high level of performance in all the different supporting roles was noteworthy.
The musical preparation of these performances was the responsibility of Jordi Savall, who also conducted the first three performances; in the fourth performance, the ensemble Le Concert des Nations was excellently conducted by Luca Guglielmi, who had been in charge of the harpsichord in the previous performances. What a contrast between the delicacy of what we heard and the brutality of what we saw!
Xavier Pujol
Barcelona, 17th July 2023
L'incoronazione di Poppea by Claudio Monteverdi. David Hansen, countertenor. Julie Fuchs, soprano. Magdalena Kožená, mezzosoprano. Xavier Sabata, countertenor. Deanna Breiwick, soprano. Nahuel Di Pierro, bass. Thobela Ntshanyana, tenor. Marcel Beekman, tenor. Mark Milhofer, tenor. Irene Mas, soprano. Jake Arditti, countertenor. Rita Morais, soprano. Natalia Labourdette, soprano. Guillem Batllori, baritone. Milan Perišić, baritone. Le concert des Nations. Luca Guglielmi, conductor. Calixto Bieito, stage director. Marcos Darbyshire, restaging. Rebecca Ringst, scenography. Ingo Krügler, costumes.Franck Evin, lighting.Sarah Derendinger, video. Production by Opernhaus Zürich. Gran Teatre del Liceu.
the 20 of July, 2023
|
Print