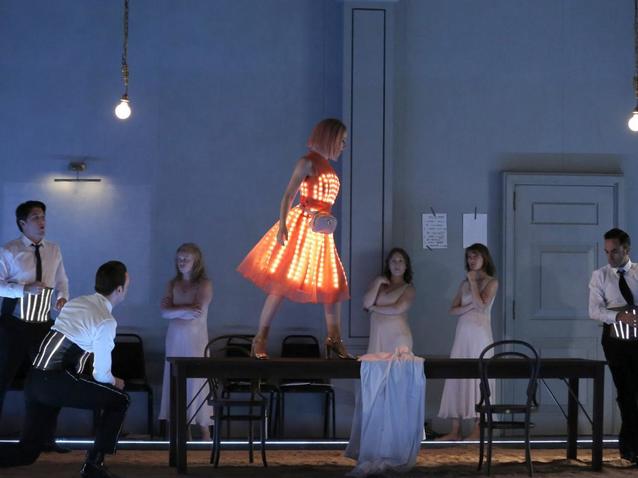 © dr
Liceu opened its 175th season with Strauss' Ariadne auf Naxos, an opera that has rarely been seen at the theatre and which had not been brought on stage for almost 20 years.
Written for a moderately sized orchestra and with a transparent yet dense orchestration of refined sonorities, Ariadne is a difficult opera to resolve instrumentally. Maestro Josep Pons, the theatre's principal director chose to face the challenge of conducting this Ariadne and the obtained results were optimum. The orchestra delivered very well in a very demanding piece. The other challenge in conducting this opera is the significant complexity in bringing together the voices and the orchestra. Despite some adjustments, this aspect too was successfully managed by Pons.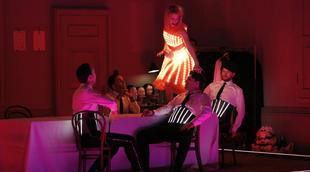 Ariadne auf Naxos, Festival d'Aix en Provence 2018 (c) Bertrand Langlois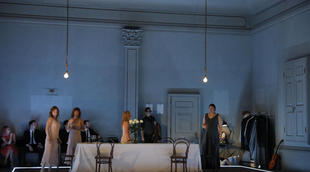 Ariadne auf Naxos, Festival d'Aix en Provence 2018 (c) Bertrand Langlois
The vocal demands of this title are also considerable. Ariadne's role needs a soprano of Wagnerian depth that is also able to sign with subtlety and refinement, someone with a robust lower register at the beginning yet able to produce fearsome top notes towards the end. Irene Theorin was initially meant to sign the title role, but she had to cancel due to an injury. She was substituted by Finish soprano Miina-Liisa Värëla, who had performed the role in this production at Finland's National Opera in 2019. Debuting at Liceu, Värëla was able to deliver the role despite a few forced higher notes – she offered more power than refinement.
The other big female role of the piece, Zerbinetta, is for a light soprano with great coloratura agility although it also requires a certain lyric width. Many years ago, Liceu enjoyed the memorable interpretations of this role by Edita Gruberova in two seasons 12 years apart, which some of the older audience still remember movingly.
Soprano Elena Sancho Pereg managed to deliver the upper E notes of her impressive solo scene. The more lyrical moments were less emphatic but didn't detract in any way from her great triumph.
The vocal writing for Bacchus' role is almost impossible to accomplish, it's almost as if Strauss hated tenors. The part requires singing relentlessly on the upper register on long notes and with power. The part is too heavy for leggero tenors and too high for lyric ones. Tenor Nikolai Schukoff delivered quite well the challenge of singing Bacchus.
Vocally the role of the Composer presents less demands than the aforementioned characters but needs an expressive interpretation. Mezzosoprano Samantha Hankey, debuting at Liceu, surprised everyone with an excellent Composer, full of nuances and perfect in style.
Another important complexity of Ariadne auf Naxos lays in the high vocal demands of the numerous secondary characters. These have short or very short parts yet require singers of great standard. From this perspective the performance was outstanding as all delivered very well in their characters. Baritone Benjamin Appl's contribution as Harlequin – a great luxury – was noteworthy.
The production was signed by stage director Katie Mitchell and was first presented in 2018 at the Aix-en-Provence Festival. It is co-produced by various theatres – Liceu being one of them.
Mitchell's work has to be analysed from two separate angles: the theatrical and the conceptual. As demonstrated last season with the stage direction of Lessons in Love and Violence, Mitchell knows how to move the characters well on stage, how to resolve interactions and finds great solutions. In this sense her work was impeccable. Still in the theatrical domain, the decision of featuring the characters from the prologue in the first act is a good move, as is the idea of bringing the famous "richest man in Vienna" to life, who supposedly pays for the performance. This gives dramatic continuity and links together the prologue and the act.
Conceptually the topic is much more complex. Mitchell adopts a moralising attitude towards the piece – deciding what is 'good' and what is 'bad', what is out of its time, what is unacceptable from the perspective of current paradigms, etc. – in an attempt to 'correct' it. This is dangerous as it borders on ideological censorship.
There is no problem with the changes in the character of the Composer, a role belonging to the tradition of male characters in travesty (sung by women) such as in the case of Cherubino o, within Strauss' work, Octavian. As described by Mitchell in her commentary she "liberates (the character) from the trousers so she can assert herself in her womanly body".
The fact that in her 'correction' of the piece, Mitchell makes up that Theseus abandoned Ariadne in Naxos while pregnant and to have her go into labour ruins Zerbinetta's great scene and becomes at least problematic.
Mitchell ends her commentary by stating that "one might argue that we created new complications in an effort to correct old problems, and of course there are flaws in our attempt to reconfigure this opera for current audiences, but behind our decisions lays the desire to find a place for canonical works in our contemporary world".
The desire is laudable, but it is true that there are "new complications" and "flaws" and that the idea of 'correcting' sounds very dangerous, no matter how well intentioned the motivations.
by Xavier Pujol
Barcelona, 22nd September 2021
Ariadne auf Naxos by Richard Strauss. Maik Solbach, actor. José Antonio López,  baritone. Samantha Hankey, mezzosoprano. Nikolai Schukoff, tenor. Josep Fadó, tenor. Roger Padullés, tenor. Jorge Rodríguez-Norton, tenor. David Lagares, bass-baritone. Elena Sancho Pereg, soprano. Miina-Liisa Värëla, soprano. Benjamin Appl, baritone. Sonia de Munck, soprano. Anaïs Masllorens, mezzosoprano. Núria Vilà, soprano. Vicenç Esteve, tenor. Alex Rosen, bass. Juan Noval-Moro, tenor.    Orchestra of Gran Teatre del Liceu. Josep Pons, conductor. Katie Mitchell, stage director. Eloise Lally, revival. Martin Crimp, additional texts. Chloe Lamford, set design. James Farncombe, lighting design. Sarah Blenkinsop, costume design. Co-production by Gran Teatre del Liceu, Festival d'Aix-en-Provence, Théâtre des Champs- Élysées, Théâtres de la Ville de Luxembourg, Finnish National Opera & Ballet, Royal Danish Oper. Gran Teatre del Liceu. 
the 26 of September, 2021
|
Print