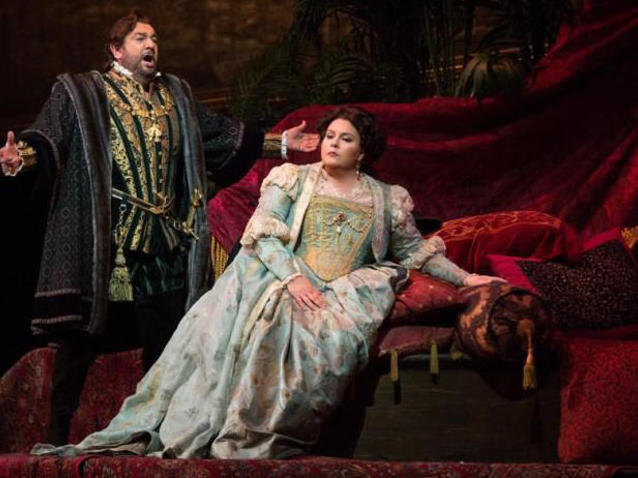 Retirement in opera is a delicate thing, especially when it comes to legendary performers like Plácido Domingo. While I understand it is common in sport stadiums to see drunk frustrated fans screaming "TIME TO RETIRE" as an aging player is walking off the field, I had yet to see something comparable in an opera house. That was before last week. New York Times' critic Anthony Tommasini's review of this year's Ernani at the Met in which he called for Plácido Domingo's retirement exploded like a bomb in the opera world. To my knowledge, it was the first time that the relevancy of the tenor/baritone was questioned in decades. To Tommasini's defense, Plácido Domingo is 74, and sure, that is pretty old for a singer. Moreover, Plácido does not sound quite exactly like this 1970 Trovatore recording you either own, heard of, or have to listen to as soon as you can. Having said that, has his singing worsen comparing to last year? Is his performance in Ernani enough of a reason to push him out of the Met Opera rotation? In this revival of Ernani, two of the lead singers, Angela Meade and Francesco Meli, are more or less four decades younger than him. Vocally and physically this fact was not obvious. Domingo, a former tenor here singing the baritone role of Don Carlo, is certainly not comfortable in the low registry where he lacks resonance and power. However, the mid and high notes are impeccable and thrilling: Domingo's vocal ring is centered and resonant: this incomparable sound of his has moved generations of opera listeners and it is indisputably still there. Hearing it live is something magical and truly makes you experience nostalgia like nothing else. Add in Domingo's exceptional generosity on stage: his acting was superb that night and he really seemed to carry the rest of the cast with his involvement on stage. Admittedly, Domingo's "hybrid" voice is not the one of a classic Verdi baritone. But put aside Plácido's name, age and illustrious career, Domingo's Don Carlo is great and interesting enough to be on stage at the Metropolitan Opera and that is what matters the most.
Don Carlo, the king of Spain, is in love with Elvira, Don Silva's bride to be. We learn quickly that the wedding is arranged: Elvira is in love with Ernani who loves her back. Ernani, a noble in exile who became a bandit is plotting to steal Elvira away from Silva with his small army. Complications follow. Vocally, the rest of the cast was always close to perfection. Francesco Meli was a bit restrained in his acting but was impeccable vocally from the quite challenging "Mercè, diletti amici" right at the beginning of the opera to the end. His natural Verdi voice is full of youth and powerful. Angela Meade has already sung Elvira at the Met in 2012 and she appeared even more confident in this run than three years ago. She brought solidity and vocal constancy to the role and paint a determined Elvira. Her voice was clear, centered and her beautiful nuances were perfectly executed. Dmitry Belosselskyi was an impeccable Silva. Very strong vocally, he navigated the different phases of the role with great ease.
Set in the Spanish court during the early 16th century, Pier Luigi Samaritani's production is as gorgeous and as traditional as a 1983 production from the Metropolitan Opera can be. The gigantic sets, different for every act, drew exclamations of admiration from the audience. The stage direction is static: singers have not much to do but sing. It really feels like this production is from another era and it was a bit peculiar to see such young singers who appeared pushed to imitate generations of singers who came before them (except for Domingo of course) in what seemed to be a very old and dusty setting – do not get me wrong, it is not necessarily bad. It is nostalgia, again.
Conductors are generally much more respected than singers so no one will ever call for James Levine's retirement and at the moment, that is fortunate. Levine has not conducted Ernani since the first run of this same production at the Met in 1983. What he did with the piece was splendid: he is the master of the house after all. His authority and charisma are enough to prove it and the same could be said about Plácido Domingo.
Thibault Courtois
@thibopera
Ernani at Metropolitan Opera House, New York - until 11 April 2015.
the 04 of April, 2015
|
Print