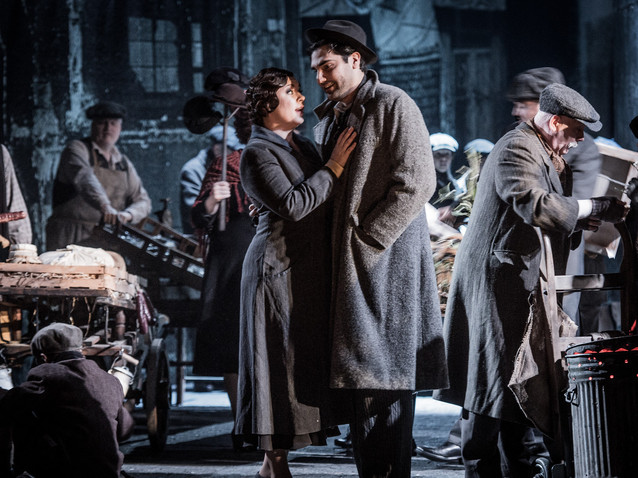 Giacomo Puccini's 1896 creation La bohème is one of the most frequently performed operas in the world today. Set in 1830s Paris, it focuses on six young adults and the love that four of them find with each other amidst the most impoverished of circumstances. One couple, Marcello and Musetta, have a stormy relationship but their frequent battles prove that their love actually has staying power. Rodolfo and Mimì, on the other hand, enjoy an apparently perfect love, but it is only fleeting as poverty offers no relief to Mimì and she dies of consumption.
Jonathan Miller's production for English National Opera has had quite a colourful history. Its first performance ever, scheduled for 2 February 2009, was ironically cancelled due to snow, and when it finally appeared its reception was rather mixed. It grew stronger, however, with each of its three revivals (in 2010, 2013 and 2014) so that it soon established itself as one of the mainstays of ENO's repertoire. A new version of the opera from Benedict Andrews appeared in 2015, but was not well received, and this may have prompted the return of what is now generally acknowledged to be a classic production.
Miller moves the action from its original 1830s setting to depression soaked Paris a century later, and this helps to make the drama feel highly relevant to us today. Many productions allow us to relate to the concepts of poverty and love, while still making the characters feel as if they exist largely in another time and place. Here, in contrast, we associate with the people themselves, thanks to the attention to detail paid both to the characterisations and the setting that the individuals inhabit.
In Isabella Bywater's generally effective set, Rodolfo and Marcello's abode becomes a first floor flat within a larger set of buildings, so that the first and last acts take place high above the stage. The characters also use a staircase to leave the flat, rather than simply disappearing from view when they pass through the front door, which adds further context to their situation. For example, when Schaunard leaves Rodolfo and Mimì alone together in Act IV he does not exit the stage as normal, but collapses in an inconsolable heap on the steps outside, thus introducing a further dimension by revealing his total inability to cope with the unfolding tragedy.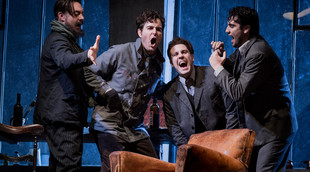 David Soar, Nicholas Lester, Bozidar Smiljanic, Jonathan Tetelman
(c) Robert Workman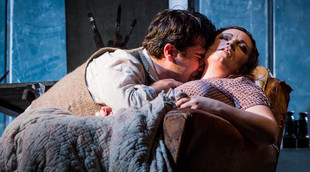 Jonathan Tetelman, Natalya Romaniw (c) Robert Workman
When the production first appeared, the generally monochrome sets were criticised for making everything feel just a little too grey, even though that was largely the point. There is, however, never a risk of dullness when the performances that fill the space are as dynamic as they are here. For example, when the four principal men boot the landlord Benoît out without the rent, we witness just one of many slick comic moments. With the threat of his infidelities being revealed to his wife, the landlord is thrown down the stairs before the men form an angelic chorus to wish his wife a 'Merry Christmas' and send him scurrying on his way. Good use is also made of the stage's infrastructure for musical purposes, so that at the end of Act III Rodolfo and Mimì sing while positioned between the set's two large buildings, thus ensuring that their sound reverberates off them.
In fact, if the general trend has been for each revival to be stronger than the last, this current incarnation continues the upward trajectory. This may be because Natascha Metherell has now been the revival director on several occasions, and thus provided the continuity that has enabled the characters to be developed further each time, even when the different casts have still explored them in their own unique ways. This now manifests itself in a number of perfectly judged moments. For example, the point in Act III at which Marcello, following his conversation with Rodolfo, turns to see that Mimì overheard everything, only to be followed a few moments later by Rodolfo coming to a similarly quiet 'standstill', is astutely observed. This said, the production has always shown a great attention to detail so that when Mimìfirst enters Rodolfo's flat he hurries to hide the long johns that have been drying on the hot water pipe.
When the set spins around to reveal Café Momus in Act II, we are confronted with a Christmas card scene of people selling their wares and playing in the snow. Even here, however, the setting is never overly romanticised since the visuals equally recall the grittier images of Brassaï and Cartier-Bresson. In this way, large photographs of Parisian 'slums' surround the stage as a stark reminder of what poverty really means.
The range of characters to be found here is delineated strongly so that one customer is kissing everyone under the mistletoe, and several women are trying to join Marcello, Colline and Schaunard before being politely shunned. In the past, following an exuberant opening, the scene has died down a little too much for 'Quando me'n vo', but that is certainly not a problem this time as Nadine Benjamin's Musetta keeps the temperature high throughout. Her full yet nuanced soprano, which feels quite magisterial in its scope, combines with her natural presence to ensure a thoroughly commanding performance. If anything, one might question if the comedy is too great as it emphasises Musetta's total desperation to win Marcello back when she would always have the confidence to know that she will ultimately succeed, but there is no doubting that the scene is kept dynamic and entertaining throughout. The only real minus therefore is that the curtain descends too quickly at the close so that those unfamiliar with the plot might not fully grasp Alcindoro's reaction at having to pay two bills, because it is not made clear by being frozen at the end of the scene.
From among the strong cast, the performances of Natalya Romaniw and Jonathan Tetelman, making their ENO debuts as Mimì and Rodolfo respectively, stand out. Romaniw's soprano combines sweetness and a certain dreamy quality with precision, clarity and a degree of depth. She also successfully characterises Mimì as a strong and spirited person inside, but also as someone who is possessed of great meekness and is trapped within a weak, vulnerable body. Tetelman reveals an extremely supple and expansive tenor instrument, which is immensely pleasing to the ear. He also captures the soaring phrases in 'Che gelida manina' with a beautifully full and appealing tone.
Nicholas Lester, Božidar Smiljanić and David Soar all provide excellent support as Marcello, Schaunard and Colline respectively, while Simon Butteriss delivers two brilliant cameo performances as Benoît in Act I and Alcindoro in Act II. Alexander Joel conducts with a pleasing combination of passion and delicacy, ensuring that balance and detail are paramount while still doing full justice to the sweeping nature of Puccini's enigmatic score.
By Sam Smith
La bohème | 26 November 2018 – 22 February 2019 | London Coliseum
the 28 of November, 2018
|
Print