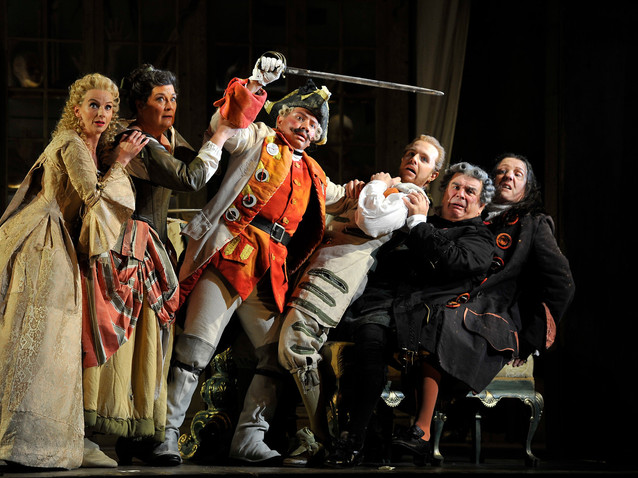 © (c) Robbie Jack
The three plays in Pierre Beaumarchais' Figaro trilogy are The Barber of Seville (1775), The Marriage of Figaro (1784) and The Guilty Mother (1792). In 1786 Mozart based his opera on the second of these, and thirty years later Rossini utilised the first, which involves the same characters of Figaro, Count Almaviva, Rosina, Doctor Bartolo and Don Basilio, for his own comic masterpiece.
Like Donizetti's Don Pasquale and Richard Strauss' Der Rosenkavalier that were to follow, The Barber of Seville is the story of an ageing man attempting to put himself between two young lovers. Count Almaviva falls in love with Rosina, the ward of Doctor Bartolo, but does not want her to love him for his rank and so pretends to a be more lowly figure called Lindoro. Bartolo, however, wishes to wed Rosina, partly because he desires her wealth, and when he senses a rival this only encourages him to expedite his own marriage to her.
Bartolo keeps Rosina locked in his house, prompting Almaviva to don a series of disguises in order to gain access, helped all the while by the barber Figaro who is as much a general fixer as the man one hires for a shave. After a series of twists and turns, the young couple succeed in outwitting Bartolo by getting married before he can intervene, and the Doctor grudgingly accepts the situation when he is told he can keep Rosina's dowry. The marriage subsequently proves to be far from happy, but that is the subject of the next play or opera in the sequence.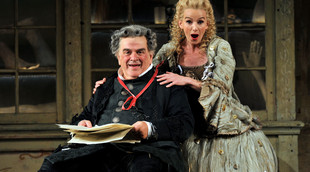 Barber of Seville (ENO), Alan Opie, Sarah Tynan (c) Robbie Jack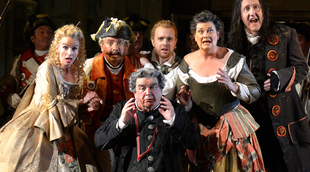 Barber of Seville (ENO), Sarah Tynan, Eleazar Rodriguez, Alan Opie,
Morgan Pearse, Yvonne Howard, Alastair Miles (c) Robbie Jack
At the age of thirty, Jonathan Miller's vintage production for English National Opera feels almost as much a mainstay of the operatic repertoire as Rossini's masterpiece itself, and its strength lies in its ability to provide an infrastructure that then enables the characters to dominate the proceedings. In Tanya McCallin's attractive designs we witness an ancient Sevillean street, complete with classical column and shrine, that could have stood for centuries before Rossini was even born, and yet might feasibly still be seen today. This then rolls back to reveal the interior of Doctor Bartolo's house, stuffed with globes and anatomical models, which creates a smaller performance area and thus enables the characters to become larger than life.
This revival is directed by Peter Relton while the star of many a previous one has been Andrew Shore, one of the best actors in the operatic business, as Doctor Bartolo. This time around the part is taken by Alan Opie, who played Figaro in the original 1987 production and has been well received as the older figure. On the night we attended, however, he was unwell and replaced by David Ireland, a new ENO Harewood Artist who has recently completed his studies at the National Opera Studio and Guildhall School of Music and Drama. It is a big ask of anyone to take on such a major role for their debut on the Coliseum stage, let alone at such short notice. In the event, however, Ireland delivers so superbly that it would be a disservice to describe him as an excellent Doctor Bartolo in the making. He is an excellent Doctor Bartolo full stop. His bass-baritone produces a warm sound and proves adept at maintaining a strong tone, even as he has to roll off tricky lines in which enunciation counts for everything.
The difficulty of the role, however, derives not only from its vocal demands but from the comic timing it requires. Here Ireland also excels as there is, for example, no sense of either anticipation or clumsiness in the way in which he takes a sideways step and ends up sticking his hand in a bowl full of shaving foam. Possibly the only sign across the entire evening that he has less experience in the role is that he does not attempt the difficult manoeuvre during 'A un dottor della mia sorte' of trapping his pince-nez in the harpsichord lid and then struggling to set himself free. That, however, was very much an Andrew Shore trick and it is possible that Opie does not replicate it either. One of Shore's great achievements in the role was to take what is strictly only the fourth largest part in the opera, and make it feel absolutely central to the evening. Ireland succeeds in doing exactly the same.
That Ireland's performance feels no less accomplished than anyone else's is a remarkable achievement given that the level of slickness demonstrated by the rest of the cast is extremely high. Morgan Pearse and Eleazar Rodriguez reprise their respective roles of Figaro and Almaviva from the 2015 revival. Although they were both good two years ago, their greater experience this time around shows in the level of detail and nuance that they bring to their performances. Pearse has a great ability to engage with an audience so that in 'Largo al factotum' it feels as if he is addressing every spectator personally. His baritone is supple, expansive and a joy to hear, and his persona exceedingly likeable.
Rodriguez is possessed of an extremely pleasing tenor and if he does not suggest that the brutish figure we see in The Marriage of Figaro lies beneath the playful exterior as much as some portrayals of Almaviva do, he certainly shows how his rank and resulting sense of expectancy affect his behaviour. For example, he looks immensely put out when Figaro tells him he must pretend to be drunk when disguised as a solider, as if he is genuinely fearful of letting his guard down in front of those of lower rank. Once he warms to the idea, however, he goes overboard in playing up the part, just as a man who is used to being the centre of attention might do.
Sarah Tynan is also a tremendous Rosina. In 'Una voce poco fal' she tosses out coloratura with ease while conveying a strong sense of expectancy as we learn for ourselves just how easily her sweet and loving persona could give way when she is crossed. All of the performers help to generate a strong ensemble dynamic, but the moments involving Pearse's Figaro, Rodriguez' Almaviva and Tynan's Rosina, such as when they make a song and dance about descending a ladder, are particularly fine. Alastair Miles' Don Basilio provides good support with the huge shadow of him on the wall during his ode to calumny making him appear particularly menacing as it magnifies his finger pointing and miming of slitting a throat. Yvonne Howard is also superb as Berta with her model performance of 'Il vecchiotto cerca moglie' making us regret that Rossini only gave the housekeeper the one aria.
In the pit Hilary Griffiths, on his ENO debut, delivers a lithe account of Rossini's score. There is a certain delicacy in his approach, which allows individual orchestral lines to be delineated well, but also a bubby charm that recognises the humour to be found both within the piece as a whole and the music itself. This is a very strong revival of an ENO classic.
By Sam Smith
The Barber of Seville | 5 – 30 October 2017 | London Coliseum
the 12 of October, 2017
|
Print