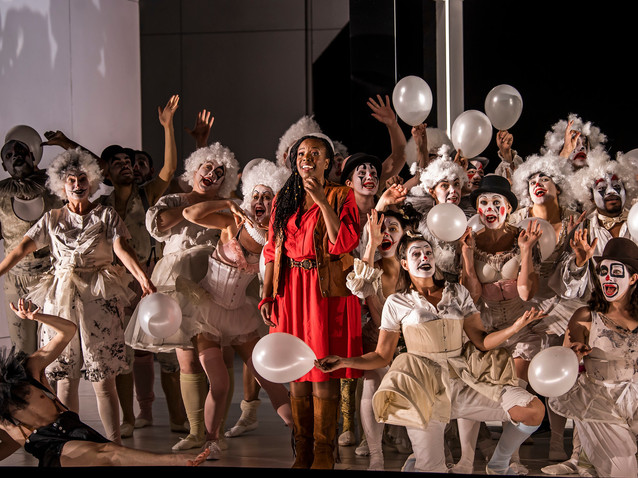 Luisa Miller is not one of Verdi's total rarities, but it does not grace major opera houses with anywhere near the same frequency as his most popular creations. The work, however, has much merit as, for example, Act II ends with an allegro in three mounting stages that, although quickening towards an animated finish, is not like a conventional stretta. Written in 1849, it is regarded as coming at the beginning of the composer's 'middle period', with Rigoletto, Il trovatore and La traviata all premiering within the next four years.
Based on Schiller's play Kabale und Liebe of 1784, it sees the humble Luisa, daughter of Miller, love a man who she does not realise is the aristocratic Rodolfo. His father is Count Walter, who is determined Rodolfo should marry his niece, Federica, Duchess of Ostheim, while his steward Wurm also wants this outcome because he loves Luisa himself. Wurm blackmails Luisa into agreeing to marry him, and swearing to make Rodolfo genuinely believe she does not love him, by threatening to kill her father if she refuses. A mortified Rodolfo invites her to drink water as he has done, admitting afterwards that they have both taken poison. Faced with death, Luisa decides her earthly oaths have no further meaning and confesses that she was forced to renounce Rodolfo, who she genuinely loves, before they both die.
Given the hierarchies and dilemmas involved, the story feels similar to Adolphe Adam's Giselle, although there is one notable difference. In the ballet, when push comes to shove Albrecht, Duke of Silesia, bows to his parents' wishes and deserts the peasant girl Giselle in favour of his betrothed Bathilde. Here, in contrast, Rodolfo loves Luisa to such an extent that he is willing to expose and renounce his father in order to have his way.
Schiller set the action in an eighteenth century princely court, while Verdi and his librettist Salvadore Cammarano moved it to a seventeenth century Tyrolean village. Director Barbora Horáková Joly, in this new staging for English National Opera (a co-production with Oper Wuppertal where it has already been seen) provides what is billed as a contemporary production. In the process, however, it undermines what would seem the most obvious reason for ever providing one, which is to make the story, characters, emotions or dilemmas feel more relatable. In fact, this production does not so much update the setting as make the drama feel devoid of any specific context as it generates a conceptual staging that makes it difficult for us to feel anything for the characters.
The aesthetic is generally monochrome with Andrew Liebermann's box-like set creating an initially white, clinically clean area. Eva-Maria Van Acker's costumes adorned by the chorus are beautifully made, but, even acknowledging that the opera begins at a party where people might be in fancy dress, they carry far more of a 'Surreal' than a realistic quality that sets the tone for the evening. Four dancers are also employed, and while it is impressive to see how choreographer James Rosental has ensured their movements match the rhythms of the music so sharply, the result is that they can multiply out the impact of the music to an overwhelming and unpalatable degree when that would seem perfectly pitched to begin with.
Some of the staging seems particularly misguided and tasteless so that Walter sings 'Il mio sangue la vita darei' before a younger Rodolfo, who is wrapped in plastic and then smeared with oil in what feels like an abusive act. An even younger version of the son watches while drawing a black blob on a wall on which he previously wrote 'amore', with such superfluous actions feeling as if they are filling a void that is left by the production lacking any emotional heart. The staging is extremely rich in symbolism, but lurches between presenting some symbols whose meaning is unclear, and others so obvious that it feels as if we are being hit around the head with them.
Overall, it is clear what is being said, but ultimately the production rests on symbolism, rather than emotions for which we can feel anything. For example, during Walter and Wurm's duet 'L'alto retaggio non ho bramato'' the series of positions they are placed in and (often little) actions they carry out are intended to spell out their relationship, but in reality detract from us feeling the senses of brotherhood or suspicion that exist between them. Similarly, Federica displaying her anger at Rodolfo's rejection by bashing her coat on the floor makes her seem petulant, and prevents us from feeling the true depth of her pain.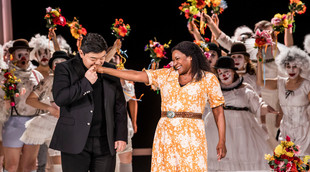 ENO Luisa Miller 2020, David Junghoon Kim, Elizabeth Llewellyn,
© Tristram Kenton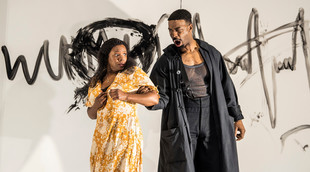 ENO Luisa Miller 2020, Elizabeth Llewellyn, Soloman Howard,
© Tristram Kenton
There are times when other figures multiply out what the principals are feeling, and unfortunately draw attention away from them so that we lose any sense of their personal response. For example, when Luisa is forced to pen a letter telling Rodolfo she does not love him, her writing is duplicated by the four dancers who scribble on the by now increasingly dirty walls. The gesture feels bigger and more dramatic, but it rather overwhelms Luisa's own sense of sorrow at the centre of it all. Similarly, when Walter and Miller draw their weapons at the end of Act I, the focus is taken away from their very personal reasons for the confrontation by having the entire chorus point guns at each other.
This is not to say there are no clever touches. A large flag with a ring of stars is held up that, although black and white, still makes its point clearly enough as one star is missing. As the chorus toss their guns on top of it the implication may be that the EU is responsible for keeping the peace. Similarly, it does seem alarming that Rodolfo's final resort when attempting to get his way is to threaten to expose his father. This means that he deemed what he suggested just before this, namely to kill Luisa, as being a less extreme option than that. This production does take the time, after Luisa has actually been released, to show her anger towards Rodolfo at this.
Musically, the evening fares far better. Elizabeth Llewellyn in the title role reveals a beautiful soprano that is possessed of both richness and sensitivity, and David Junghoon Kim provides a brilliantly expansive tenor as Rodolfo. James Creswell is masterly as the Count as he displays his brilliantly strong and firm bass, while Olafur Sigurdarson also offers a very solid baritone as Miller. Solomon Howard reveals an excellent dark bass as Wurm, while Christine Rice is luxury casting as Federica. It should also be said that there are examples of a flawed production undermining the impact of the music itself to a far greater extent than is the case here. Therefore, with Alexander Joel's conducting also being good, there is still much of merit in the evening. It just seems a shame that for a work that only comes to any of London's major opera houses every ten or twenty years, this has to be the staging on offer.
By Sam Smith
Luisa Miller | 12 February – 6 March 2020 | London Coliseum
© Tristram Kenton
the 16 of February, 2020
|
Print