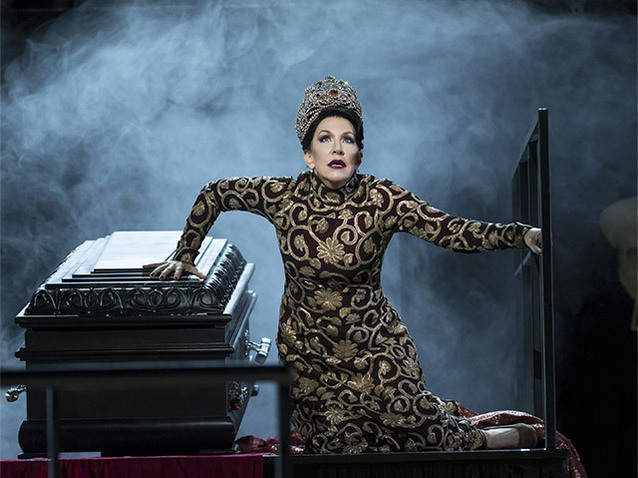 Semiramide is arguably the greatest Rossini opera not to be regularly performed today. This does not mean, however, that it has been entirely neglected, and it was recently recorded, and performed at the BBC Proms, by Opera Rara on period instruments.
Musicologist Rodolfo Celletti has suggested that 'Semiramide was the last opera of the great Baroque tradition: the most beautiful, the most imaginative, possibly the most complete; but also, irremediably the last'. This is because by the time Rossini wrote it in 1822-3 the Italian neo-Classical style was on the way out to such an extent that Carl Maria von Weber's Der Freischütz, considered to be the first important German Romantic opera, already existed. Thus it seems that Rossini, knowing this was to be the last opera he was to write in this vein (he went on to tackle French grand opéra), put everything into the piece to ensure that it represented the pinnacle of achievement in the style.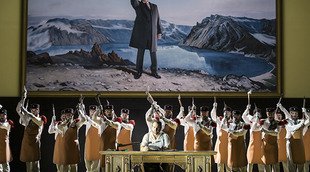 Semiramide © Bill Cooper / ROH
Based on the Voltaire play, Sémiramis of 1748, the opera tells of the eponymous Babylonian Queen. She conspired with her erstwhile lover Prince Assur fifteen years earlier to murder her husband, King Nino, and their son Ninia. The latter, however, unbeknown to them both, survived and was brought up by a foster-father. Now taking the name of Arsace, he does not know his true identity and as far as he is aware is a warrior who happened to rescue the Babylonian Princess Azema one day, and fall in love with her. Assur and Arsace become involved in a battle as to who will be Semiramide's husband and hence King of Babylon, even though Semiramide has no intention of marrying the former and the latter desires Azema and not the Queen. At the same time, Assur (who will do anything to try to gain power), Arsace and the Indian Prince Idreno all vie for the hand of Azema.
Things come to a head when Semiramide declares that Arsace will be her husband and the ghost of Nino rises from his grave to urge vengeance for the crimes committed against him. As Arsace discovers his true identity and accepts his duty to exact revenge, Assur grows increasingly paranoid as he desperately attempts to escape his fate. However, despite Arsace choosing to spare Semiramide herself because she is his mother, the ending does not see the person who he actually intended to slaughter die.
In David Alden's new production, which was first seen at the Bavarian State Opera, Munich last February and represents the first time the Royal Opera has ever staged the work, the action is updated to a twentieth century dictatorship. The actual country is both unspecified and unimportant but all of the traits we might associate with a totalitarian regime are there. In Paul Steinberg's sets, there are huge statues of Nino, alongside images of him and his family, to help project power. Wooden panelling, patterned curtains and a huge overhanging light all look like the type of features that a ruling dynasty might introduce to give the impression of having modernised. At the same time, as we see the women with their heads covered, it seems as if the assertion of religious orthodoxy (the production never says which religion) has also been used as a tool to keep the masses under control.
The difficulty is that the updating does not really shed any new light on the story or themes. For example, a production of Mozart's Così fan tutte set during the Second World War might play on the fact that this was a period in which women would have found a greater degree of independence, and thus provide a specific explanation for why the sisters would be inclined to follow their own needs and desires. Here, it is harder to see how the altered setting has introduced any new slants on the characters, rather than simply provided equivalents to the originals. As a result, the production feels reduced to introducing visual effects to bring out certain ideas which, although it is relevant to highlight, only show how the same point might be applied to ancient times as a twentieth century country.
For example, Azema is shown to be treated as an object who is (quite literally) placed on a pedestal, and whose own feelings are hardly considered when it comes to choosing a husband for her. The parallels are certainly there as forced marriages still exist today, but the stylised presentation of her as a virtual 'automaton', who is carried on and off like a sack, does not reveal how modern times have introduced any new dynamics to this age old problem. Similarly, it is shown how Semiramide's love for Arsace instinctively and sub-consciously derives from her seeing her son in him, by having a child with a toy horse run around as she thinks about him. However, if the idea is to introduce modern day psychoanalysis or reveal how her instinct derives from contemporary maternal values, then it is woefully underexplored.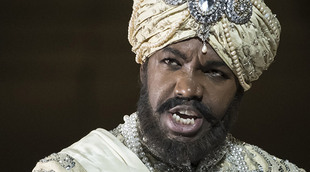 Lawrence Brownlee (c) Bill Cooper / ROH
Joyce DiDonato (c) Bill Cooper / ROH
While Alden may have set out to introduce a bold new concept, it seems as if he got increasingly caught up in endeavouring to display visual effects that are arresting in their own right. The difficulty is that the movements of the dancers, choreographed by Beate Vollack, still seem to be pegged to a concept that encourages them to feel stylised. This affects the moments of revelation such as when a huge wind suddenly extinguishes the sacred flame on the altar, or the ghost of Nino rises to urge vengeance, because the visual response of dancers tumbling and falling about feels too measured. All this said, the production's spatial awareness is generally good, especially in the scene in Nino's tomb where the various figures are placed quite skilfully across the stage. Similarly, Michael Baur's lighting designs make strong use of shadow to magnify images, and consequently the drama and people's emotions. There is also one scene in which the twentieth century concept works well. This is where Semiramide and Assur engage in mutual recrimination, doing so here on a bed. They really give the impression of being a modern divorced couple who had treated each other badly, and yet whose knowledge of what makes the other tick sees love (from Azzur) and loathing intermingle. Here, their sense of shared experience gives them at least some form of mutual understanding regarding the predicaments they both currently face.
If, however, the staging has its shortcomings, the evening's musical credentials are little short of wondrous. The cast is headed by Joyce DiDonato in the title role and Daniela Barcellona as Arsace (who also appears on Opera Rara's recording), and the chemistry between them is extremely poignant. Their mezzo-sopranos are very different in nature, with each proving perfect for their role, and yet the versatility that each shows is exceptionally impressive. DiDonato shows attention to detail with her exquisite mastery of phrasing and dynamic variation, and reveals brilliant sensitivity in her beautiful sound, while also displaying richness and some darker hues. Barcellona's mezzo-soprano is actually characterised by a rich depth, and yet she executes every note in all registers with equal prowess to produce an incredibly balanced, polished and rounded performance.
Mirco Palazzi (who shares the role of Assur with Michele Pertusi over the run) reveals an excellent bass, and Lawrence Brownlee an outstanding tenor as Idreno. Jacquelyn Stucker displays an exceptionally beautiful soprano as Azema on her Royal Opera debut, while Bálint Szabó as as the High Priest Oroe and Konu Kim as the Captain Mitrane both play their parts to the full. Sir Antonio Pappano's conducting is especially strong revealing texture, delicacy and a beautiful sense of stride, all while delineating the various lines to perfection. The greatest achievement, however, is to imbue the music with a sufficient level of gravitas (something it is extremely easy to miss doing), while never once making it feel turgid or drearily-paced.
By Sam Smith
Semiramide | 19 November – 16 December 2017 | Royal Opera House, Covent Garden
the 26 of November, 2017
|
Print