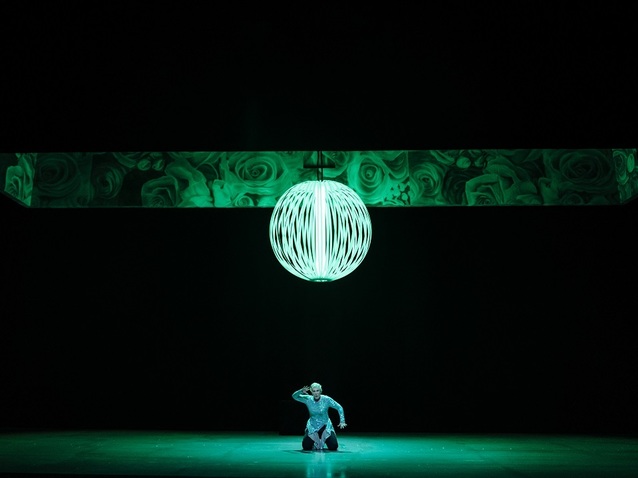 On the surface, there may not seem to be much in common between Igor Stravinsky's one-act comic opera Mavra of 1922 and Arnold Schönberg's groundbreaking Pierrot lunaire written a decade earlier. However, in this double bill from the Royal Opera's Jette Parker Young Artists Programme, which represents its first full production in the intimate Linbury Theatre since Susanna in March 2020, synergies are implied between the two works without any suggested parallels ever feeling forced.
Mavra was written at the start of Stravinsky's neo-classical period. With a libretto by Boris Kochno, it is based on Pushkin's The Little House in Kolomna, and has been seen both as an homage to Russian writers and a satire on bourgeois manners. Originally set in a Russian village around 1840, it sees the young woman Parasha in love with her neighbour Vasily, a hussar. When Parasha's Mother orders her to find a new maid-servant, following the death of their previous one Fyokla, she hatches a plan. She returns to the house with 'Mavra' who is actually Vasily disguised as a female servant. At first their ruse succeeds and they enjoy being under the same roof together. However, when the Mother walks in to discover Mavra shaving, she is stunned and Vasily is forced to escape out of the window.
In Anthony Almeida's staging the action appears to be set broadly in the modern day. Rosanna Vize's set sees a domestic room with high walls covered from top to bottom with a floral pattern. Inside there are many green bags of refuse, with the implication being that these have piled up since Fyokla died. If it is the contrast between cleanliness and rubbish that first hits us, the division proves to be not so clear cut as the crumple of the green bags gives them the same type of swirl as to be found in the flowers on the wall. Similarly, when one of these bags is broken open, roses are to be found within it.
The entire presentation is well thought through as Vasily is initially made to look quite a severe character, with black clothes and slicked back hair. This not only makes it funnier to see him then dressed as a maid, with all sorts of utensils hidden in his suspenders, but also brings into focus this production's implication that the women's clothes he dons give him access to a world that is otherwise denied to him. It is carried off superbly by the excellent cast comprising April Koyejo-Audiger as Parasha, Egor Zhuravskii as Vasily, Sarah Pring as the Mother and Idunnu Münch as the Neighbour.
However, while the staging is dynamic and all of the characters sharply observed, one cannot help feeling that Parasha and Vasily's duet is made too comical by featuring the squirting and smearing of cream, which never really enables us to move away from seeing it as a slickly executed humorous scene. It might have been more effective to play it straight down the board so that we found ourselves genuinely moved by their various declarations of love. In this way, the comedy would have come from us then taking a step back and realising that Vasily is proclaiming his innermost feelings while sporting a dress. In addition, the stronger we felt their connection to be the more we might have appreciated how Vasily was losing himself in more ways than one. Conversely, having Parasha's Mother catch Vasily shaving his legs rather than his face is an excellent idea precisely because it suggests that he is exploring his gender and, by extension, that this is what shocks the Mother, rather than the actual act of realising Mavra is a man.
Arnold Schönberg's Pierrot lunaire, or to give it its full title Dreimal sieben Gedichte aus Albert Girauds "Pierrot lunaire" (Three times Seven Poems from Albert Giraud's 'Pierrot lunaire'), is a melodrama in which the single performer delivers all of the poems in the expressionist Sprechstimme style. This sits somewhere between speaking and singing by emphasising timing but not any particular pitches. In his forward to the work Schönberg prescribed that the indicated rhythms be adhered to but that, whereas with normal singing a constant pitch is maintained through a note, here the singer should 'abandon' it by falling or rising.
The twenty-one poems that are set in this way come from a cycle of fifty by the Belgian poet Albert Giraud, who is usually associated with the Symbolist Movement, that were originally published in 1884. The protagonist is Pierrot, the comic servant of the French Commedia dell'Arte, and each poem is a rondel, meaning it comprises two quatrains followed by either a quintet or sestet so that there are either thirteen or fourteen lines in total. Its themes are very much those of the fin-de-siècle and include the growing materialism of the late nineteenth century and the artist's flight into an interior world, the deconstruction of romantic love, the transmutation of art into a hermeticism, and also an undermining of the whole enterprise through self-mockery.
In the opera the moonlight releases Pierrot into a dream-like state, and this presentation links the clown's experiences to the previous setting so that the action begins in the same space in which Mavra was set. Soon, however, the entire room rises out of sight so that Pierrot effectively ascends into the dark sky above. She is initially decked out in a black trouser suit with close cropped hair, in a style that could come from the 1920s or alternatively suggest Symbolist tastes. This implies a degree of androgyny that is in keeping both with the previous exploration of Vasily, and the fact that the original character is male but is usually portrayed by a female while Schönberg himself never stipulated which gender should play the part. Then, however, she sports a golden dress that shimmers like the moon before donning a maid-servant's uniform at the end as the room descends once more, and she is unceremoniously brought back down to earth. In fact, when we see Perusha's Mother cross the stage we realise that Pierrot might be Fyokla, or perhaps the maid who replaced 'Mavra' after she fled, and wonder if she does this every night as a way of escaping from her mundane daily existence.
The actions Pierrot is given complement the words she proclaims well so that when she talks in 'Madonna' of the Son's body she cradles the cloth that has come from the room's table as if it is one. Later the light that featured in the room in Mavra falls to the ground as if Pierrot is coming to meet the moon. She sings in 'Heimweh' of how Pierrot is wooden and sentimentally modern and this 'moon', which is such an obviously manmade lamp, could be seen as exactly that (though in reality it is a very beautiful piece of design). The characters who appeared in Mavra sometimes grace the stage, as does the orchestra's flautist, and provide another dimension in a move that works because it is used sparingly. In fact, even with the presence of other individuals, this feels as stark and vital a production of the opera as one is ever likely to see. Many will include more props so that Pierrot is actually in a bed, or occur in more cluttered areas, but this interpretation lets Pierrot take centre-stage in every sense, and Alexandra Lowe does a superb job of thoroughly commanding it. There are still many ways of obeying Schönberg's quite prescriptive instructions regarding how to deliver the Sprechstimme, and Lowe's interpretation would certainly stand towards the 'musical' end of the spectrum, thus ensuring that this is a particularly thrilling presentation of the composer's seminal creation. Michael Papadopoulos's conducting of the excellent Britten Sinfonia is also highly impressive.
By Sam Smith
Mavra / Pierrot lunaire | 12 - 22 May 2022 | Linbury Theatre, Royal Opera House, Covent Garden
© Helen Murray ROH 2022
the 17 of May, 2022
|
Print