Handel's Susanna of 1749 takes its story from Chapter 13 of the Book of Daniel. Set during the Babylonian captivity, it sees Susanna's husband Joacim have to leave her for a period. Two Elders of the community who are besotted with her use his absence as an opportunity to try to force themselves upon her while she is bathing. When, however, she resists their advances, in revenge they invent a story that they caught her in an adulterous act and she is consequently condemned to death. Daniel, however, is granted the right to question them and in doing so reveals that their stories do not match. Susanna is thus proved innocent, the Elders are executed and Joacim returns to share in a celebration of his wife's virtue.
Susanna is not actually an opera but an oratorio, although here it is staged in the Royal Opera House's Linbury Studio as part of the 2020 London Handel Festival. Unlike the vast majority of Handel's operas, his oratorios always feature a chorus and this can pose problems for any director. This is because a body of people who are always present but would normally be required only to sing suddenly need to be given things to do for potentially long periods. In Isabelle Kettle's production they are used quite ingeniously as they arrive in a line for the first chorus in such a way that each person enters at the moment at which their part is introduced. They carry fishing nets, which mark out the community's livelihood, as well as the modern day setting and a sense of impending catastrophe as they disentangle plastic bottles from them.
Unlike many stagings of oratorios this one, with some exceptions, only brings the chorus on at those points when it is required to sing. In this way it is used to great effect as the next time it is introduced its chorus is presented in such a way that it becomes a song of comfort for Susanna following Joacim's departure.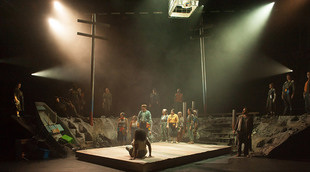 Susanna Production Image (C) ROH 2020.
Photography by Stephen Cummiskey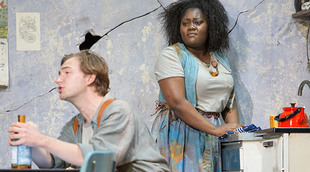 Patrick Terry as Joacim and Masabane Cecilia Rangwanasha as Susanna
in Susanna (C) ROH 2020 Photography by Stephen Cummiskey
The setting of a rundown kitchen, in which it seems there is not even running water, for Act I makes the captivity seem akin to a modern day occupation. Joacim and Susanna are not imprisoned but clearly they live as second class citizens and have to soldier on day to day in a repressive and restrictive atmosphere. In this way, Susanna ends up cooking while Joacim sings, revealing how she just has to get on with things. This said, there is also in a sense in which their perfect love transcends their impoverished circumstances. At one point, Joacim jumps on a chair as he declares his love as Susanna and her father Chelsias laugh, showing how they possess spirit and can feel joy. In contrast to Berenice, the Royal Opera's contribution to last year's Handel Festival which boasted an extremely theatrical staging, this one makes the setting feel realistic and the emotions quite natural.
As we see the Elders there are hints that these are men with their own deep-seated emotional problems, only they do not confront these but rather hide behind a mask of toxic masculinity. This in turn leads to their brutality, suggesting that had they been more open about their own difficulties the whole tragedy might have been avoided. This said, with one momentary exception, the pair do not feel threatening enough in the crucial scene in which they try to conquer Susanna. This is not an argument for a more graphic or tasteless staging, but there are ways and means of ratcheting up the tension and, with the piece being quite long, it is scenes such as this that see the evening go off the boil.
The clever touches do continue throughout the performance and during the trial scene the chorus begin by brandishing rocks ready to stone Susanna, but subsequently put them down. However, before everyone does so, one chorus member thrusts her rock into the hand of the First Elder as if to suggest that she is not going to be sucked into his crusade against Susanna. The ending is generally effective as amidst the general rejoicing this production reveals a sad Susanna walking off alone. This is highly believable and brings out an important point that it is all very well everyone celebrating Susanna's virtue now, but those same people were only too willing to believe the Elders and condemn her.
As the music ends she exits to the sound of waves and it feels a mistake to follow up Handel's score with a sound effect as it risks implying that his music is merely one as well. It may be a small thing, but it is emblematic of a staging that, though possessing many more merits than defects, feels rather more undermined by its few weaker aspects than it strictly ought to be.
Patrick Milne conducts the London Handel Orchestra extremely well, while from the cast, which comprises Jette Parker Young Artists, several performances stand out. In the title role Masabane Cecilia Rangwanasha reveals a voice that feels quite sumptuous by the measure of most Handelian sopranos, but works extremely well because it reveals such warmth, sensitivity, accuracy and beauty. Yaritza Véliz displays a sweet and highly pleasing soprano as Daniel, and Michael Mofidian an extremely secure bass-baritone as Chelsias.
Arguably the finest overall performance comes from Patrick Terry as Joacim who displays an excellent countertenor and grips us with his gestures and presence whenever he is on stage. His duets with Rangwanasha are also highly accomplished as their voices move so well with each other, even as they both come across clearly in their own right.
By Sam Smith
Susanna | 5 – 14 March 2020 | Linbury Studio, Royal Opera House, Covent Garden
the 09 of March, 2020
|
Print