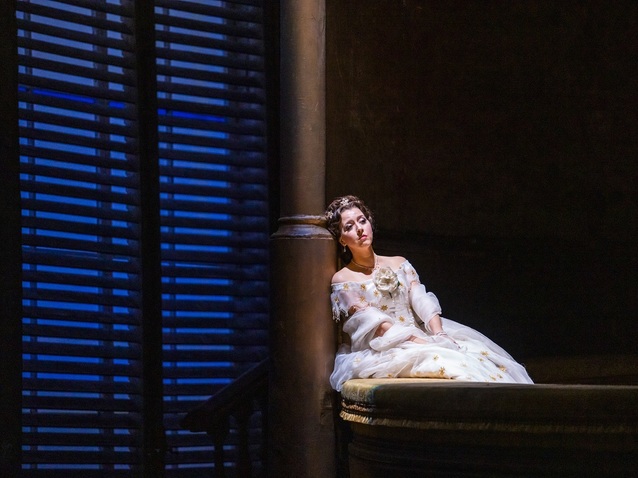 ©2021 ROH. Photograph by Tristram Kenton
Giuseppe Verdi's La traviata of 1853 is one of the most frequently performed operas in the world today, and the Royal Opera's current season is putting a special focus on the work. From October 2021 to April 2022 there will be no less than twenty-five performances featuring six different sopranos in the main role of Violetta. The initial run, which ends on 17 November 2021, will see Lisette Oropesa, Kristina Mkhitaryan and Anush Hovhannisyan play the lead, while Angel Blue, Pretty Yende and Hrachuhí Bassénz share the honours next April. Other parts will also be played by several people over the run, while the various performances will be conducted by Antonello Manacorda, Paul Wynne Griffiths, Renato Balsadonna and Giacomo Sagripanti.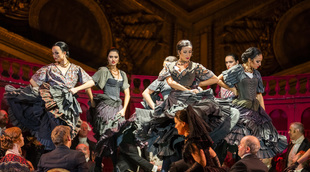 La Traviata, The Royal Opera ; © 2021 ROH/Photo by Tristam Kenton
Based on Alexandre Dumas, fils's play La Dame aux camélias, La traviata tells of Violetta Valéry who is a famed Parisian courtesan. Beneath her apparently carefree exterior, however, she is suffering from tuberculosis and her world is shaken when she meets Alfredo with whom she falls in love. They run away together and live off the sale of her goods, but one day Alfredo's father Giorgio Germont appears and begs her to leave him. This is because Alfredo's behaviour has brought disgrace on his family, which is impacting on the ability of Germont's daughter to marry and be happy. Despite loving Alfredo deeply, Violetta shows compassion towards the family and agrees.
Alfredo, however, does not discover the real reason why Violetta has suddenly walked away, and everything comes to a head when he angrily confronts her at Violetta's friend Flora's party. He eventually discovers the truth as his father also regrets pushing them apart, but by this time Violetta is terribly ill and, though the pair are finally reconciled, she dies in his arms.
There is much debate over how autobiographical Verdi's creation is because he was himself judged by society for living with the soprano, Giuseppina Strepponi, out of wedlock from the late 1840s (they were married in 1859). However, when the chorus suddenly condemns Alfredo for his treatment of Violetta at Flora's party it is certainly tempting to see this as the composer's way of getting the people to take his own side.    
Richard Eyre's production for the Royal Opera, revived here by Pedro Ribeiro, began life in 1994, and many subtle touches are to be found within its curved walls. Designer Bob Crowley works virtually every scene around a semi-circular set, with each one employing its own tools and techniques to shed light, and provide commentary, on the action.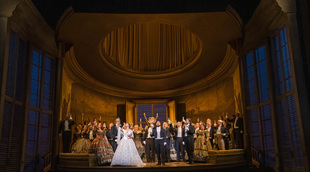 La Traviata, The Royal Opera ; © 2021 ROH/Photo by Tristam Kenton
Act I takes place in a sumptuous Art Deco interior, revealing Violetta's role as the archetypal fashionable Parisian. The most important features, however, are the doors. Whenever these are open, and people are free to enter, Violetta assumes her frivolous, sociable persona. As soon as they close, on the other hand, she becomes a far more introverted character. Indeed, the end of the Overture sees her sitting to one side in discomfort, and it is only when the doors open at the start of the Act that she changes. They swing out once more as she moves from the contemplative 'Ah fors'è lui' to the carefree 'Sempre libera degg'io', in which she reasserts her wish to enjoy Parisian life to the full.
Similarly, Act II's gambling scene takes place beneath an ornate palace roof, its gilded surfaces lying at peculiar angles. Here we find a red bullring and a casino table with overhanging metal light. It is not to be taken as a literal space, but clearly the bullring alludes to the antics of Gastone and his friends as matadors, and creates an appropriate arena for action that all too readily alludes to gladiatorial combat. At the same time, the insertion of the more modern table and lamp under the palace roof may suggest that this form of gambling takes its place within a far greater history of wealth and decadence in Paris.
The strength of the production, however, can be somewhat taken for granted, meaning that our judgment tends to be dictated by the quality of the performances on the night. On the evening I attended, these proved to be excellent as Lisette Oropesa sang Violetta, Liparit Avetisyan played Alfredo and Christian Gerhaher portrayed Germont while conductor Antonello Manacorda delivered a highly accomplished account of the score.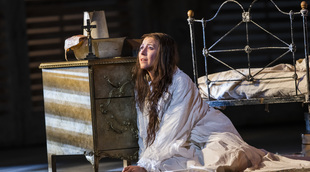 La Traviata, The Royal Opera ; © 2021 ROH/Photo by Tristam Kenton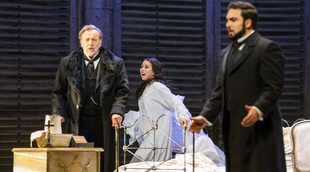 La Traviata, The Royal Opera ; © 2021 ROH/Photo by Tristam Kenton
Oropesa is a Violetta with everything as her intricate portrayal of the character is just as mesmerising as her superlative singing. The various situations, moods and states of health that Violetta finds herself in mean that the demands placed on the singing and acting are constantly changing, yet Oropesa remains thoroughly convincing from start to finish. In arias such as 'Sempre libera degg'io' the underlying sumptuousness in her sound is complemented by complete mastery of technique and phrasing so that it positively glistens and gleams. On the other hand, in 'Addio, del passato bei sogni ridenti', the inherent security in her voice is paradoxically used to convey the most convincing image of frailty. Her acting is also effective as even her arm gestures are in keeping with the wider picture, whether palms are facing outwards so that arms follow the curve of her dress, or hands are coming together as if the emotion she is feeling is so strong she can practically cradle it.
Liparit Avetisyan is a highly engaging Alfredo, with the essential warmth in his tenor combining with an excellent command of phrasing to create a compelling performance. In 'Libiamo ne' lieti calici' he punctuates the lines extremely skilfully while in 'De' miei bollenti spiriti / Il giovanile ardore' his voice proves as expansive as it does light as he creates some beautifully soaring phrases. Christian Gerhaher is a highly intriguing Germont as it really feels as if he has to dig deep in order to persuade Violetta to leave Alfredo. Many portrayals make the character seem a little more distant, aloof and expectant, but Gerhaher feels extremely human as he ceases to stand upright and resorts to stooping as he begs Violetta. The range of emotions he goes through is also vast. For example, after pleading heavily with her, a smile comes across his face when Violetta reveals she is 'giving in', yet almost immediately his expression has turned to one of pain as the sacrifice she is making really hits him. His baritone is warm, full and possessed of many nuances that enable him to bring out the meaning of every line to the full. 
There is also strong support from Stephanie Wake-Edwards' Flora, Jeremy White's Marquis D'Obigny, Yuriy Yurchuk's Baron Douphol, Blaise Malaba's Doctor Grenvil, Egor Zhuravskii's Gastone and Renata Skarelyte's Annina. Full details of the cast and conductor for each performance can be found on the Royal Opera House website. This production will be broadcast live to selected cinemas around the world on 13 April 2022, with some venues also showing encore screenings on subsequent days.
By Sam Smith
La traviata | 27 October – 17 November 2021 | Royal Opera House, Covent Garden
©2021 ROH. Photograph by Tristram Kenton
the 02 of November, 2021
|
Print