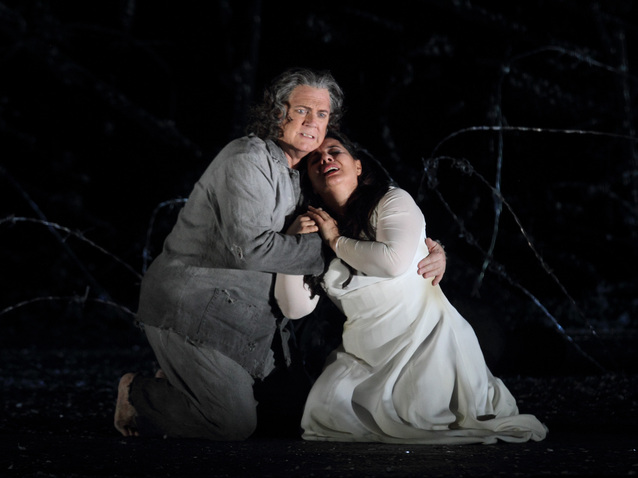 © (c) ROH - Catherine Ashmore
Giuseppe Verdi's Il trovatore of 1853 is based on Antonio García Gutiérrez's play El trovador. Set in fifteenth century Spain it tells of the noble lady Leonora who is in love with the troubadour Manrico, but is herself loved by the Count di Luna, a nobleman in the service of the Prince of Aragon. The Count's younger brother Garzia supposedly died in infancy when a gypsy was burnt at the stakefor allegedly bewitching him, and the charred body of a baby was then found on her funeral pyre. It transpires, however, that as the gypsy died she ordered her daughter Azucena to avenge her death by killing Garzia, but in her despair and confusion Azucena threw her own baby onto the pyre instead of the old Count's. Thus Manrico, who Azucena subsequently brought up as her own, is actually the current Count di Luna's brother, although the Count does not know this.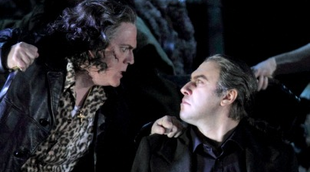 Gregory Kunde (Manrico) and Vitality Bilyy (Count di Luna)
(c) ROH - Catherine Ashmore
As the Count and Manrico battle for Leonora it reaches a point where both Azucena and Manrico find themselves imprisoned and facing death. Leonora promises to give herself to the Count if he will release Manrico, and the Count agrees because he does not realise she has taken poison to ensure that she dies before he will ever be able to lay a finger on her. When he discovers her dead, however, he orders Manrico's death. Azucena is unable to stop the killing, and after it has occurred she declares that Manrico was the Count's brother, and thus that her mother has been avenged.
Because the work sees the fulfilling of a gypsy's vow it is easy to see it simply as a revenge tale, but it is also a story of hope given the implication that Leonora and Manrico will be united in heaven (Leonora wonders at the end of Part II if she is not already there). As a result, David Bösch's production for the Royal Opera is clever in setting the opera in a war-torn landscape, while ensuring that amidst the stumps of burnt out trees there are huge blossoms growing. This highlights both sides to the story, and it is interesting how our eyes are drawn to the element that supports the scene in question. When Ferrando sings 'Abbietta zingara' we notice the wasteland, but when Leonora sings 'Tacea la notte placida' we see the flowers.
At other times the stage contains graves but no blossom (in other words, no redeeming features) and there is the subtle, but still shocking, image of Luna tearing up a cruciform grave marker. All this ties in with Leonora's assertion that she can find 'no smile, no hope, no flower' in this world. It could be argued that the staging is designed to make a series of points rather than to set the action in a specific time and place. This may explain why the drama, while broadly being set in the modern day, crosses eras. Azucena's caravan seems 1950s in style, but the Count di Luna's troops take a selfie of themselves with a prisoner.
Bösch's production was new to the Royal Opera in July 2016. This first revival, by Julia Burbach, began last December but January 2017 sees the introduction of the second of its two casts. A large screen at the back features monochrome images, courtesy of Patrick Bannwart, that complement the action, but these have been toned down immensely since the original production. In addition, before, in between scenes, a screen dropped that typically revealed a butterfly landing on barbed wire, but these images have now been cut entirely.
Lianna Haroutounian (Leonora); (c) ROH - Catherine Ashmore
Similarly, before when Leonora sang 'Tacea la notte placida', when she expressed how Manrico moved her with his song and lute playing, musical notes crossed the screen at the back and finally came together to form a heart. These are now absent, and this scene does work better without them because before the aria felt rather too much like an overtly public declaration of her feelings, complete with visual accompaniment. Now, although in reality she does sing the majority of it to front, there is a sense in which Leonora is actually relating her private feelings to her confidante Ines.
On the other hand, the images did help to further the staging's war versus hope arguments, so that, for example, the butterfly landing on the barbed wire highlighted nature's indifference to society's tendency to tear itself to pieces, and its indomitable ability to renew itself. As a result, without such images to expand on the production's basic thesis, the staging feels less imaginative and nuanced, which arguably blunts its overall impact. It still, however, carries a plethora of telling details that do things such as highlight Azucena's obsession with what happened all those years ago. Toy babies hang from her caravan, looking almost like ex-voto offerings, and she cradles one of these for most of 'Stride la vampa'. The famous 'Coro di zingari' is also suitably dynamic as it features anvils being struck on stage, play fights and (it seems) a transgender wedding.
If the staging is a qualified success, the evening's musical credentials are more unequivocally outstanding. The soloists are very strong with two performances standing out in particular. The first comes from Vitaliy Bilyy who is making his Royal Opera debut as the Count di Lunaand who combines a deep, rich and secure baritone with a suitably commanding presence. Although we see in his Count the requisite arrogance, expectancy and malevolence, we are also made acutely aware of just how desperate he is to attain the woman he loves. The second comes from Anita Rachvelishvili as Azucena who displays a rich and nuanced mezzo-soprano, and whose voice and acting mark out the weight of sorrow and resolve that she constantly carries. As Ferrando, Alexander Tsymbalyuk has a full and engaging bass that ensures the evening starts strongly as he explains the backstory in 'Abbietta zingara'.
Reprising her role of Leonora from July 2016, Lianna Haroutounian reveals a beautifully sumptuous soprano as her phrasing shows a strong attention to detail, and her acting achieves the right balance between displaying sensitivity and charge. Gregory Kunde, who also sang Manrico in the original production, impresses with his highly expansive tenor although his sound sometimes feels a little freer and less measured than some of the other principals. This can create some problems in his duets with Haroutounian where stylistic differences come to the fore, but there is no problem at all in Part IV's trio 'Prima che d'altri vivere', which is absolutely breath taking. Richard Farnes' conducting is highly astute, revealing an eye for detail while still capturing the sweeping nature of much of the music. This Il trovatore will also be broadcast live to selected cinemas around the world on 31 January 2017.
By Sam Smith
Il trovatore | 26 January – 9 February 2017 | Royal Opera House, Covent Garden
Photos credit: Catherine Ashmore
the 30 of January, 2017
|
Print