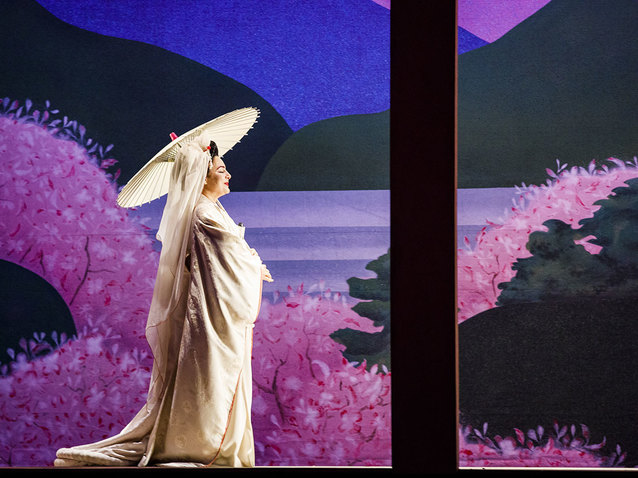 Set in Nagasaki, Puccini's Madama Butterfly of 1904-07, with a libretto by Giuseppe Giacoso and Luigi Illica, explores the relationship between the American naval officer Pinkerton and Cio-Cio-San from the city's Omara district. Cio-Cio-San, whom Pinkerton both affectionately and patronisingly addresses as Madam Butterfly, takes their love so seriously that she converts to Christianity, and is consequently ostracised by her family. He, on the other hand, sees their marriage as being akin to his Japanese house, which he has on a 999-year lease that he can cancel at any moment. When he leaves for America soon after the wedding, it seems obvious to everyone, including Cio-Cio-San's maid Suzuki, the American consul at Nagasaki Sharpless and the local marriage broker Goro, that he will not be returning, but Cio-Cio-San will simply not accept this. It transpires she possesses a 'trump card' that explains why she believes she can persuade him to come back, but when she plays it Pinkerton does not respond in the way she anticipated and the consequences for her are devastating.
In Moshe Leiser and Patrice Caurier's production for the Royal Opera House, which was first seen in 2002 and is revived here by Daniel Dooner, Christian Fenouillat's set creates a large 'minimalist' space that can be exploited in a variety of ways. Although it stands as a constant throughout the evening, Christophe Forey's lighting designs and the introduction of many details make it feel like an ever changing creation. The stage is dominated by a platform that forms the basis of Pinkerton and Cio-Cio-San's house, while planks lie around to create adjoining bridges. Although these technically lie inside the house, they still allude to the pontoons and waterways that would be found in the vicinity.
Paper windows stand on three sides, and these are sometimes opened to reveal backdrops that themselves show different sides to the country. One minute we can be enjoying a realistic view of the Nagasaki harbour, and the next staring at an idealised image of Japan, complete with rolling hills and pink blossom. When Cio-Cio-San's uncle, The Bonze, denounces her at the wedding for disrespecting her ancestors, he appears from behind this final backdrop. With this collapsing to reveal him, it as almost if he is arriving himself from the spirit world that lies beyond Japan.
The characterisations on offer are more subtle and three-dimensional than those to be found in many productions. After all he is responsible for, Pinkerton could never be a sympathetic character, but Freddie de Tommaso, with his brilliantly expansive tenor, certainly does not portray him as a pantomime villain. This is partly because his crimes are too great for him simply to be dismissed as one, but mainly because we are made to appreciate his own weakness, which plays a role in him failing to do what he knows to be right. At the end, he seems totally disgusted at the person he was who allowed this tragedy to unfold in the first place. He also, however, suggests a cowardly figure who is consequently incapable of acting now in a way that will not compound Cio-Cio-San's situation.
This contrasts markedly with his brashness and confidence at the start, which is telling in itself. If Pinkerton thinks little about long-term stability with Cio-Cio-San, then his tendency to live for the moment does see him have immense feelings for her in Act I. This manifests itself most clearly in its final scene as Pinkerton and Cio-Cio-San prepare for their wedding night. Each does not spend the entire time staring into the other's eyes, but frequently gazes heavenwards as the other looks on them. This captures the fact that he is infatuated with an image of her, and that she similarly has an idealised vision of love that is quite removed from the realities of a relationship.
Lianna Haroutounian is outstanding as Cio-Cio-San as her soprano proves capable of asserting lines with crystal clarity on the one hand, and of producing an extremely full and vibrant sound on the other. Both skills are put to excellent use in the iconic 'Un bel dì', in which she reveals how she has spent so many hours building up an image in her head of what that beautiful day when he returns will be like. However, when she describes how she will initially hide from him so as not to die at the first meeting we feel the full weight of her desperation. Throughout the evening Haroutounian delivers an extremely emotional and heartfelt performance, in which her sorrow and vulnerability could not be more palpable, while still imbuing the character with immense dignity.
Lucas Meachem, with his tremendously accomplished baritone, is a world class Sharpless who does his best to show respect towards Cio-Cio-San as he sits cross-legged next to her, and visibly bleeds inside as he tries to break the most gut-wrenching news to her. His outburst at Pinkerton towards the end for ignoring his warnings, before letting him off the hook by telling him to leave, is also deeply affecting. Kseniia Nikolaieva asserts her deeply rich and sumptuous mezzo-soprano to excellent effect as Suzuki, while there is also strong support from Alexander Kravets as Goro, Jeremy White as The Bonze, Alan Pingarrón as Prince Yamadori and Rachael Lloyd as Kate Pinkerton.
The opera Madama Butterfly has been criticised for portraying Japanese people and culture in an inaccurate and stereotypical way. To combat this, this revival of Leiser and Caurier's production has worked with experts in Japanese movement and design Sonoko Kamimura, Etsuko Handa and June Iyeda to refine posture and placement. By, for example, ensuring that Cio-Cio-San's gestures always reflect the character's upbringing, the aim has been to provide a more authentic portrayal of the people involved, and one that is attuned to the historical context of the story. Although many audience members may be hard pressed to identify all of the differences there are between this and previous revivals, the aim has certainly been achieved as the production feels distinctly more refined and respectful now.
In the pit, Dan Ettinger's conducting is highly assured as he brings a notable degree of richness to the orchestra's consistently precise and balanced sound. Two casts perform over the course of the run with the other performers including Eri Nakamura as Cio-Cio-San, Gianluca Terranova as Pinkerton, Gyula Nagy as Sharpless and Patricia Bardon as Suzuki. This production will also return to the Royal Opera House in September and October 2022.
By Sam Smith
Madama Butterfly | 14 June - 6 July 2022 | Royal Opera House, Covent Garden
(c) Yasuko Kageyama
the 20 of June, 2022
|
Print