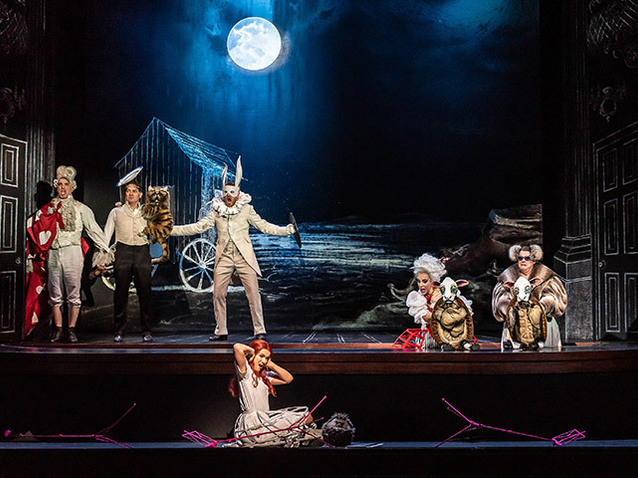 Gerald Barry has written six operas, with his first The Intelligence Park of 1990 appearing in the Royal Opera House's Linbury Studio last autumn. Now, his Alice's Adventures Under Ground of 2016 comes to Covent Garden's larger venue for its first ever staged performances. The opera only lasts an hour meaning there are two performances on most of the days it is appearing, with Cast A taking on one of them and Cast B the other.
Barry has opted for the original title of Lewis Carroll's Alice's Adventures in Wonderland, but the opera actually explores occurrences in both that and Alice Through the Looking-Glass. It takes us through the main events in these books while hardly allowing the audience, let alone the performers, pause for breath.
As a result, while the original books are quite episodic themselves, any morals or meanings there are in them seem all but lost, and it can feel as if the opera simply sees one thing happen after another. That, however, is rather the point as it brings to life its own madcap, roly-poly adventure. To an extent it hardly matters that the pacing of the original stories is entirely ignored, which affects the messages they carry, because the opera has a pace of its own that can be enjoyed in its own right.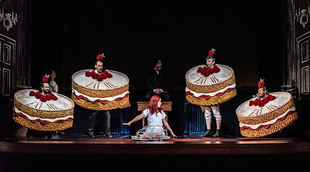 Peter Tantsits, Claudia Boyle and Sam Furness (C) ROH 2020.
Photo by Clive Barda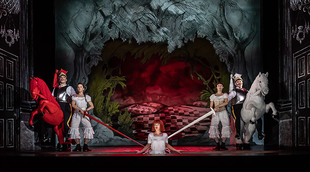 Alice's Adventures Under Ground (C) ROH 2020. Photo by Clive Barda
Alice's Adventures Under Ground enjoyed a concert performance at the Barbican Hall in 2016, following its world premiere in Los Angeles just a week earlier, but here Antony McDonald's staging feels crucial to the success of the evening. It is extremely colourful, but the placing of a proscenium stage upon the house's real one provides a very effective framing device. When an opera is radical, it can require something to exert control over it in order to prevent it feeling like a mess. The staging, which is slick and provides as much clarity as it does colour, succeeds in doing this.
With the exception of Claudia Boyle who plays Alice, every singer assumes multiple roles, and there are a few occasions when a performer suddenly seems to be in a different costume, with it not being clear exactly when and where the change occurred. The costumes are beautifully made and have some pleasing features so that The White Rabbit's ears rise from the top of the mask he wears, while The March Hare's appear on his hat. The Red and White Knights are executed Bernie Clifton-style with the horse being built around the performer so that his own legs form the animal's hindquarters. The Cook has a large box of eggs on her head, while the Oysters are nicely presented as 'can-can' style skirts suggest the shell and a pearl appears on each person's head.
The opera plays on those areas that lend themselves to a musical element so that as Alice falls down the hole at the start she sings a series of arpeggios, some of them a cappella. Four of many things that appear in the original are presented – such as bottles that say 'drink me', cakes that say 'eat me' and babies – to add richness and harmony to the vocal lines. Much of the singing is very challenging and Cast A, which includes Claudia Boyle, Clare Presland, Hilary Summers, Sam Furness, Peter Tantsits, Mark Stone and Joshua Bloom, acquits itself extremely well. The cast also includes three dancers – Lukas Hunt, Bianca Hopkins and Eloise Hymas – who play Lewis Carroll and Lorina and Edith Liddell.
The score, which is conducted superbly and precisely by Thomas Adès, reveals a range of styles and influences. Humpty Dumpty sings to the tune of Beethoven's 'Ode to Joy', and there are other times when the music seems particularly grand. It is at these moments that the opera feels most successful because the sense in which it is 'parodying' such monumental music is what makes the playfulness work in its own right. However, no-one portrays a character for whom we really feel something so much as fulfils a role (or roles) in the drama. As a result, no matter how well the cast do so and irrespective of the fact there is no intention to do otherwise, it still makes the piece feel rather slight. This is a fun and enjoyable opera, and the ticket prices are very reasonable, but at just an hour long it may be one to pop into if you are in London anyway as opposed to something to travel a great distance to see.
By Sam Smith
Alice's Adventures Under Ground | 3 – 9 February 2020 | Royal Opera House, Covent Garden
the 07 of February, 2020
|
Print