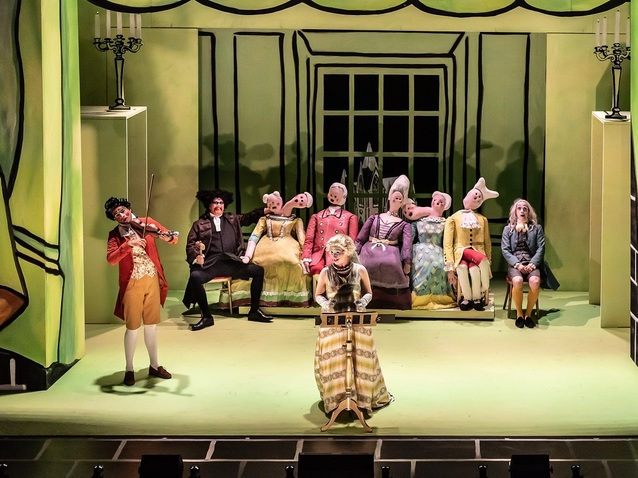 Gerald Barry has written six operas, including Alice's Adventures Under Ground which comes to the Royal Opera House's main stage next February. His first, however, The Intelligence Park of 1990, is currently appearing in the venue's smaller Linbury Studio in a co-production with Music Theatre Wales. Set in Dublin in 1753, it sees a composer Paradies struggling to write an opera about the amorous entanglements of warrior Wattle and enchantress Daub, as his imagination fails him. His friend D'Esperaudieu reminds him of his obligation to marry the daughter of Sir Joshua Cramer, Jerusha, in order to inherit his father's estate.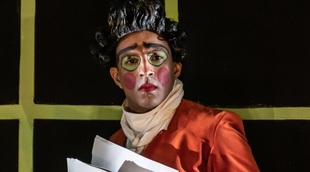 Michel de Souza as Robert Paradies, The Intelligence Park
(c) ROH MTW 2019 by Clive Barda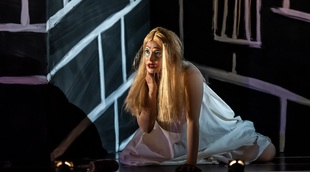 Rhian Lois as Jerusha Cramer, The Intelligence Park
(c) ROH MTW 2019 by Clive Barda
At a party at Cramer's house, Jerusha sings, but just as Paradies has resolved to abandon his marriage and inheritance, he hears the singing of the castrato Serafino, the companion of Jerusha's teacher Faranesi, and is so transfixed that he fails to speak out. What follows is quite a surreal piece, in which Paradies conjures up his characters Wattle and Daub, and Serafino and Jerusha elope, with the line between reality and fantasy becoming increasingly blurred, especially since both of these pairs are played by the same people. The upshot is that Cramer dies of an apoplectic fit, while Serafino and Jerusha perform the closing scenes of Paradies's opera, and the composer himself prepares to leave Dublin as everyone sings of the bitterness of parting and love frustrated.
Nigel Lowery's new production, which also heads to Cardiff, Manchester and Birmingham in October and November, highlights the theatricality of the scenario by painting three-dimensional objects such as candelabras onto two-dimensional surfaces, in an effect that does not feel so dissimilar to Russian neo-primitivism. In this way, a rich proscenium arch is painted onto predominantly flat panels, while buildings such as Dublin's Casino at Marino can be seen through a window at the back.
If Barry's music still feels radical today, one can imagine just how much more so it would have seemed thirty years ago. With the sound seeming to be in a practically constant state of high tension, the lines that result, which in many ways turn their back on 400 years of operatic convention, present considerable challenges for orchestra and singers alike. These are met brilliantly, however, by the London Sinfonietta, conducted by Jessica Cottis, and the cast which comprises Michel de Souza as Paradies, Adrian Dwyer as D'Esperaudieu, Stephen Richardson as Cramer (who also created the role in 1990), Rhian Lois as Jerusha, Stephanie Marshall as Faranesi and Patrick Terry as Serefino.
Nevertheless, the piece leaves the overriding impression of absurd opera for absurd opera's sake. Shostakovich's The Nose of 1928 may feel equally surreal, but, with it being based on Gogol's eponymous story, it makes very clear points about rules, society and hierarchies. Here, the struggles associated with creativity feel more abstract and become caught up in too many other things. One cannot help feeling that if the music is going to be so radical the story has to be quite conventional, or vice versa, in order to ensure that the piece as a whole still feels sufficiently controlled. Here, the combination of the two makes the opera seem relatively aimless, with the result that it becomes difficult to engage with any character or emotion being expressed.
Things are not helped by the fact that Vincent Deane's libretto, which is immensely skilful in its own right as it alludes to a plethora of ideas, contains so many words that when characters typically rattle through them, it becomes difficult to engage with much of the philosophy that clearly underlies the piece. Similarly, although Lowery's staging would have to count as a success on its own terms, in this context its tone seems to contribute to the piece feeling just too abstract.
Of course, Barry's precise aim was to create something that seemed literally to spin out of control. However, because there does not seem to be enough of a sense of reality to peg it to in our minds, it makes it harder for us to feel much for what unfolds before our eyes. Nevertheless, it is impossible not to marvel at the achievements of the orchestra and cast alike in pulling off what this extremely challenging music demands of them to such a consistently high standard.
By Sam Smith
The Intelligence Park | 25 September – 4 October 2019 | Linbury Studio, Royal Opera House, Covent Garden
the 01 of October, 2019
|
Print