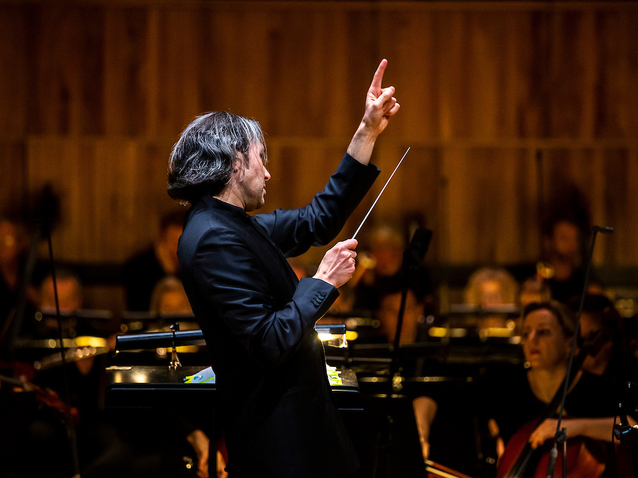 In January and February 2021 the London Philharmonic Orchestra, under the baton of Vladimir Jurowski, will be presenting Richard Wagner's tetralogy Der Ring des Nibelungen twice at the Royal Festival Hall. It began performing the operas individually two years ago, with Das Rheingold being presented in 2018, Die Walküre last year and Siegfried appearing now.
This is the opera that moves on from the failed attempts of the chief god Wotan to retain control of the world for himself in Die Walküre. Instead, it focuses on his grandson Siegfried who is a mortal, a hero and, most importantly, a free agent who acts without the support of the gods. In the opera he wins the ring that makes the bearer all-powerful, but only after overcoming giants transformed into dragons, and dwarves determined to kill him in order to win the precious object for themselves. After gaining it he rescues Wotan's daughter Brünnhilde, which only a hero could do as she had been put to sleep on a rock surrounded by fire. With the pair then falling in love, Siegfried is the only one of the four operas to have an unequivocally happy ending.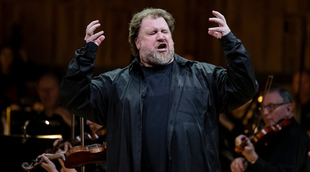 Torsten Kerl plays Siegfried in London Philharmonic Orchestra's production
of Siegfried (c) Simon Jay Price
Jurowski's conducting was immensely assured with the clarity that was brought to the sound eliciting its own beauteous tone, and paradoxically helping to hint at all of the commentaries that lie beneath the surface. Occasionally, the orchestra felt as if it was the victim of its own success as towards the start Torsten Kerl as Siegfried sounded as if he was chasing lines rather than moving smoothly through them with the orchestra. Sometimes the orchestra felt too loud for the soloists, and, although the fast pace contributed to the thrill, with Act III's running time coming in several minutes below standard, it could place excessive burdens on the singers. Nevertheless, none of this should detract from the fact that the playing was for the most part outstanding, with the air of mystique as Mime tried to teach Siegfried fear feeling tangible, and the opening to Act III proving exhilarating.
As Siegfried Torsten Kerl exerted a strong and expansive tenor that looked in danger of flagging right at the end of Act II, but which ultimately stayed the distance very well. His acting style also worked well for this concert performance as it enabled him to face outwards. In this way, as he described how he contemplated his reflection in the water his hands almost conjured up the event. He also captured something of the humour in Siegfried's character. There was an amusing moment in which Kerl, when Siegfried attempts to play a reed in order to communicate with the Woodbird, actually played the cor anglais himself. At the end of Act I, there were smiles and laughs between him and Mime as they both thought they had achieved their goals, which was very effective but not the way in which this moment is usually portrayed. Then when he met Brünnhilde he revealed both sincerity and confusion, as he encountered feelings that were entirely alien to him, before the ending saw them proclaim their love for each other in a big way.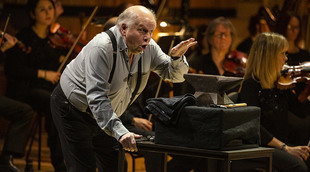 Mime played by Adrian Thompson in London Philharmonic Orchestra's
production of Siegfried by Wagner (c) Simon Jay Price
Adrian Thompson was an extremely effective Mime, asserting his strong tenor while also applying enough of a 'pinched' sound to suit the character. His reactions were also excellent as he demonstrated increasing frustration as the Wanderer answered all of the questions posed to him correctly, and fear as he was forced to defend his own life. Evgeny Nikitin was an imposing Wanderer who, with his full bass-baritone and hooded mac, gave a convincing portrayal of a man who was fully in control when dealing with Mime and Alberich, but rattled when encountering Erda and indeed his own grandson. When he posed his first question to Mime, which concerned how badly he had treated his own children, it felt like a confession as he leant on the rail of the conductor's podium.
As Alberich, Robert Hayward's singing and acting were both superb, while Anna Larsson presented a beautifully sung and suitably shaken Erda. Brindley Sherratt was also on top form as Fafner, with his deep bass sound filling the hall. Since he sang everything offstage until he was stabbed, the sight of a dying man (which is how he appeared) staggering across the choir stalls was moving in its own right.
Alina Adamski was an extremely sweet voiced Woodbird, while Elena Pankratova produced a beautifully full and thrilling sound as Brünnhilde. This led to an exhilarating scene between her and Kerl, with the final ten minutes constituting pure Wagner heaven.
By Sam Smith
Siegfried | 1 February 2020 | Royal Festival Hall, London
(c) Simon Jay Price
the 02 of February, 2020
|
Print