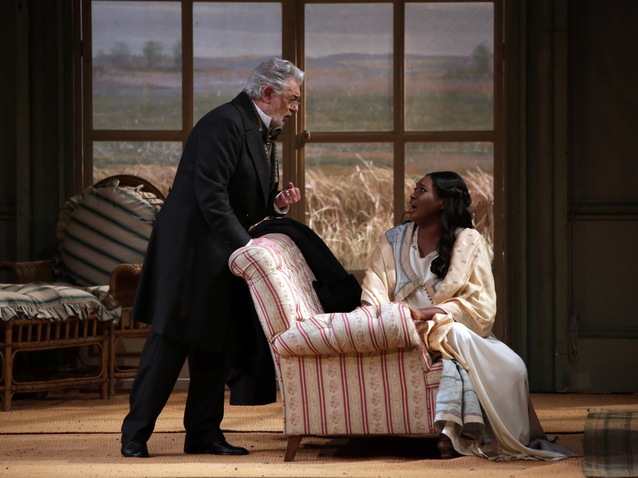 © Brescia/Amisano
Liliana Cavani's tired and uninspired 1990 production of La traviata apparently has enduring appeal. Ten shows into a 12-evening run, the theatre was heaving with audience members, a large proportion of them international. Perhaps tourists come to Milan expecting this sort of dependably traditional operatic fare. But there was, on this occasion, another reason to catch the show. In opting for multiple casts to sustain this long run La Scala had not skimped on quality: the indefatigable Francesco Meli stayed on as Alfredo, while Plácido Domingo substituted Leo Nucci as Giorgio Germont. They would have been joined by Sonya Yoncheva as Violetta, a replacement for Marina Rebeka, if all had gone to plan.
But in opera it often doesn't go to plan. Yoncheva is expecting a baby in the autumn and is under doctors' orders not to perform until after the delivery date. That left the way open for Angel Blue, the fast-rising Afro-American soprano, who was offered her big La Scala break. Blue has performed at the Milan house before – in performances of La bohème and Porgy and Bess – but never in a role as major as this. As La Scala's first black Violetta she made headlines even before singing a note.
Angel Blue seized her moment, winning the audience's hearts with a performance that brimmed with personality. The soprano was sweet and girlish where required, and adequately tragic in the latter stages when death comes knocking. She also looked the part (as a former Miss California, Blue has prize-winning good looks). "Addio del passato" was an ideal vehicle for Blue's silken timbre, the soprano filling her legato lines with pathos and nuanced expression, and while she seemed most comfortable in the role's sweeter rather than grittier stretches she managed the death scene movingly. At the curtain call, Blue was justly rewarded with enthusiastic applause.
But the best reception was reserved for Placido Domingo, a firm house favourite. He will never pass as a baritone, which threatened to be a problem at the start of "Pura siccome un angelo", but once ears had adjusted we could enjoy this charismatic, authoritative reading for what it was. Domingo's burnished tone carried easily despite the house's challenging acoustic (but then Domingo did always possess one of those fortunate instruments collectively referred to as "voci da Scala") not least because his Italian diction was crystal clear. Best of all, though, this was masterclass in communicative singing (perhaps Angel Blue, a former prezie-winner in the baritenor's Operalia competition, was listening especially attentively); Domingo treated long phrases in "Di provenza il mar il suol" as if they were made from putty, stretching them out to explore textual nuance or speeding them up to express gathering excitement. He looked noble as he moved around the stage, not a gesture out of place. The adoring La Scala audience lapped it up.
Francesco Meli gave a blazing account of Alfredo, and demonstrated that as time passes he is developing stage presence to match the stonking voice. Much of the tenor's quieter singing felt insecure, but in "De' miei bollenti spiriti" Meli impressed with an energising stream of ardent sound. Riccardo Della Sciucca was an assertive Gastone, Alessandro Spina an earnest Dr. Grenvil and Chiara Isotton a secure Flora. Marco Armiliato, taking over from Myung-Whun Chung for the March fixtures, gave a solid, no frills account of the score that was perfectly serviceable, albeit workaday and a little plodding.
Liliana Cavani's film-set production would have been a let down, had we not known what awaited us. Violetta's salon is a lush banquet room featuring enormous chandeliers and busy crowds dressed in pristine dinner attire; her country house is an airy conservatory, the wild French countryside visible through the windows; her bedchamber a decadent space that has all the exuberance of Miss Havisham's abode, neutral lighting evoking the greyish pallor of a lifeless corpse. It is all unimaginative and, by now, old. That said, even if there's surely a strong argument for bringing back Dmitri Tcherniakov's iconoclastic 2013 production, Cavani's quaint conception sells well. Never mind. Cast with interesting voices as here, and this Traviata has plenty to offer irrespective of your staging preferences.
James Imam
Seen 12th March
the 17 of March, 2019
|
Print