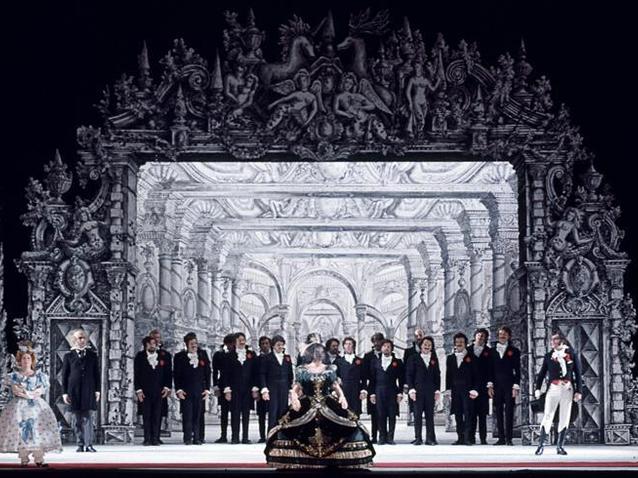 Jean-Pierre Ponnelle's legendary Milan production of La Cenerentola would be hard to replace. Since being unveiled at La Scala in 1973 it has enchanted local audiences time and again, and attempts to decommission such a joyous take on Rossini's work would, you feel, prompt strong resistance from the La Scala faithful. Especially as long as such interesting casts continue to be sourced.
Mezzo soprano Marianne Crebassa has established herself as a firm house favourite in recent years. Appearing here in the opera's title role she brought the house down. We were able to appreciate Crebassa for the outstanding, rounded artist that she is. So far at La Scala, the mezzo has tackled larger-than-life roles such as Cherubino and Irene in Tamerlano, but the tender Angelina calls for a subtler palette of colours. Crebassa was on fine form last month in a meditative La Scala recital of French song, and her portrayal of Rossini's heroine here sounded similarly sensitive as she swept up cinders and dolefully lulled through her sad song. Yet Crebassa also had enough regal poise and vocal agility in coloratura to make an impact when Angelina turns up at the ball in a glittering gown. Her weighty mezzo sounded impressive in the challengingly large space of La Scala, and such an assured performance will surely have cemented her superstar status at the house.
On the whole, it was a fitting tribute to Claudio Abbado five years after his death. If the late conductor's Cenerentola was characterised above all by brilliant rhythmic clarity, then Ottavio Dantone's interpretation was in the same mould. Imaginative and irrepressibly vivacious, Dantone released a lightening bolt from the pit, with musical excitement peaking in a raging depiction of the storm. Explosive interjections and filigree detail were everywhere vividly dispatched, and Dantone's spacious yet tightly-managed tempi kept us on our toes (who says Rossini's music has to run like clockwork?). So joyous was this rendition that the odd moment of malcoordination between singers and the pit did little to dampen our enjoyment.
The simplicity of Ponnelle's sets is striking to modern eyes. Two-dimensional panels have cartoonish charm, Don Magnifico's home – a jumble of broken panels, exposed brickwork and side rooms from which the characters emerge – proving an ideal setting for the opening shenanigans, and layers of panels for Don Ramiro's ball room suggesting spacious grandiosity. Beautifully choreographed action is firmly rooted into the score for comic effect, so that the Baron is blown away in a storm, a table laden with food provides an abundant visual set piece and Ramiro's courtiers, rousingly portrayed by chorus members gallantly clad in plush red jackets, daintily skip in time to the music. Director Grischa Asagaroff's restaging retains the polish, irreverence and wit of his teacher Ponnelle's original conception.
The remainder of the cast provided much to enjoy. While Maxim Mironov's laser-like voice sounded a size too small, his attractive tone and stylish phrasing made for pleasing listening, and the lithe tenor looked appropriately chivalrous as Don Ramiro. Carlos Chausson, not far off 70, boomed mightily as Don Magnifico, lighting up the stage with a no-holds-barred display. Tsisana Giorgadze and Anna-Doris Capitelli were suitably absurd and hysterical as the sisters Clorinda and Tisbe. Erwin Schrott's assured performance made for an engaging Alidoro, and Nicola Alaimo was a drole Dandini. Ensemble numbers sparkled effervescently for the most part. But it was the closing firework display of Crebassa's aria "Nacqui all'affanno - Non più mesta" that remains most powerfully etched on the mind.
James Imam
(Milano, February 2019)
Ph. Marco Brescia & Rudy Amisano
the 17 of February, 2019
|
Print