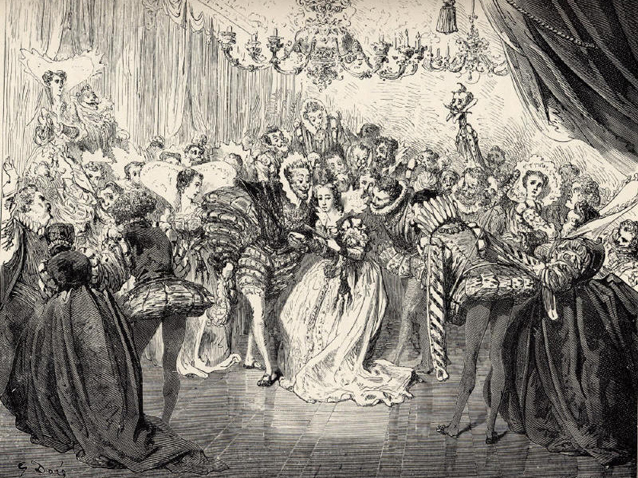 General informations
Composer:Gioacchino Rossini
Librettist:

Jacopo Ferretti

Creation date:

1817

Creation place:

Italy

Acts number:

2

Original language:

Italian

Opera House of original production:

Teatro Valle de Rome

Original orchestration:

2fl,2ob,2cl,2fg,2cors,2tp,1tbn, strings, 1pianoforte
Work description
Everyone is familiar with the story of Cinderella, immortalised by Charles Perrault and the brothers Grimm. Yet this is not quite the story of La Cenerentola, even though Jacopo Ferretti was inspired by it when he wrote the libretto. There are very few references to magic. There is no fairy, pumpkin or glass slipper! This drama giocoso, whose full title is Cinderella or Goodness Triumphant, focuses on the adventures of Angelina, a frail and brilliant heroin for whom Rossini has reserved his most tender melodies, deliciously interwoven with those of Prince Ramiro. Suddenly the voices sparkle, flow forth and mingle in arias and ensembles punctuated with clever puns and witticisms: this is Rossini's vis comica at its finest. The latter was indeed proud of this highly successful piece, which he wrote when he was only 24 in just three weeks. There is certainly some magic in that!
Summary
In search of the ideal woman, Prince Ramiro sends his advisor, Alidoro, to Don Magnifico's house. Of his three daughters, Clorinda, Tisbe and Angelina (La Cenerentola), which one is the most beautiful and kind? The answer is easy… Don Magnifico is as mean to the sweet Angelina as her two nasty sisters. Ramiro and his valet, Dandini, switch identities and visit the family. The ingratiating Don Magnifico presses the false prince, Dandini, to choose between Clorinda and Tisbe. But when the lovely Angelina appears at the ball, totally transformed, Prince Ramiro only has eyes for her and asks for her hand. Leaving the ball in a rush, Angelina gives Prince Ramiro a clue...and he has no difficulty finding her. The lovers are reunited and goodness triumphs.
Act 1
Angelina (aka La Cenerentola) is mistreated by her two sisters, Clorinda and Tisbe - as their father, Don Magnifico, looks on in approbation. Alidoro, Prince Ramiro's advisor, arrives at the house, disguised as a beggar. Some courtiers arrive to announce that Prince Ramiro will soon be visiting, looking for the most beautiful girl in the land to invite her to his ball. The two sisters are convinced that they will be selected, while they shout at Cenerentola, leaving their father to dream for them.
Angelina is not allowed to go to the ball and sings about her sadness. When Prince Ramiro arrives, dressed as his valet, Dandini, to observe the sisters incognito, he falls in love with Angelina as soon as he lays eyes on her. It is love at first sight.
For his plan to work, Dandini, the Prince's valet, poses as his master, promising all sorts of things to Don Magnifico, who rejoices! The characters of Clorinda and Tisbe contrast with Angelina, who is the epitome of human kindness. Since her father has forbidden her to go to the ball, Alidoro promises to take her. Filled with jealousy, Clorinda and Tisbe are struck by the resemblance of a mysterious unknown woman with their sister, who they do not recognise in her beautiful outfit. Prince Ramiro is immediately smitten with her. When he asks for her hand, Angelina replies he must first discover who she is, and gives him one of a pair of matching bracelets so that he can find her.
Act 2
Back at the ball, Dandini confesses to Don Magnifico that he is only the Prince's valet. Don Magnifico becomes highly indignant, and unleashes his anger in a rousing duo.
Angelina is back at the house, tending the fire, singing a melancholy ballad. Suddenly there is a thunderstorm.Ramiro and Dandini enter the house – but they are no longer disguised as each other. Prince Ramiro is surprised when he observes Angelina is wearing the matching bracelet!Everyone is shocked by this unexpected turn of events…and expresses their amazement in a surreal sextet : Questo è un nodo avvilupato…
All's well that ends well. In Prince Ramiro's castle, Cenerentola rejoices at finding true love and happiness. She forgives her sisters, who embrace her and celebrate the triumph of goodness.
Excerpt : « Nacqui all'affanno… Non più mesta »