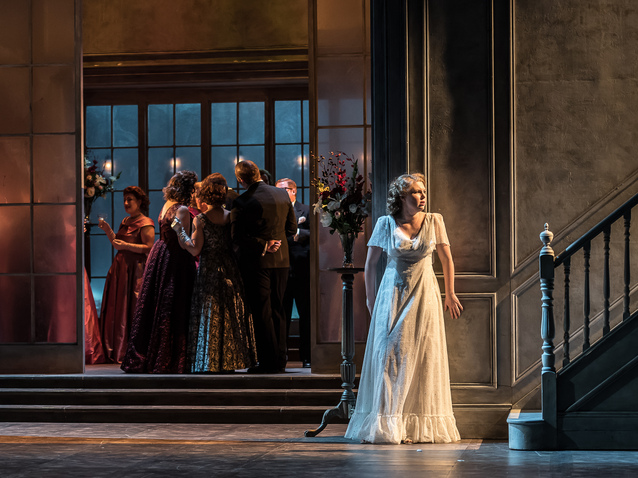 Vanessa by Samuel Barber was commissioned by the Metropolitan Opera house and premiered successfully in the year 1958. Samuel Barber's lifelong partner Gian Carlo Menotti wrote a very sensitive and precise libretto based on a gothic tale. It was his only libretto not being composed by himself later on. There have been some further productions of the opera mainly in the United States whereas in Europe Vanessa has not really grounded in the repertoire of the opera houses. So again it is a precious rarity which is staged in Wexford after a long unjustified European absence.
For several critics and opera lovers, this opus is valued as the best American opera anyhow. It truly is a fine composition involving a strong European heritage and a clear reference to Mahler, Strauss, Puccini or even Tchaikovsky as well as to pragmatic American film music. It is the on and off of lyric and drama which makes it expressive and modern but keeps it in harmony.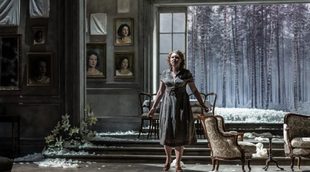 Vanessa © Clive Barda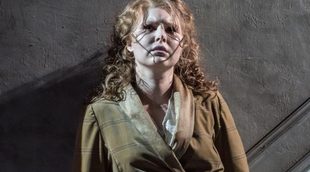 Carolyn Sproule as Erika © Clive Barda
Thanks to the insistence of some of the singers of the world premiere, Barber added some further arias which have made the whole composition a real opera on a classical layout. The excellent cast of the evening supports this final concept with fine singing. Claire Rutter personalizes the title role Vanessa, the elegant well off lady waiting twenty years for the return of her lover Anatol, who finally is replaced by his son, a snobby opportunistic no name whom she marries and leaves the house to her niece Erika, staged by Carolyn Sproule. Erika has fallen in love with the young Anatol too and actually has become pregnant in a one night stand. At the end, she inherits the grand house at the departure of Vanessa and decides to continue her life as Vanessa did and to wait for the return of her Anatol. Rosalind Plowright joins the Lady triumvirate as the eminent mother and grandmother of the two others. All three perform brilliantly and show their acting talents.
Young Greek Rodula Gaitanou has elaborated a sophisticated direction with lively interaction between all characters. Originally, the story was placed in Northern Europe of the Victorian age by Samuel Barber. She places it into America of the late fifties. Set and costumes designer Cordelia Chisholm has built a luxurious estate and created some elegant robes for the three conflicted women, whose dead-end life is fairly muddled up by talented Michael Brandenburg as young Anatol. Good looking, he is convincing as the bankrupt adventurer and playboy. His small tenor misses out next to the elaborated singing demonstrations of the three wives he has encountered in the house. James Westman brings in another strange character, the family doctor who wants to be a poet and even fails in this, but not in fulfilling his role this evening.
Maestro Timothy Myers knows how to point out the widespan melodies of Samuel Barber's composition interfered with expressive intermissions. He never gets too loud and keeps the musicians in tension for fine intonation and emotional interpretation. Once again, a worthwhile selection of the Wexford Festival and an impressive encounter with this important American contemporary composer for the European audience.
Helmut Pitsch
the 01 of November, 2016
|
Print