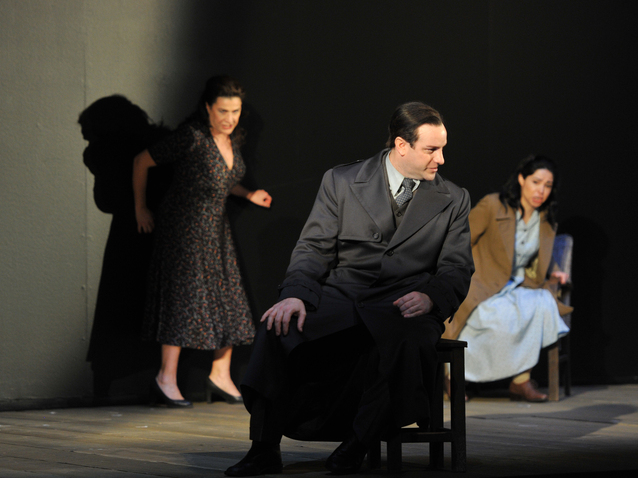 This years slogan of the Salzburg Pfingstfestival was "sacrifice".
Managed by the charming italian starsinger Cecilia Bartoli this festival offered a colourful mix of opera, ballet, concert and chorusworks linked to it. The selected opera was Norma, by Vincenzo Bellini, with the managing star in the title role. Cecilia Bartoli' s voice may not be perfectly equipped for this belcanto and expressive arias but she knows with her experience how to give her interpretation warm full singing, avoiding vibratos by skillful legati and dramatic acclamation. Together with her strong appaerence on stage and emotional playing this Norma is really suffering and fighting for her love but also realising her failure and taking responsability for it. Especially after the intermission the audience could follow a persuasive and thrilling evening. John Osborn as Pollione has a beautiful warm voice with Italian timbre. His acting needs some more life but this Norma made his decision difficult and he suffered convincingly. Adalgisa was performed by young Mexican Rebeca Olvera. Her mezzo is bright, in the height at its ease, missing colour in its sound.
The real architects of this exciting evening are the directors Moshe Leiser and Patrice Caurier. They tranform the story into France under the German Wehrmacht occupation. We stay at a school house in the countryside as the domicil of the French rebels. Their interpretation, setting and stage direction is intelligent, realistic and well balanced. We have a lot of movement on the stage but it is not overdone. Mass scenes are kept in the background and pass quickly and noiseless. So there is a lot of concentration on Norma, Adalgisa and Pollione.
Giovanni Antonini conducted the orchestra La Scintilla on original instruments. This was a very reluctant decision and offered a new interesting sound experience. Fast in his tempi, rough in his intonation we heard a bellini free of romantic voluminos orchestral sound, it was clear transparent and fresh.
Next years festival will be dedicated to Rossini with the operas Cenerentola and Otello, Stabat Mater and Petite Messe Solonelle and orchestral works by the master.
Norma will be again performed in the 2013 Summer Festival on Aug 17 till Aug 30.
the 02 of July, 2013
|
Print