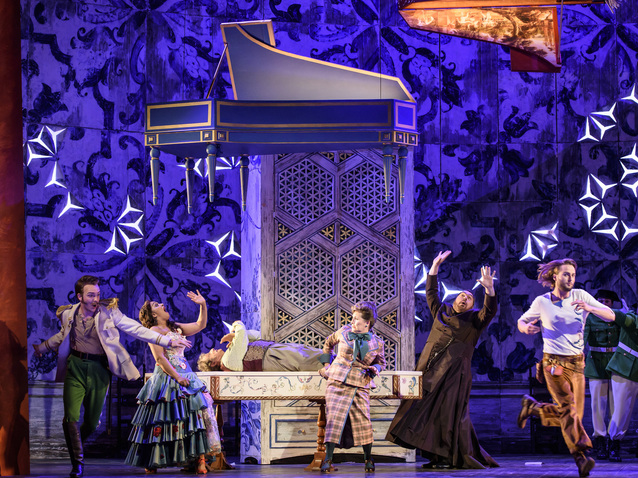 This year's opening production of the highly regarded Glyndebourne opera festival is Rossini's well beloved masterpiece of Barbiere di Siviglia.
Annabel Arden was already responsible for several productions in Glyndebourne and returns with a rather traditional mediterranean setting, involving most lively action rather on the edge of exaggeration. There is sufficient wit and comic in the splendid original libretto and music of this opera buffo, so there is no need for slapstick-like action or additional characters on stage. The stage by Joanna Parker is a simple semi circle ornamented with blue and white design as on Spanish tiles. Bartolo's home is a simple window frame in the middle representing the balcony where Lindoro is directing his opening serenade. A small orchestra of guitarists is accompanying him. Further on, we get a book shelf and harpiscords hanging from the sky or being constantly senselessly carried over the stage.
The cast of this new production is dominated by young good looking respectful singers being very dedicated to their play along the most lively direction. There is a lot of action in colorful bright images on the stage. Tall blond Bjorn Bürger is a modellike Figaro, easy conquering the hearts of the audience. He has a fine flexible voice but also small and lacking of volume and expression. Taylor Stayton seems a kind of a stranger in his long silver coat and cheekbeard as Count Almaviva. He has a lyric tenor with a warm timbre, dark colored in the low, and some incertainties in the high. His beloved Rosina is interpreted by the nicely tanned Danielle de Niese. She has power and life in her veins and acts very mediteranean. Her soprano is brought softly without any sharpness. Her coloraturas lack of exactness. A best performance is presented by the most comic Alessandro Corbelli as Bartolo. His face and eyes can speak for their own. His voice is a sonorous bariton with the typical warm Italian timbre.
Down in the orchestra pit, Enrique Mazzola creates with the London Philharmonic Orchestra a swinging spirited sound. Very clearly, he disassembles the instruments and puts a transparent chambermusic-like sound together. At the end, the mainly English audience is highly rewarding everybody on stage.
Helmut Pitsch
the 14 of June, 2016
|
Print