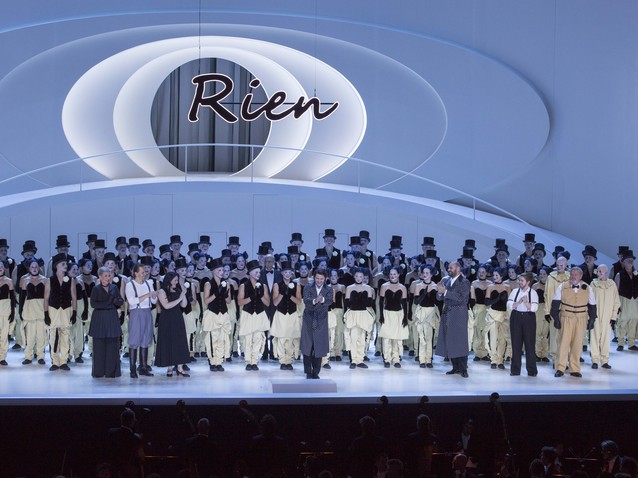 © Salzburg Festival Marco Borrelli
Rien - "Nothing" thrones over the bright white stage. "We start from nothing and return to nothing" might be one theme of this contradictory direction of Reinhard von der Thannen.
He is responsible for the direction, the costumes and the stage design of this first presentation of this opera in Salzburg. He has studied and worked with Hans Neuenfels, originally as stage and costume designer, and you can feel the influence and some memories of the controversial direction of Hans Neuenfels for his Lohengrin in Bayreuth, when you see the armada of individuals partly members of the choir and partly dancers on stage, representing Mephisto's helpers, dressed up like telepuppies or extraterrestials with no real connection to the story. They continuously move in formations on the stage, which is designed like a big semicircle interior of a dummy spaceship out of the sixties. A big round hole dominates like an eye overseeing the stage, acting as a central access which can be closed with a soft illuminated veil. Two gentle ramps are leading on both sides down to the stage.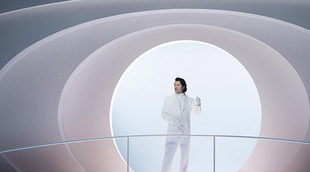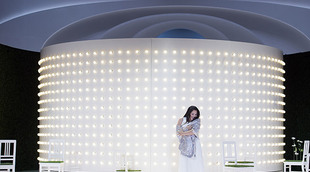 Old Faust crouches in his studio, bold in a dark one piece suit, his suicide attempt is interrupted by the appearence of Mephisto. The devil persuades him into a contract for ever youth and a crummy transition takes place. Like a butterfly, Faust slips out of his old dark suit and appears in a white suit as a young gentleman, with a Panama hat and full dark hair. The known story moves-on in a broadway show, enriched with dancing formations, bizarre scenes like the warriors with their guns marching with a gigantic skeleton.
There is no real intimate moment or moving romantique scene, even as the music beautifully describes this romance and fatal end of the young virgin Marguerite. Her little bedroom is transformed in a round podium with a moving wall full of lighting bulbs, the inner side decorated with green grass on the walls and flowers on the floor. Her faith wins over the evil magic of Mephisto, but her sacrifice is not a redemption here, but a return to nothing, to the Rien of the beginning.
Also, the design of the characters remains surrealistic. Piotr Beczala is Faust, and his lyric tenor is a dubious intellectual old Faust and a shining young gentleman, sharing all the magic experiences offered by Ildar Abrazakov, flat as Mephisto. No dark mysterious devil magic lies in his voice, but more of a dandy or a superficial upper class gentleman. Dressed with socks suspensers and boxershorts, he shows no sign of evil thinking. Maria Agresta owns a technically fine elaborated soprano with an exact intonation and a clear driving of the melody. She warms up the cool stage and defends herself next to all the creatures moving around, and never really belongs to the story. Her set of Marguerite is emotionally moving and in a harmonious distance to devastating play around. Alexey Markov succeeds well as Valentin in his aria, opening his young fresh baritone. Tara Erraught is a safe but not convincing Siebel.
All of the romantic of the evening comes from the orchestra pit and in the conducting of Alejo Perez, and the once again perfectly playing Viennese Philharmonic Orchestra. Their strings fill the Festspielhaus and arrive to every corner with their ambitious playing. There is no voluminous heavy forte covering the singers and the beauty of the musical narration develops continously. It is gentle and well balanced by volume, speed and dramatism. The audience is divided regarding the direction team, heavy buhs are nearly covered with some honorable applause. The warm and strong applause for the singers, conductor and musicians fades away quickly as the audience is overfeeded with this numerous layers of impressions and actions in this non-interpretation of this central piece of German literature.
Helmut Pitsch
the 17 of August, 2016
|
Print