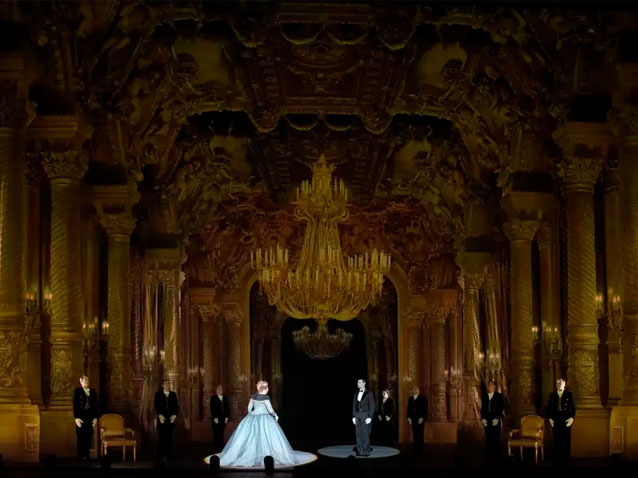 © DR
What a happy idea Stéphane Lissner had for his first season in reprising the last (and necessarily melancholy) production by Hugues Gall a little more than 10 years ago, when he left the Paris Opera:there is an implicit homage, and the sign of a desire for continuity in excellence.For the excellence is there, in the prodigious staging by Robert Carsen, perhaps one of his most successful:in this setting, which is an elegant mise en abyme of the Opéra Garnier, the Canadian director manages to raise multiple mirrors that not only reflect but make the audience reflect on this unique art that is opera, itself a mirror and mise en abyme of reality.And we are fascinated to see the mysteries of creation put in place at the same time as this creation mirrors itself.This subtle homage to the lyric theatre in the making manages to become a discreetly melancholy lyrical comedy that refers us to the eternal question looming over any creation:why bring into the world a representation of reality when reality itself is so present?The virtuosity of the "conversation in music" of Richard Strauss (himself co-author of the libretto along with conductor Clemens Krauss, who directed the first performance in Munich 1942) is echoed by the virtuosity of the staging by Robert Carsen:the situations in it are indeed constantly played out and distanced, part of an apparently realistic plot and at the same time projected into a fictional story, with spectators who are also a certain  character, the Countess, Flamand, etc., other than ourselves.All this in a dazzling whirlwind that gives us not a moment's respite and fills us with a pleasure that is as electrifying as it is light, and with an impression of contagious intelligence.In short, sheer happiness!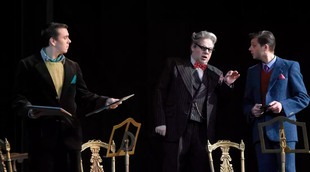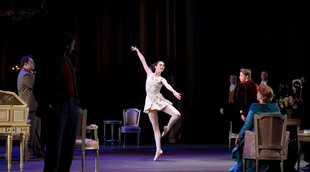 For this revival, the Paris Opera is featuring a thoroughly convincing cast, well balanced, with intelligently distributed colour characteristics functioning perfectly with the visual ballet created  by Robert Carsen.First we'll mention the Countess portrayed by American soprano Emily Magee, with her straightforward, well-timbred voice, who is able to subtly reveal Madeleine's tribulations – without however finding that unique shiver that Renée Fleming produced when this show was first staged.…The pair of Italian singers (who, surely not by accident, inevitably invoke Annina and Valzacchi in Der Rosenkavalier) are deliciously played by Chiara Skerath and Juan José De Leon, and each vocal personality is perfectly drawn in this major cast, from Wolfgang Koch's excellent count to the amazing Monsieur Taupe played by veteran Graham Clark:we can also hail the effective job done by Ilias Tzempetonidis, the casting director hired by Stéphane Lissner to second him, as he did previously at Milan's La Scala.
But for Paris audiences, the real vocal revelation in this show is the young tenor Benjamin Bernheim in the role of Flamand, somehow the replica of himself that Richard Strauss wrote:not only is his performance impeccable but his voice, in particular, is already at a level of maturity that leads us to hope for even greater things.His timbre is immediately seductive, with an assertive warmth in the mid-range, a healthy vocal foundation, a rich projection that is never forced, a pallet of shadings that already point to a certain career:we will no doubt be hearing more from Benjamin Bernheim* very soon.If anything strikes a flat note here, it is to be attributed to the conducting by Ingo Metzmacher, who contents himself with letting the score proceed on its own without becoming overly invested in it, without revealing a more personal side, conducting like an unimaginative Kapellmeister, who does the job and nothing more.And certainly a show like this deserved better.Special mention goes to the pretty performance by Camille de Bellefon, a quadrille by the Paris Opera Ballet, who performs her number as young dancer in the great central scene with a great deal of freshness, and the "Azione teatrale" put together by the dazzling La Roche, theatre director.It is easy to understand why this lovely revival was so formidably acclaimed at the premiere, which does not often happen in an opera whose seduction is more intellectual than physical – but which, by a sort of magic, was able to take it all!
Alain Duault
* He will be featured at the next Salzburg Easter Festival, as Cassio in Verdi's Otello 
Also see:
·         Young talent, interview with Benjamin Bernheim (video interview)
the 25 of January, 2016
|
Print