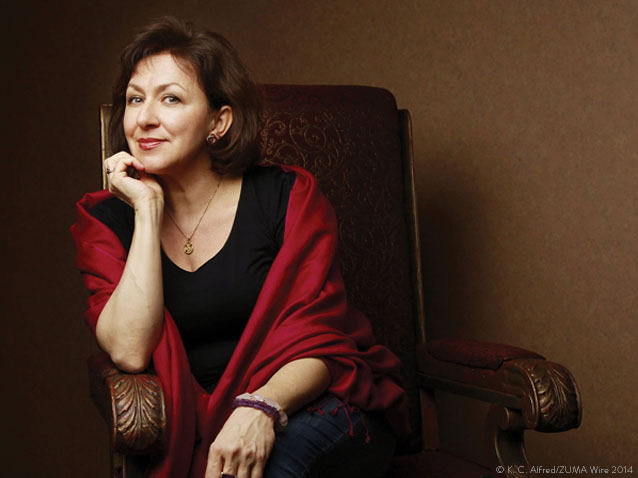 © DR
There are singers who never appear on magazine covers, who have no entourages of fans following them everywhere, whose repertoire choices never become the subject of heated debates, yet who are universally appreciated by music lovers and programme planners: Krassimira Stoyanova is one of them; whether for Verdi or for Strauss, she is always among the most obvious choices in her repertoire for the world's greatest stages. Among the few successful performances at the Salzburg Festival in the last few years, Der Rosenkavalier staged by Harry Kupfer owed much of its success to her Marschallin, a role she embodied with her dignified nostalgia.
Nothing is more difficult than to describe what makes an audience and a score come together through a performer. One thing is certain with Krassimira Stoyanova: what is seductive about her is first and foremost the material quality of her voice, the simple sonorous fullness of her timbre. This timbre is not immediately recognisable by a single colour or by distinctive accents, which might seem a serious defect (and that is certainly the reason that Stoyanova does not have a cult following). The fact that, despite this, she has been able to build such a career is not because she is unique but because her qualities are rare: a vocal colour that is both sustained and luminous, with a tendency to chiaroscuro, rarely a breath out of place, and a technique that always allows her to negotiate the more fraught passages of her roles.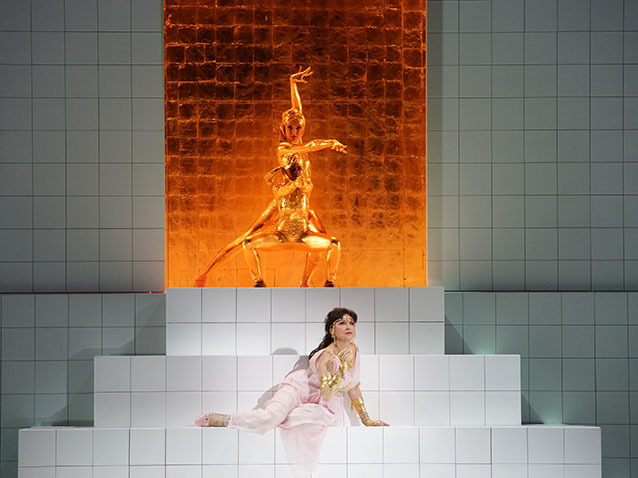 Born in Bulgaria, she first studied violin before devoting herself to singing: this initial education as an instrumentalist is certainly not rare among singers, and it certainly does not explain everything, but in her we do find a musicality and a culture of beautiful sound that is perhaps not foreign to this instrument. We do not expect the most expressive singing from her; we might even say that, when she tries to liven up the continuous flow of the timbre with expressive effects, it is often at the cost of a certain loss of sound material, a parlando that is not always happy. But when she gives full latitude to the singing, her expression comes by itself: when the letter of the score is allowed to speak, the most tenuous dynamic inflection is sufficient to elicit emotion. There are other, more directly expressive ways of approaching her roles, but this way can also be effective.
Of course her repertoire is not limited to Strauss and Verdi, and she is one of those singers whose musical education makes it easier to learn a new role (her years with the Vienna Opera troupe, with which she remains very close, also have contribute to this); Eugène Onéguine's Tatiana and Rusalka are there to remind us of a certain Slavic anchoring, but she has also sung several Mozart roles, multiple Puccini roles, and even Donizetti, whose Lucrezia Borgia she will perform at the 2017 Salzburg Festival: after all, in recent years we have often heard the lightest voices in this repertoire (like Edita Gruberova!), but her musicality and her instrumental qualities are superbly adapted to this repertoire, and sharps have never been a problem for her.
But her career is still identified with Strauss (Die Liebe der Danae this summer in Salzburg) and even more with Verdi, with one interesting particularity: whereas many careers develop in an immutable movement from the lightest roles to the heaviest roles, Stoyanova does not seem to want to subject her voice to too many new challenges. She would certainly not have sung Desdemona at the start of her career, and she will certainly not singer Micaela or Liu any longer, but her core repertoire remains stable at least in the medium term, with mostly the great Verdian roles to which she has put one of her recitals on disk; and she clearly loves to do different productions of a single opera: her Elisabeth in Don Carlo will be performed between January and June 2017 in Milan, London and Vienna A wise choice, which allows her voice to focus in turn, over a long period, on the specific needs of each role; and that is perfectly suited to a voice whose balance is worth many other virtues.
Dominique Adrian
the 28 of July, 2016
|
Print