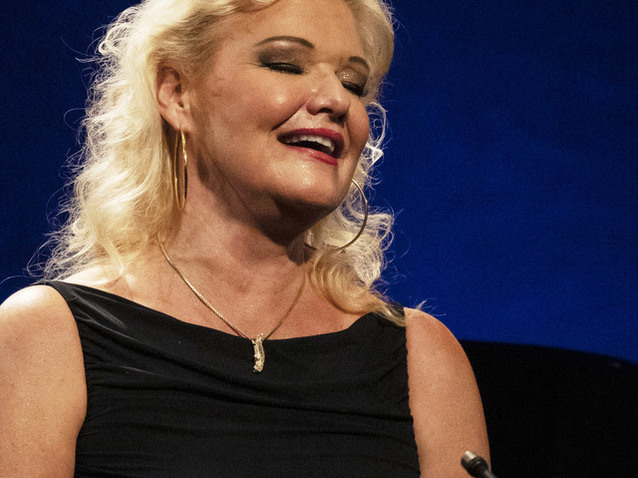 © (c) Diane Deschenaux
For her first venue at the Verbier Festival, Karita Mattila sings a selection of melodies by Duparc, as well as chosen lieder by Brahms and Strauss, accompanied by Evgeny Kissin. The acclaimed pianist took the initiative to get in touch with the star soprano for their first collaboration. We met Karita Mattila in Verbier to talk about this highly anticipated concert, her latest and next opera debuts, Wagner, and social media.
***
Opera Online: Why did you choose to perform Duparc, Brahms and Strauss at this recital?
Karita Mattila: I didn't know Evgeny Kissin, and he didn't know me. Of course, I know his recordings and I heard rumours that he had been to my recitals. I wanted to suggest the programme to him because he hasn't worked a lot with singers. So I tried to put together a programme I feel comfortable with. For example, Brahms' symphonies and songs are very close to my heart. He agreed, and he learned all the songs only for this recital!
OOL: You've already recorded and performed the French melody repertoire quite a lot. What's your relationship with this repertoire?
KM: I feel at ease with Duparc. Very early in my career I started reading some analysis by some music 'specialists' who described what kind of voices should sing Duparc. I noticed that they described Duparc as exactly "anti-me", as completely inadequate of my type of voice. I then decided to stop reading them. I followed my own instinct, tried out how my voice fitted, and surprisingly I found a wonderful selection of French repertoire I feel comfortable with. I noticed the reception has been good, and that's all I care about. Classical music is too much based on opinions defined as rules. I'm not into this kind of things. You should follow your instinct, work hard and develop your talent. OK, you read all kinds of things, but the decisions are up to you alone.
OOL: Were the certain number of opera debuts you have made in the last few years led by your instinct? Or did they only represent new perspectives for you?
KM: No, actually it was just suggested to me, and I said yes, like the Carmélites this year. I was asked by Peter Gelb, the General Manager of the Metropolitan Opera, 'Do you do de Croissy?', and I replied that would love to. I'm curious and interested in new things. When I was in Paris some time ago, I was asked if I would do the Foreign Princess in Rusalka. I didn't even know it and I had never seen it on stage. I was just told about the dramatic sopranos who had done it and I thought that it could be something for me. I loved the score and thought 'Oh, there is this fascinating part too'. I love singing in France, en général, and we had a fabulous Finnish conductor (Susanna Mälkki). And I really liked the spaces that Robert Carsen had designed in his production. I've been in many of his productions and I just totally admire him, I love his style. He's not just a talented director, but also a kind human being who loves his artists.
OOL: As far as the repertoire is concerned, it seems that 20 years after an Elsa (Lohengrin) and Eva (Die Meistersinger von Nürnberg) period, Wagner has been a late – but tremendous – revelation for you...
KM: Yes, I performed Sieglinde (Die Walküre) in 2015 and then last year in San Francisco in a beautiful production of Francesca Zambello. Her Ring was the first one I saw and I fell in love with the work. It was like a religious experience, I was so moved. Then I made the decision to sing more Wagner. I already had a engagement for Ortrud (Lohengrin) in November 2019 at the Bayerische Staatsoper, which I always wanted to do, even in my Elsa time. But after San Francisco, I thought 'I want to sing anything'. Then I accepted Isolde, which I had been offered before but always turned down for being busy doing other things. Everything in my life and in my career happens in a natural way. But time for Wagner has come now!
OOL: How did you feel about being part of Rufus Wainwright's new opera Hadrian in Toronto last October?
KM: I was so happy Rufus asked me. My manager wasn't so sure about it, but I was very excited about the project. I loved being in it, it was an inspiring piece and beautiful production to work on! I sincerely hope the production travels all over the world. It's a beautiful gay love story with style and great music. Rufus loves opera and singers, he was there all the time to watch the rehearsals. He was really committed. This was a happy environment in Toronto with conductor Johannes Debus and talented young tenor Isaiah Bell. I was facing big changes in my personal life and this wonderful story was the best thing that could happen to me. Alexander Neef – the director of the Canadian Opera Company – was a wonderful boss too.
OOL: Now Alexander Neef has been appointed General Manager of the Opéra national de Paris from 2021, do you have any plans with him to sing in Paris?
KM: I'm secretly hoping Alexander is bringing Hadrian to Paris. The work is controversial but I'm sure the Paris audience will like it. Alexander has a positive and inspiring attitude towards newness. The Toronto people will miss him, for sure. I think the atmosphere in opera houses is always created by the bosses. If the bosses are inspiring, the people come along, and I had this feeling in Toronto. In the nearest future I don't have any plans in Paris, so hopefully they might come!
OOL: Thomas Hampson, who had the title role of Hadrian, is having two concerts in Verbier this year. He is also a coach for the Verbier Festival Academy. What are your connections with him?
KM: He was very moving in the title role of Hadrian. When I talking about him it brings tears to my eyes. Thomas is a deep, serious artist to listen and watch. We first worked together for Schubert's Fierrabras in the 80s. I've known him for over thirty years. He's like a brother to me. I feel privileged to have this kind of friendship with him.
OOL: Would you rather mix repertoires or explore the work of specific composers in the future?
KM: Mix, definitely. I hate labels or categories. It's all about music, it's all about pieces. There are only good ones and bad ones. That's the only limit. And that's very subjective. Lucky me, so I can go along that part and be happy working on works that inspire me.
OOL: You joined Twitter last October. Do you think Twitter is a good way of connecting the artists and the audience?
KM: Absolutely. Twitter has given me the opportunity to be in touch not only with my colleagues and fellow musicians, but also with people of all age, and even younger ones. As soon as they start reviewing anything, I take my step back because that's not my feeling. The people you follow on Twitter can bring you some new aspects of music. They share their opinion and especially their knowledge about music. You learn a lot from them. Many of them write books and poems, and have an interesting background. I had a great discussion on Twitter yesterday about Brahms recordings, for example. I'm moved by this interaction with people, it's fantastic at this stage of my life. Before social media the world of opera and classical music used to be represented by the artists, managers and journalists. Now any people can just express themselves about opera.
OOL: What are your favourite subjects on Twitter?
KM: I love talking about everything. I chose Twitter because it's the only social media my ex isn't on. If I say something some people might find wrong, I obviously lose followers. This is what social media is about. But I love the energy of creative and positive people on Twitter. I don't mind criticism as long as it is constructive. I don't want to take part in pointless debates. I'm not interested in stating negative things that everybody already knows. I focus on positive things. It works like a self-therapy for myself, it's been crucial after my divorce. There are so many young musicians who are following me. I want to encourage them and sometimes share what they do. And I give them some advice sometimes. But I'm not an educator and I don't want to lecture anyone. I can only share my own experience, that's my way of doing things.I want to follow people who have perspectives. If you criticise things then you should offer something. And when you offer something, it becomes positive. Criticism becomes constructive. If you have something to suggest instead, then it elevates the situation to the debate. I hate personal attacks. Maybe because I've been such a short while on Twitter, I've not really faced haters, but only some people who say stupid things. I mute or block them, the same as fake followers. You can't avoid some bad omens.
OOL: You're always committed to delivering true and physical acting on stage. How do you prepare your roles?
KM: Push yourself to the gym! Whatever physical activity you choose, you have to keep in shape. The older you get, the more essential it gets. This is a physical job, you need strong mental health. When you are an opera singer there are more requirements: you need to be able to sing and act. It's about finding the physical expression that will be combined with music. I love cycling, swimming or jogging. Walking for me is not enough. I love to walk but I need to sweat. Keeping fit is my shrink and going to the gym five or sometimes six times a week keeps my head fixed, and I can face the world. As a woman, you need to do weights and muscle strength to keep up with the requirements of the theatre directors. The fitter you are, the more tools you get for your own possibilities and potential.
OOL: What are your next projects?
KM: Learning. I have so many things to learn! I'm learning Kabanicha (Katia Kabanova) at the moment for the Staatsoper unter den Linden in Berlin, Ortrud (Lohengrin) for the Bayerische Staatsoper in November. Next year I'll sing Klytämnestra (Elektra) and then I'll have a series of new concert programmes, but I'm not allowed yet to talk about this. I like to be busy. Life is a roller coaster!
Interview carried out by Thibault Vicq
Photo credit (c) Diane Deschenaux
the 01 of August, 2019
|
Print