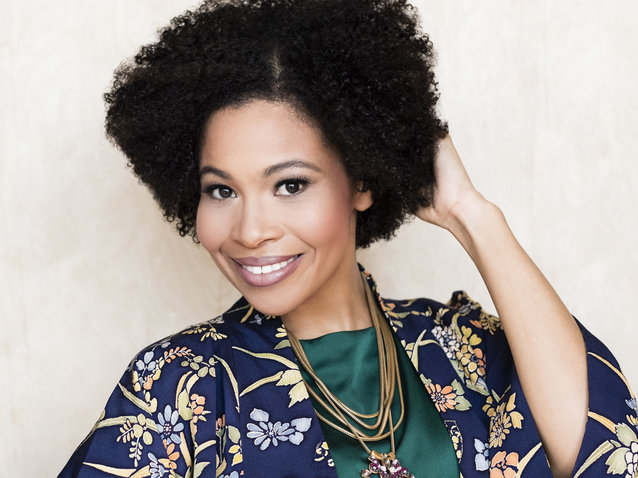 © (c) Dario Acosta
After singing at the Opernhaus Zürich (La Contessa in Le nozze di Figaro) and Bayerische Staatsoper (Liù in Turandot and a special concert with Thomas Hampson and Kirill Petrenko) in July, soprano Golda Schultz performed in Mahler's Second Symphony for the closing concert of the Verbier Festival, alongside with mezzo-soprano Ekaterina Gubanova, conductor Fabio Luisi and the Verbier Festival Orchestra. We met her between two rehearsals in Verbier to talk about her repertoire and her projects.
***
Opera Online: You sang in Mendelssohn's oratorio Elijah with Fabio Luisi in Zurich last year. You perform together again in Mahler's Second Symphony, which can also be considered an oratorio in some aspects. What are the connections that you can make between both works?
Golda Schultz: The notion that crosses both works is resurrection. In Elijah, the Widow wants her son back to life. As human beings we still haven't quite figured out how to deal with loss in the best way possible. And what's fascinating to me is that Mendelssohn started this like a conversation and used a Biblical text to really deal with that idea of people feeling lost and unrecognised. The Widow feels unseen, but Elijah gives her a sense of belonging to the world again by bringing people back. What I find wonderful about Mahler is the way he musically makes it OK to lose things. When you start to listen to the third movement before Urlicht, it sounds like the trumpets are at war, fighting not to die, with a prevalent fear of death. As you get to the fourth and final movements, the acceptance that loss is a necessary part of the human condition and makes you more human turns the idea ofresurrection into a cataclysmic firework; an organic and vibrating experience comes along with all the instruments. Both works are also respectful about the spiritual aspects of loss. I approach all music looking at the spiritual human connections to find the universality of music. Once I translate the texts into English or Afrikaans I start to sit with the feelings and emotions of the people, with the impression I've experienced something like that before. That kernel of empathy then makes it accessible for me.
OOL: The notion of loss you're talking about is also a strong theme of Die Zauberflöte (performed in Verbier the same day as Mahler's Second Symphony): Tamino has to lose Pamina to have her back...
GS: Yes, exactly, to meet her in the moment and lose her in an instant is very profound. Papageno also starts off lost, because he has never had love. All he knows is that it's missing. The relationship between Papageno and Pamina is interesting because they're two lost souls that can find in each other. Mozart's beautiful music has this way of just connecting you and putting you side by side, but also looking at each other in the eyes.
OOL: In 2018, you performed in Mahler's Fourth Symphony with the Mahler Chamber Orchestra. What connections can you make between the Second and Fourth Symphonies?
I feel like Mahler perfects how to have voice in a symphonic work. In the Fourth you have to accept that there are moments where you are part of the fabric and moments when you have to solo through. The singer mustn't be heard at all times. I generally study with full orchestra score plus my vocal score so I can see how the composer wants it to be done and how conductors are seeing it. Mahler really wanted you to bring in a sense of childlike wonder of what it would be like in heaven. Children have this wonderful imagination: when they start thinking about something, it's not necessarily a big loud idea. "I wanna go to heaven, with all my family there, with all my favourite cakes", and it gets louder. And in the end you see that these little persons are transported in the vision of heaven as it becomes so big, so magnanimous. They're exhausted with joy and they can just go to sleep. Sometimes I see Mahler 4 like a self-soothing lullaby that I would sing to myself. At the end (with a child's voice) all the musicians are there, and everything is just perfect. There's a sense of true and self-contained satisfaction, not like a grand sweeping finale. A lot of my favourite pieces have that aspect in them: they start quite quietly and punctuated with big moments so you can appreciate them. That's how life is. Both symphonies show the wonderful expanse of what can come out of something mundane. And I'm just wondering of what it would be like in heaven: sitting and looking at the sunset thinking about your whole existence and what faith is. Something beautiful comes out but it always comes back to you.
OOL: You sang with Thomas Hampson in Munich on 20 July (with the Baayerisches Staatsorchester under the baton of Kirill Petrenko) in a programme dedicated to American musicals...
GS: This was actually the first time I sang with him. I remember as a student listening to his recording as Count Almaviva (Le nozze di Figaro) and I thought: "Wow! That's fine musicianship". He's such a classy man and a gentleman. And it's really nice to be surrounded by people being in the business so long, such as Karita Mattila - I'm such a Twitter fan of her! Their excitement of always finding new things and the joy in what they do is something inspiring as a young musician. I've seen people of my age and at my level of the business who already seem so jaded! People like Thomas Hampson like to experiment and dare. That's the career I want, with exciting opportunities. What I really respect about him is that he likes to work. If you want to work and if you want to have fun, be vulnerable in the rehearsal room, make a memory, make a moment, I'm there with you a hundred percent!
OOL: You'll sing Clara next month in Porgy and Bess at the Metropolitan Opera...
GS: It's the first time in thirty years the Met's having Porgy and Bess again. I'm really excited about being in that production and working with Eric Owens (Porgy) and Angel Blue (Bess). What's really exciting and nerve-racking of singing Clara is that you're the first thing everybody hears after the orchestra's big opening moment. You think: "Just look at the baby, sing to the baby" (laughs). I haven't been singing at the Met a long. Every time I've been there the audience and staff have been very enthusiastic. Everybody's just happy to be a part of the experience. This community of people putting together many components is what I really love about opera. It's not just you singing, there's a lot going into it. People backstage do not necessarily sing but they are very kind and respectful of what you do. That's why I take the time to know about what's going on backstage, I try to make sure I'm not in anybody's way. At the Met they have the legacy of the many great singers who have sung there, but the staff members never act like they know better.
OOL: Could you tell us more about your experience in Jake Heggie's It's a Wonderful Life in San Francisco in November?
GS: It's probably my favourite experience of modern music (laughs)! I don't consider myself a modern music expert or a contemporary music expert. I've done a few of them because it's necessary for us. If you are going into opera you have to keep reimagining the stories that you already know. A lot of works from the repertoire are timeless. Contemporary pieces are what keep audiences coming and getting interested in this art form. What I do love about Jake Heggie is that he's not overly cerebral about the way that he writes. He has a contemporary mindset yet some of the codes are very 20th century and some interesting sounds just come out, but it's never out of the idea of lyricism and emotional connection to what's happening. He can tell you: "This is a tense emotional experience. I want that to come out but don't hurt your voice. If you can't do it, let's change it". You give him an idea and he works on it until you're comfortable with the score. He's very matter-of-fact: for him and for his librettist Gene Scheer, it's about the story going into the world. If you are too precious about and want to keep it the way it was in your mind, it doesn't get performed and the piece never goes beyond your lifetime. And that's sad, that'd be a loss. It's like a child, you have to let it grow up. Mozart or Puccini lived in theatres, they were good at what they did, but I do get the sense that they were prone to say "Oh you can't sing it, let me change the key". Our art form is a collaborative one. It's someone playing it and experiencing it. Interpretation is what keeps things alive. I've seen some compositions so overly notated, but I can't sing them because I don't know where my job begins. Jake Heggie respects the fact that the musician's job begins at the moment it's on the paper. Sometimes he said "I didn't think of it that way but I loved it. How do I write it on the score?". And we went: "We shouldn't. What you've written is clear enough. Let's give the opportunity for other people to find different beats". I really loved working with him, he's basically become my family.
OOL: You've started a recital tour with pianist Jonathan Ware, performing mainly Schubert. Do you feel close to Schubert's romantic repertoire?
GS: It's a funny story... Jonathan and I met at university. He's always been into lieder. Once he said: "I'd really love to do some lieder with you". I didn't know any lieder, I didn't have anything to sing except opera. So he gave me some music, "Look through this, see what you like, and let's see if we can find a programme". And he put a lot of Schubert... that I didn't like at all at the time (laughs)! He took a while to convince me, but I got hooked with "Der Vollmond strahlt auf Bergeshöhn" from Rosamunde. I think you need a gate to drive to every composer. Rosamunde opened me up to the whole world of Schubert! If you told me three years ago that I would sing an entire Schubert programme, I would have laughed you out of the room. But it was one of the most intense storytelling experiences that I had to date because there's this concentration of a universe in few pages. Not just using your body, telling a story and being willing to be vulnerable is such a daring thing in this day and age! And Schubert makes it necessary. It requires you as a musician to usea space of vulnerability and not be afraid of it. In recitals it's not just you being vulnerable as a character, it's you being vulnerable as yourself, sharing stories that everyone in the room has experienced, even yourself, and being willing to be in that space together without judgement. I love Schubert for that reason and now I'm glad to sing his songs. You don't have to force me any more (laughs)!
OOL: You first studied Journalism. What stories would you want journalists to write about you?
GS: I would like to read stories about how I am kind, how I am respectful and how people matter to me. At least I hope I'm kind (laughs). If I'm not kind, please lie from now on (laughs). I just want people to tell the story about how I give a damn about what I do and why I do that.
OOL: Then I have my next story (laughs)!
Interview carried out by Thibault Vicq on 2nd August, 2019
Photo credit (c) Dario Acosta
the 21 of August, 2019
|
Print