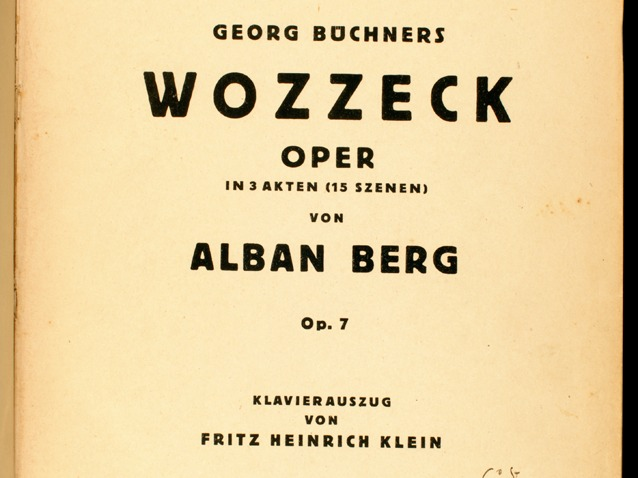 © Livret 1923 dédicacé
Work description
A chilling autopsy of a tragedy, a piercing examination of abysmal despair, Wozzeck is an emblematic opera of the 1920s, a harbinger of the unease and aching void of the 20thcentury, haunted by war and death, the misery of the human condition set to a music that is economical in its effects and carefully composed, yet whose emotional power grabs the listener by the throat. The work is inspired by a play that is as terrifying in its plot as it is revolutionary in its structure, penned by Georg Büchner and based on a true story. In adapting this work, Berg designed an infallible architecture that consists, for each scene, in a strict musical form - rhapsody, scherzo, etc. However, nothing besides "the transcending idea of the opera, of Wozzeck's individual destiny" should absorb the listener, said Alan Berg, who invited him to forget "the various fugues and inventions, suites and sonatas, variations and passacaglia." This in order to delve, body and soul, into this expressionist masterpiece and be transformed.
Résumé
The story takes place in the 19thcentury, in a military town and surrounding area. A soldier, Wozzeck, is humiliated by his Captain, who criticises him for leading an immoral life. Wozzeck and Marie have a son, but they are not married. Wozzeck's dark and anxious character is accentuated by a fear of dusk, when he often has visions of death and destruction. Marie, who is troubled by these visions, gradually abandons Wozzeck and has an affair with the Drum Major, who seduces her. After bragging to Wozzeck about his "catch", the Drum Major beats him up. Wozzeck also suffers at the hands of the Doctor, who experiments on him. When Wozzeck goes to find Marie, the young woman is filled with remorse. But he brings her to a pond and stabs her to death. The murder weapon has disappeared. Wozzeck wades into the pond to look for it and drowns, while the Captain and the Doctor, who are passing by, are not moved to rescue him. Marie's death leaves her son just as indifferent.
Act 1
The soldier Wozzeck is shaving his Captain, who taunts him for living an immoral life : Wozzeck and Marie have a child but are not married. Wozzeck replies he is poor and has no choice.
Marie, who is cheating on Wozzeck with the Drum Major, sings a lullaby to her son.
Humiliated by his Captain, Wozzeck serves as a guinea pig for the Doctor's experiments. Above all he has terrible visions, which cause his relationship with Marie to gradually deteriorate.
Act 2
After a dance, where a soldier tells him he "smells of blood", Wozzeck has difficulty sleeping. Taunted by the Drum Major who brags about his affair with Marie, Wozzeck fights with him but is beaten.
Act 3
Several days have gone by and Marie has not seen Wozzeck. The young woman reads to herself from the Bible by the light of a candle, murmuring the words of a parable about an adulteress. Her voices rises higher as she prays Jesus and begs forgiveness. A climate of anxiety reigns on the stage.
Wozzeck murders Marie. Near her body, he searches for the knife that could incriminate him. Haunted by his visions, he wades into a pond, deeper and deeper, until he drowns. The Captain and the Doctor hear him moaning but do not rescue him. When Marie's son learns that his mother is dead, he does not understand and continues to play on his hobby horse, shouting "giddy up, giddy up" as the curtain falls.
Excerpt : « Das Messer ? Wo ist das Messer ? »